Human Rights Watch
New York City-based non-governmental organisation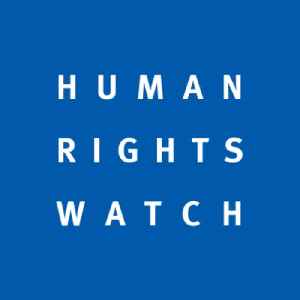 Human Rights Watch (HRW) is an international non-governmental organization, headquartered in New York City, that conducts research and advocacy on human rights. The group pressures some governments, policy makers and human rights abusers to denounce abuse and respect human rights, and the group often works on behalf of refugees, children, migrants and political prisoners.


Isis suspects 'waterboarded' by Iraqi security forces in detention, report says
Iraqi security forces are continuing to use torture at a detention facility in Mosul eight months after shocking abuse was first revealed there, according to a new report. Human Rights Watch detailed..
WorldNews - Published
Rights group urges Myanmar to drop charges against satirical performers, filmmaker
Human Rights Watch urged Myanmar on Thursday to drop charges against four satirical performers and a filmmaker arrested after criticizing the military, as an army spokesman defended "rules and limits"..
Reuters - Published
IS-linked children face torture under Iraqi and Kurdish authorities, according to new report
A new Human Rights Watch report released Wednesday found children with suspected links to the so-called Islamic State were facing torture and charges of terrorism under Iraqi and Kurdish authorities
Credit: euronews (in English) Duration: 01:49Published
Israeli court upholds deportation of Human Rights Watch official
The director of the Israeli office of Human Rights Watch on Tuesday lost his appeal against deportation, having been accused of promoting pro-Palestinian boycotts of Israel, the Justice Ministry said.
Reuters - Published
Man killed in new cow lynching in India
Indian police on Saturday said one man was killed and three injured in an attack by a mob while they were skinning a dead ox, in the latest case of so-called cow lynching. The animal is revered by..
WorldNews - Published
International Court Rejects Probe Of Afghanistan War Crimes
In a decision decried as "deeply flawed" and a "devastating blow for victims," International Criminal Court judges on Friday rejected a request by the court's prosecutor to open an..
WorldNews - Published
Search this site and the web:
You Might Like