The Holocaust
Genocide of the European Jews by Nazi Germany and other groups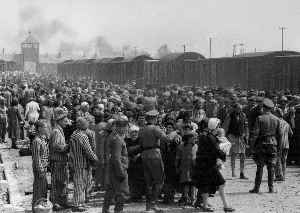 The Holocaust, also known as the Shoah, was a genocide during World War II in which Nazi Germany, aided by local collaborators, systematically murdered some six million European Jews—around two-thirds of the Jewish population of Europe—between 1941 and 1945. Jews were targeted for extermination as part of a larger event during the Holocaust era, in which Germany and its collaborators persecuted and murdered other groups, including Slavs, the Roma, the "incurably sick", political and religious dissenters such as communists and Jehovah's Witnesses, and gay men. Taking into account all the victims of Nazi persecution, the death toll rises to over 17 million.


Brazil's Bolsonaro: comment on forgiving Holocaust misunderstood
Brazilian President Jair Bolsonaro speaks during a meeting with evangelical leaders April 11 in Rio Brazil's outspoken far right president Jair Bolsonaro has explained to Israeli authorities that..
WorldNews - Published
Hungary Holocaust march honours Scottish missionary
Thousands of Hungarians attended the annual March of the Living in Budapest on Sunday to commemorate victims of the Holocaust, including Jane Haining, a Scottish missionary who refused to abandon her..
Reuters - Published
She Fled the Rwandan Genocide and Survived to Tell Her Story
Clemantine Wamariya wants to be known as more than a war victim. With her memoir, she hopes to inspire readers to look deep beyond labels.
Credit: Newsy Studio Duration: 04:05Published
Children of Rwanda's genocide have now grown up
Twenty-five years after 800,000 people were murdered in the Rwandan genocide, child survivors and orphans are now adults. Some were helped away from certain poverty when they moved to a 'youth..
Credit: Reuters Studio Duration: 02:06Published
Holocaust survivor meets with California teens involved in Nazi salute photos
An Auschwitz survivor meets with some of the California high school students who posed in social media photos giving Nazi salutes (ROUGH CUT)
Credit: Reuters Studio Duration: 01:17Published
The Vatican Will Unseal Records About Holocaust-Era Pope Pius XII
Pope Francis announced a decision that promises to shed light on a controversial period of Vatican history: the Vatican will let historians access sealed documents about Pope Pius XII, who led the..
Credit: Time Duration: 01:43Published
Your Call in full: Gender parity in politics, Salisbury anniversary, and is the Holocaust forgotten?
Catch the full episode of Monday night's episode of Your Call.
Credit: euronews (in English) Duration: 39:12Published
Vatican to Open Archives on WWII-Era Pope Pius XII
The secret archives will be open to researchers beginning in March 2020.
Credit: Newsy Studio Duration: 01:03Published
Pope to open secret WW2 archive for Jewish groups
Some Jewish groups have long alleged that the Vatican turned a blind eye to the Holocaust. Now Pope Francis plans to open the secret archives of his predecessor Pius XII, stating, "the Church is not..
Credit: Reuters Studio Duration: 01:19Published
Bernie Sanders Talked About His Childhood During 2020 Rally
Senator Bernie Sanders led his first major 2020 rally in Brooklyn, New York, on Saturday, near to where he grew up. According to Business Insider, the Vermont senator told personal anecdotes, which he..
Credit: Wochit News Duration: 00:48Published
Bernie Sanders, Up Close And Personal At 2020 Campaign Kickoff
In his first run for the White House, Bernie Sanders rarely got personal. But now, Politico reports that's all changed. The Vermont senator started his 2020 bid at a rally in Brooklyn, New York. There,..
Credit: Wochit News Duration: 00:55Published
Brazil president raises eyebrows saying Holocaust can be forgiven
Brazilian President Jair Bolsonaro drew veiled rebukes from Israel on Saturday after saying the Nazi genocide of the Jews during World War Two could be forgiven.
Reuters - Published
Search this site and the web:
You Might Like