Freeport, Bahamas
Place in Grand Bahama, The Bahamas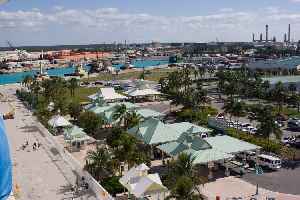 Freeport is a city, district and free trade zone on the island of Grand Bahama of the northwest Bahamas. In 1955, Wallace Groves, a Virginian financier with lumber interests in Grand Bahama, was granted 50,000 acres (20,234 ha) of pineyard with substantial areas of swamp and scrubland by the Bahamian government with a mandate to economically develop the area. Freeport has grown to become the second most populous city in the Bahamas.


You Might Like
Still reeling from Hurricane Dorian, Bahamas faces tropical storm
FREEPORT, Bahamas — Officials temporarily suspended aid efforts and closed airports in the Bahamas on Saturday as Tropical Storm Humberto threatened to lash the archipelago's northwest region that..
WorldNews - Published
Purgatory in paradise: Bahamas tent cities to house Dorian survivors
For some Bahamians who escaped death but lost their homes in Hurricane Dorian's hellish rampage over the islands of Freeport and Great Abaco, life in the tent shelters erected this week seems like..
Reuters - Published
Post-Dorian Refugees Fleeing Bahamas Ordered Off Ferry Bound for US
Hundreds of Bahamian refugees were ordered off a ferry headed for Ft. Lauderdale, Florida from Freeport in the Bahamas days after Hurricane Dorian pummeled the islands, leaving at least 44 people dead..
WorldNews - Published
Hundreds of Bahamian refugees kicked off US-bound ferry over visa confusion
Viral video from the ferry Balearia in Freeport included an announcement that 'passengers who don't have a U.S. visa, please proceed to disembark.'
USATODAY.com - Published
Thousands scramble to escape Bahamas after Hurricane Dorian
Some 70,000 people in the Bahamas are in need of food and shelter after the islands were ravaged by Hurricane Dorian, according to the United Nations. Errol Barnett reports from Freeport on Grand..
CBS News - Published
Residents shocked at destruction in Bahamas after Dorian
Residents in Abaco and Freeport assess the loss left behind by devastating Hurricane Dorian. (Sept. 5)  
USATODAY.com - Published
Freeport's International Airport destroyed by Hurricane Dorian
A day after the most powerful hurricane on record ever to hit the country finished mauling the islands of Abaco and Grand Bahama, Freeport's Grand Bahama International Airport lay in tatters Wednesday...
USATODAY.com - Published
Hurricane Dorian lashes north Bahamas
A floating shipping container and trees partly submerged in water are some of the images emerging on Monday from Freeport, Bahamas. (Sept. 2)  
USATODAY.com - Published