Jakarta
Capital of Indonesia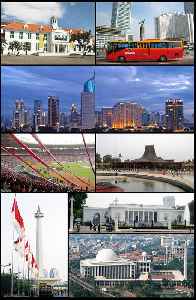 Jakarta, officially the Special Capital Region of Jakarta, is the capital and largest city of Indonesia. On the northwest coast of the world's most-populous island of Java, it is the centre of economy, culture and politics of Indonesia with a population of 10,770,487 in the city as of 2020. Although Jakarta only covers 699.5 square kilometres (270.1 sq mi), the smallest among any Indonesian provinces, its metropolitan area covers 6,392 square kilometres (2,468 sq mi), and is the world's second-most populous urban area after Tokyo, with a population of about 35.934 million as of 2020. Jakarta's business opportunities, as well as its potential to offer a higher standard of living, have attracted migrants from across the Indonesian archipelago, making it a melting pot of numerous cultures. Jakarta is nicknamed the "Big Durian", the thorny strongly-odored fruit native to the region, seen as the Indonesian equivalent of Big Apple.


Drone footage shows Jakarta cemetery near capacity

Pondok Ranggon cemetery located in East Jakarta is one of the funeral complexes designated by the Jakarta government as a grave for Covid-19 victims, in addition to another tomb located in West Jakarta..
Credit: Reuters Studio Duration: 00:54
Published
Indonesia: Lockdowns back in capital as hospitals near capacity

Jakarta reintroduces lockdown to try to reduce strain on its health system as it tries to cope with the coronavirus.
Credit: Al Jazeera STUDIO Duration: 02:31
Published
A river runs through it: 3D art adds some cheer amid virus gloom in Indonesia

A 300-metre long 3D artwork adds beauty and serenity to a neighbourhood in Jakarta. The artists from the independent 'Komunitas Perupa Jakarta' were keen to liven the mood during the ongoing..
Credit: euronews (in English) Duration: 00:50
Published
Indonesian Muslims mask up for Eid

With face masks on and body temperatures checked, hundreds of Muslims streamed into a mosque in the Indonesian capital Jakarta on Friday (July 31) to perform morning prayers as the country kicked off..
Credit: Reuters Studio Duration: 00:58
Published
You Might Like



Indonesia reports 3,507 newly-confirmed COVID-19 cases, 124 new deaths

JAKARTA, Sept. 15 (Xinhua) -- The COVID-19 cases in Indonesia rose by 3,507 within one day to 225,030, with the death toll adding by 124 to 8,965, the health ministry said on Tuesday. Accord ......




WorldNews - Published





Prabowo talks joint COVID-19 mitigation plan with Chinese defense minister

Shares Defense Minister Prabowo Subianto and Chinese Defense Minister Wei Fenghe discussed a bilateral collaboration on COVID-19 pandemic mitigation in Jakarta on Tuesday. The two officials also..




WorldNews - Published





How to rob a bank and get away in Indonesia

JAKARTA – Indonesia is replete with stories of the rich and powerful evading the corrupted short arms of the law. For instance, there is the notorious 1996 case of fraudster Eddy Tansil who failed to..




WorldNews - Published





French man accused of molesting hundreds of children dies in Indonesia

Francois Camille Abello, 65, died in a suspected suicide in his cell in Jakarta, police say.




BBC News - Published





Indonesia says trade, investment deal with Australia takes effect

JAKARTA (Reuters) - An Indonesia-Australia deal that eliminates most trade tariffs between the two nations and aims to open up investment, took effect on Sunday, Indonesia's Trade Ministry said. The...




WorldNews - Published





Asian Shares Advance, Tracking Wall Street Tech Rally

Asian shares were higher on Tuesday, recovering from some early losses as regional markets tracked a late rally on Wall Street led by technology shares. Japan's benchmark Nikkei 225 added 0.5% to..




WorldNews - Published





US scientists seek answers to Bali's Covid-19 secret

JAKARTA – The US Centers for Disease Control and Prevention (CDC) is helping to launch a study of the coronavirus pandemic on the Indonesian resort island of Bali as infections show an appreciable..




WorldNews - Published





Jakarta's motorcycle taxis get backpack shield for virus battle

Jakarta's motorcycle taxi drivers have a new weapon in the battle against the coronavirus - a plastic shield they can strap on backpack-style to isolate them from passengers.




Reuters - Published





Jakarta mosques host Friday prayers for first time in two months

Indonesians in Jakarta returned to mosques on Friday for prayers after the city relaxed rules on attending places of worship as part of a loosening of restrictions in place since late March to contain..




Reuters - Published





Indonesia capital conditionally eases some coronavirus restrictions

The governor of Indonesia's capital said on Thursday that movement restrictions to stem the spread of the coronavirus would be extended in Jakarta, but June would be a transition period with some rules..




Reuters - Published





Facebook and PayPal invest in Indonesian start-up Gojek

JAKARTA - Facebook and PayPal have invested in the Indonesian ride-hailing and digital payment start-up Gojek, joining other tech giants Tencent and Google, the Jakarta-based company said Wednesday...




WorldNews - Published





Indonesia's COVID-19 battle faces crucial test over Eid holiday

Thousands of Indonesians made a late dash to leave Jakarta for their hometowns this week, even as authorities sought to stem the traditional mass exodus at the end of the Muslim fasting month to limit..




Reuters - Published





Indonesia's capital extends coronavirus measures until June 4

Indonesia's capital city Jakarta on Tuesday extended its large-scale social curbs until June 4, maintaining restrictions that limited public transportation and gatherings in a bid to contain the spread..




Reuters - Published





Indonesia to impose VAT on internet giants from July

JAKARTA — Indonesia will require big internet companies to pay value-added tax on sales of digital products and services from July, a move that other countries may also adopt as they seek to boost..




WorldNews - Published





Snaking queues at Jakarta airport as crowds ignore distancing rules

Thousands of travellers queued cheek by jowl at an airport terminal in the Indonesian capital Jakarta on Thursday, ignoring regulations on social distancing and despite an official lockdown slated to..




Reuters - Published





Indonesia condemns abuse of its fishermen on Chinese boats

JAKARTA, Indonesia (AP) — Indonesia's government on Sunday condemned what it called the "inhuman" treatment of its nationals by a Chinese fishing company that allegedly kept Indonesian fishermen..




WorldNews - Published





Indonesia delays September regional elections due to virus

JAKARTA, Indonesia (AP) — The Indonesian government has postponed Sept. 23 regional elections until at least December because of the coronavirus...




WorldNews - Published





Burial numbers in Jakarta indicate coronavirus toll is higher than officially reported

Burials in Jakarta remained close to record highs in April, official data showed on Friday, indicating there may have been many more deaths from COVID-19 in the city than have been officially recorded.




Reuters - Published





Tsunami risk identified near future Indonesian capital

Scientists map ancient underwater landslides in the region chosen for Jakarta's replacement.




BBC News - Published





Indonesian doctor's death exposes heartbreaking risks of coronavirus battle

When Indonesian doctor Ratih Purwarini was buried at dusk in a Jakarta cemetery, only her son Firos saw her plastic-wrapped coffin used for coronavirus victims lowered into the grave.




Reuters - Published




Indonesian capital Jakarta to close schools, workplaces to curb coronavirus outbreak

Authorities in the Indonesian capital Jakarta will impose large-scale social restrictions including closures of schools and workplaces to curb the spread of the new coronavirus in the hardest hit area..




Reuters - Published




Indonesia approves large-scale social restrictions for Jakarta: media

Indonesia's health ministry has approved a request by the government of Jakarta to impose large-scale social restrictions in the city to curb the spread of the new coronavirus, media on Tuesday cited a..




Reuters - Published





Exclusive: Jump in Jakarta funerals raises fears of unreported coronavirus deaths

The number of funerals in Jakarta rose sharply in March, a development the governor of Indonesia's capital city said suggested that deaths from the new coronavirus may be higher than officially..




Reuters - Published





Indonesia to give Jakarta aid to limit exodus amid COVID-19 outbreak: minister

Indonesia plans to give special assistance to residents of Jakarta within two weeks to limit the exodus from the capital during the Ramadan holiday period amid the COVID-19 outbreak, the social affairs..




Reuters - Published





Indonesia's most active volcano erupts, flight warning issued

JAKARTA, March 27 (Xinhua) -- Mount Merapi, the most active volcano in Indonesia, erupted on Friday, spewing a column of ash of up to 5 km high, forcing the authorities to issue a flight warning, the..




WorldNews - Published





Indonesia invokes emergency measures in Jakarta, bonuses for doctors

Indonesia's capital Jakarta shut cinemas and other public entertainment on Monday at the start of a two-week emergency period to try to slow the accelerating spread of the coronavirus in Southeast..




Reuters - Published





China's COVID-19 testing kits arrive in Jakarta

JAKARTA, March 23 (Xinhua) -- A shipment of 800,000 COVID-19 testing kits supplied by China arrived in Indonesia's capital on Monday, carrier Xiamen Airlines...




WorldNews - Published





Indonesia transport minister confirmed to have coronavirus as cases climb

Indonesian Transport Minister Budi Karya Sumadi has been hospitalized in Jakarta after he contracted coronavirus, a government official said on Saturday, the most high-profile case so far to be..




Reuters - Published





Indonesia transport minister has coronavirus - government official

Indonesian Transport Minister Budi Karya Sumadi has been hospitalized in Jakarta after he contracted coronavirus, a senior government official told a news conference on Saturday.




Reuters - Published





Indonesia capital shuts schools as coronavirus cases spread

Indonesia's capital city will close all schools and order remote teaching for at least two weeks to curb the spread of coronavirus, Jakarta's governor said on Saturday, as the first cases were also..




Reuters - Published





Indonesian capital closes schools for two weeks due to coronavirus concerns

Indonesia's capital city will close all schools and ordered remote teaching for at least two weeks starting next week to curb the spread of the coronavirus, Jakarta Governor Anies Baswedan told a..




Reuters - Published





Postcards from Asian airports as coronavirus tightens its grip

From Beijing to Jakarta, many usually bustling Asian airports have become eerily empty and quiet as coronavirus tightens its grip over the region where the outbreak first began late last year.




Reuters - Published





Boeing pilot training on 737 MAX 'inadequate'

Ethiopia's probe of last year's Ethiopian Airlines crash found that Boeing did not provide sufficient pilot training for the 737 MAX and that crucial flight software was flawed, according to an interim..




WorldNews - Published





Indonesia confirms first coronavirus cases

Jakarta: Indonesia on Monday reported its first confirmed cases of coronavirus, after health officials in the world's fourth-most populous country hit back at questions over its apparent lack of..




WorldNews - Published





Indonesia treads tight line between China and US

JAKARTA – When China and Indonesia's Natuna maritime stand-off nearly boiled over last month, President Joko Widodo – a leader not known for his abiding interest in foreign relations – did what..




WorldNews - Published





Heavy rains flood Indonesia's capital city Jakarta

Heavy rains in greater Jakarta sent muddy water into residential and commercial areas, inundating homes and paralyzing transportation on Feb. 25, 2020.




USATODAY.com - Published





Jakarta hit by serious flooding for second time this year

Torrential rain brought floods to Indonesia's capital on Tuesday, paralyzing large parts of the city as rescue workers used boats to navigate streets turned into murky, brown waterways to get people to..




Reuters - Published





Singapore Airlines to cut flights as coronavirus epidemic hits demand

SYDNEY - Singapore Airlines Ltd will temporarily cut flights across its global network in the three months to May, it said on Tuesday, as a coronavirus epidemic hits demand for services to the Asian..




WorldNews - Published





Pope plans Indonesia trip to promote inter-religious dialogue

Pope Francis will promote inter-religious dialogue this year during a trip to the world's biggest Muslim country Indonesia and make the first papal visit to mainly Catholic East Timor since it won..




Reuters - Published





Indonesia's 'minority within a minority' celebrate Lunar New Year

As he does every year, ethnic Chinese Indonesian Purnama celebrated Lunar New Year on Saturday at a dinner with his extended family of more than 50 in Jakarta where they exchanged traditional red..




Reuters - Published





Strong 6.0 quake hits Indonesia's Papua

Jakarta: A strong 6.0 magnitude earthquake shook Indonesia's easternmost region of Papua on Sunday, the United States Geological...




WorldNews - Published





Indonesia, UAE sign $23 bn investment deals: officials

Other investments include deals in ports, renewable energy and agriculture. JAKARTA: The figure includes nearly a dozen deals signed after a meeting between Indonesian President Joko Widodo and Crown..




WorldNews - Published





Indonesia deploys fighter jets in stand-off with China

Indonesia's air force deployed four fighter jets to the South China Sea on Tuesday in a stand-off with Beijing after Jakarta protested over a Chinese violation of its exclusive economic zone.




Reuters - Published





After Indonesia's deadly floods, few hear climate 'wake up call'

JAKARTA: Floods that killed more than 50 people in Indonesia's capital after the biggest rainfall since records began should be a wake-up call to climate change in one of the world's biggest carbon..




WorldNews - Published





Jakarta floods: Cloud seeding used to try to stop rain

Planes are firing salt into clouds in a bid to prevent rain after record floods left dozens dead.




BBC News - Published





Death toll from floods in Indonesia capital rises to 43

JAKARTA, Indonesia — The death toll from floods in Indonesia's capital rose to 43 of Friday as rescuers found more bodies amid receding floodwaters, disaster officials said. Monsoon rains and..




WorldNews - Published





Indonesia plans cloud seeding to halt rain, floods death toll rises to 43

Indonesia will carry out cloud seeding on Friday in a bid to prevent further rainfall over the capital Jakarta, after deadly flash floods and landslides following some of the heaviest rains ever..




Reuters - Published




Indonesia floods leave nearly 30 dead, several missing

JAKARTA: Indonesia's disaster agency warned on Thursday of more deaths after torrential rains pounded the Jakarta region, triggering floods and landslides that killed at least 29 and left vast swaths..




WorldNews - Published





Flood death toll rises to 26 in Jakarta, tens of thousands evacuated

Tens of thousands of people were evacuated in Indonesia's capital Jakarta on Thursday after flash floods and landslides killed up to 26 people amid some of the heaviest rain in more than 20 years, with..




Reuters - Published




19 killed in Jakarta floods, landslides

Jakarta, Jan 2 (IANS) Severe flooding in Jakarta has claimed at least 19 lives and forced thousands of people to flee their homes after heavy rains inundated both residential and commercial areas..




WorldNews - Published