Jakarta
Special Administrative Region in Indonesia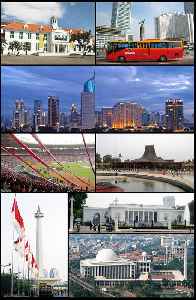 Jakarta, officially the Special Administrative Region of Jakarta, is the capital and largest city of Indonesia. Located on the northwest coast of the world's most populous island, Java, it is the centre of economics, culture and politics of Indonesia, with a population of 10,075,310 as of 2014. Jakarta metropolitan area has an area of 6,392 square kilometers, which is known as Jabodetabek. It is the world's second largest urban agglomeration with a population of 30,214,303 as of 2010. Jakarta is predicted to reach 35.6 million people by 2030 to become the world's biggest megacity. Jakarta's business opportunities, as well as its potential to offer a higher standard of living, attract migrants from across the Indonesian archipelago, combining many communities and cultures.


Indonesia's 'smooth' polls a beacon in sea of strongmen: analysts
JAKARTA: Indonesia pulled off a complex yet peaceful election across its vast — and ethnically diverse — island territory this week, cementing its place as a democratic beacon in a sea of..
WorldNews - Published
Indonesia's Widodo declares victory in presidential election
JAKARTA, Indonesia (AP) - Indonesian President Joko Widodo said Thursday he was won re-election after receiving an estimated 54% of the vote, backtracking on an earlier vow to wait for official results..
WorldNews - Published
Indonesian President Joko Widodo Appears To Win Re-Election
JAKARTA (Reuters) - The prospect of another five years in office for President Joko Widodo cheered Indonesia's financial markets on Thursday after unofficial election results indicated a comfortable..
Credit: Wochit News Duration: 00:45Published
Indonesian candidates cast votes in election
Indonesia's presidential candidates Joko Widodo and Prabowo Subianto arrive at polling stations to cast their votes. Rough cut (no reporter narration).
Credit: Reuters Studio Duration: 00:45Published
Indonesia opens new train system in Jakarta
The government hopes the much-delayed infrastructure project will promote economic growth.
Credit: Al Jazeera STUDIO Duration: 03:11Published
Pilots In The Lion Air 737 Max Crash Hit An Override Switch Again And Again, Unaware There Were Three Other Steps
The pilots of the Lion Air 737 Max 8 which crashed last year reportedly hit an override switch repeatedly in an effort to save the plane. According to sources, the pilots flying the Boeing plane..
Credit: Wochit News Duration: 00:39Published
Ethiopia crash pilot lacked proper manuals, simulator training: source
The pilot of the Ethiopian Airlines jet that crashed near Addis Ababa never had a chance to use the airline's simulator, according to a Reuters source. Julian Satterthwaite reports.
Credit: Reuters Studio Duration: 01:51Published
Boeing Makes Changes In Response To 737 MAX Crashes
Reuters reports Boeing, the world's largest maker of airplanes, is attempting to have its 737 MAX fleet returned to the skies, while details have emerged of a crash in Indonesia with potential..
Credit: Wochit News Duration: 00:53Published
Boeing Faces Growing Scrutiny In Ethiopian Crash Probe
The world's biggest planemaker faced escalating pressure on Monday after Ethiopia pointed to parallels between its crash and one in Indonesia. The Ethiopian Airlines disaster eight days ago killed..
Credit: Wochit News Duration: 00:41Published
Indonesia Offers To Assist Ethiopia With Boeing Crash Investigation
According to a report by Reuters, on Thursday, Transport Ministry official Polana Pramesti said that Indonesia plans to send a flight inspector and an official from its transport safety agency to..
Credit: Wochit News Duration: 00:42Published
China Grounds Entire Fleet Of Boeing 737-8 Planes Following Ethiopian Air Crash
Reuters reports that China's civil aviation regulator has suspended operations of all Boeing 737 MAX 8 jets in its fleet. Aviation officials asked domestic airlines to suspend the commercial..
Credit: Wochit News Duration: 00:40Published
Malaysia frees Indonesian suspect in Kim Jong Nam murder case
An Indonesian woman accused in the 2017 killing of the North Korean leader's half-brother was freed on Monday, as a Malaysian court dropped the murder charge against her in a case that drew..
Credit: Reuters Studio Duration: 01:50Published
Even Though Joko Widodo Leads In The Polls, His Main Rival Subianto Claims Victory
The unofficial results from the Indonesian presidential polls place Joko Widodo ahead of his challenger Prabowo Subianto, the former general claimed victory during a rally in Jakarta on Thursday,..
WorldNews - Published
In world's biggest one-day election, Indonesia votes for its president
JAKARTA (Reuters) - Indonesians began voting in the world's biggest single-day election on Wednesday as polling stations opened across the sprawling equatorial archipelago following a six-month..
WorldNews - Published
Some overseas Indonesians may vote again after fraud claim
JAKARTA, Indonesia (AP) — Indonesia's Election Supervision Agency said Tuesday about 320,000 overseas voters in neighboring Malaysia's biggest city should vote again in presidential and..
WorldNews - Published
Jakarta motorbike taxi driver among hopefuls in Indonesia election
The only motorbike taxi driver running for national parliament in Indonesia says he can't afford the flashy billboards or music concerts used by other candidates to drum up support.
Reuters - Published
Indonesians flock to final presidential campaign rallies
JAKARTA, Indonesia (AP) — Tens of thousands of Indonesians have flocked to presidential campaign rallies ahead of a final debate between the two candidates. Supporters of President Joko Widodo filled..
WorldNews - Published
'Beam me up': Indonesian president uses holograms to woo rural voters
A crowd of villagers cheers as a holographic image of Indonesia's President Joko Widodo appears at a campaign rally outside the capital, Jakarta.
Reuters - Published
Pushing the envelope: Money politics mars Indonesian poll
Shanti Ramchand learned quickly what was expected when she began campaigning in Jakarta for Indonesia's national parliament – distribute envelopes of cash at a small campaign event, and gift a..
Reuters - Published
You Might Like