Himalayas
Mountain range in Asia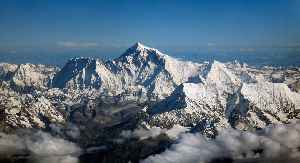 The Himalayas, or Himalaya, form a mountain range in Asia, separating the plains of the Indian subcontinent from the Tibetan Plateau. The range has many of the Earth's highest peaks, including the highest, Mount Everest. The Himalayas include over fifty mountains exceeding 7,200 m (23,600 ft) in elevation, including ten of the fourteen 8,000-metre peaks. By contrast, the highest peak outside Asia is 6,961 m (22,838 ft) tall.


U.S. ambassador urges China to talk to the Dalai Lama
China should hold talks with Tibet's spiritual leader, the Dalai Lama, U.S. Ambassador to China Terry Branstad told Chinese officials during a trip to the Himalayan region where he criticized Beijing..
Reuters - Published
British man dies on Mount Everest as death toll of climbers in Himalayas reaches 20
44-year-old thought to have collapsed in so-called 'death zone' known for low levels of oxygen
Independent - Published
Also reported by •WorldNews •Reuters
Indian Army Claims It Found Mysterious 'Yeti Footprints'
On its official Twitter account, the Indian Army claimed it found "Yeti footprints" in the Himalayas of Nepal. Geek.com reports, the strange and mysterious "footprints" were discovered on April..
Credit: Wochit News Duration: 00:44Published
India Finds The Abominable Snowman's Footprints In The Himalayan Mountains
India's army claims to have found footprints for the elusive Abominable Snowman, or Yeti. An Indian mountaineering expedition team said it found the footprints belonging to the "mythical beast" in..
Credit: Wochit News Duration: 00:33Published
TMC complains to EC against media coverage of PM Modi's Kedarnath visit, terms it gross violation of MCC
The prime minister offered prayers at the Himalayan shrine on Sunday morning.
DNA - Published
Ashok Gehlot mocks Modi for meditating in Kedarnath
Congress leader and Rajasthan chief minister Ashok Gehlot on Saturday mocked Prime Minister Narendra Modi for meditating in Kedarnath, wondering what message he wants to give now. After Modi offered..
IndiaTimes - Published
EC okay with PM visit to Himalayan shrines, reminds PMO that model code of conduct is in force
The Election Commission is learnt to have given its nod to Prime Minister Narendra Modi's proposed visit to Kedarnath and Badrinath shrines in Uttarakhand beginning Saturday while "reminding" the prime..
DNA - Published
Two Indian climbers dead, Irishman missing in Nepal's Himalayas
Two Indian climbers died and an Irish mountaineer is missing on the Himalayan peaks of Nepal, officials said on Friday, taking the number of climbers dead or missing to six this week and raising..
Reuters - Published
You Might Like