Himalayas
Mountain range in Asia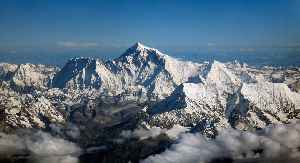 The Himalayas, or Himalaya, , is a mountain range in Asia separating the plains of the Indian subcontinent from the Tibetan Plateau. The range has many of Earth's highest peaks, including the highest, Mount Everest, at the border between Nepal and China. The Himalayas include over fifty mountains exceeding 7,200 m (23,600 ft) in elevation, including ten of the fourteen 8,000-metre peaks. By contrast, the highest peak outside Asia is 6,961 m (22,838 ft) tall.


Atal tunnel in Himalayas ready for formal opening

Atal tunnel in Himalayas is ready to open soon. "With this tunnel 46 kilometer is reduced and the saving of time is four hours. Lahaul and Spiti is getting all weather connectivity," said Colonel..
Credit: ANI Duration: 02:19
Published
India and China walk back from border standoff

China and India said on Friday they had agreed to de-escalate renewed tensions on their contested Himalayan border and take steps to restore "peace and tranquility" following a high-level diplomatic..
Credit: Reuters - Politics Duration: 01:19
Published
You Might Like



Modi govt boosts defences on China frontier with new tunnels, roads, airstrips

A tunnel nearing completion in the Indian Himalayas will slash by hours the time it takes troops to reach the Chinese border, part of an infrastructure blitz by New Delhi that is gathering pace since a..




WorldNews - Published





Widespread heavy rainfall over Andhra Pradesh, Telangana, Maharashtra, Karnataka, Kerala during next 3 days: IMD

According to the Indian Meteorological department, the monsoon trough lies to the north of its normal position. Western end of the Monsoon Trough is likely to remain close to foothills of Himalayas..




DNA - Published





India says China laying cables to bolster communications at border flashpoint

Two Indian officials said Chinese troops were laying a network of optical fibre cables near the Himalayan border with India, suggesting they were digging in for the long haul despite high-level talks..




IndiaTimes - Published





New info on turbulence parameters over Himalayas to prevent air traffic disasters in the region




IndiaTimes - Published





HAL's Light Utility Helicopter successfully completes hot and high-altitude trials in Himalayas

After completing its task, the helicopter landed at the highest helipads of Amar and Sonam.




DNA - Published





LUH completes hot and high altitude Trials in Himalayas

"A comprehensive test plan was executed at Leh — 3,300 metres above mean sea level (MAMSL) — in extreme temperatures which included envelope expansion, performance and flying qualities. LUH took..




IndiaTimes - Published





US happy to help in China-India border dispute, says Trump

The United States is ready to help resolve the dispute between India and China over the mountain border running through the western Himalayas, President Donald Trump said on Friday. Trump told..




IndiaTimes - Published





China denounces India's 'discriminatory' app ban

China on Thursday decried a fresh ban by India on scores of Chinese apps - including the hit game PUBG - as a bitter border showdown seeped out into the tech sphere. Internet giant Tencent is among the..




WorldNews - Published





India and China are squaring off in the Himalayas again. How worried should we be?

Hong Kong (CNN)Two nuclear-armed powers, both run by nationalist governments at a time of economic tension, are once again squaring off along their shared border. Is this a recipe for disaster? Earlier..




WorldNews - Published





India accuses China of new 'provocative' border action

The Indian military on Monday accused China of carrying out "provocative" movements on their contested Himalayan border near where 20 Indian troops were killed in a battle in June. Tensions have..




WorldNews - Published





'Guests in our own homes': The forest tribe of India's Himalayas

Nomadic Van Gujjars in northern India fear remaining in the forest while their resettled relatives struggle to adjust. ......




WorldNews - Published





Megha Engineering awarded project to build high importance Zozila Tunnel connecting Kashmir, Ladakh

Megha Engineering and Infrastructure Limited (MEIL) has been awarded the contract to construct Zojilla Tunnel connecting Kashmir and Ladakh at an estimated cost of Rs 4509.50 crore. The prestigious..




DNA - Published





India, Nepal agree to speed up implementation of India-aided developmental projects

Senior diplomats of India and Nepal on Monday held a virtual meeting during which they comprehensively reviewed the progress made on various India-aided developmental projects in the Himalayan nation..




IndiaTimes - Published





Bordering China & Nepal, Uttarakhand boosts defence infra

Uttarakhand, wh- ich has a strategic location among the northern Himalayan states, shares a 350-km-long border with China and an almost 275-km-long border with Nepal.




IndiaTimes - Published





In Independence Day address, Modi warns China over border tensions

India's Prime Minister Narendra Modi on Saturday issued a veiled warning to China over deadly border tensions while also promising to strengthen the country's military in his Independence Day address..




WorldNews - Published





Sikkim reports three fresh Covid-19 cases

Sikkim on Tuesday reported three new Covid-19 cases, taking the Himalayan states tally to 913, an official of the Health department said. Director General (DG)-cum-Secretary, Health, Dr Pempa T Bhutia..




IndiaTimes - Published





Nepal to reopen Everest to climbers despite coronavirus case rise

Kathmandu, July 30 Nepal will reopen its Himalayan mountains including Mount Everest to climbers for the autumn season, officials said today, to boost the tourism-dependent economy despite rising..




WorldNews - Published





LAC face-off: India to add 35,000 troops along China border as tensions simmer

India is preparing to position an additional 35,000 troops along its disputed Himalayan border with China as the possibility of an early resolution to the deadly tensions between the two neighbors..




IndiaTimes - Published





India and China race to build along a disputed frontier

The rival nuclear powers are trying to out-build each other along their disputed Himalayan border.




BBC News - Published





China cannot threaten countries and bully them in the Himalayas: Pompeo

"You can't go make claims for maritime regions that you have no lawful claim to. You can't threaten countries and bully them in the Himalayas. You can't engage in cover-ups and co-opt international..




IndiaTimes - Published





Monsoon trough likely to shift northwards in next 24 hours: IMD

The India Meteorological Department (IMD) predicted the gradual shift of monsoon trough northwards along the foothills of Himalayas within the next 24 hours and isolated heavy falls over Kutch on..




IndiaTimes - Published





'Our pastures have been taken': Indians rue China's Himalayan land grab

Namgyal Durbuk knows the steep mountainous terrain of Ladakh like the back of his hand. But in the 45 years he has lived here, along the Indian state's volatile and poorly defined border with..




WorldNews - Published





India's Modi visits Himalayan border where troops clashed with China

NEW DELHI/SRINAGAR: Indian Prime Minister Narendra Modi flew into the northern Himalayan region of Ladakh on Friday, officials said, weeks after Indian...




WorldNews - Published





Northeast India likely to receive widespread rainfall in next 4-5 days: IMD

Northeast India is likely to receive widespread rainfall with isolated heavy to very heavy rains over the region in next four to five days as the eastern end of monsoon trough continues to run along..




IndiaTimes - Published





Pakistan Condemns India's Expulsion of Diplomats at 'Delicate' Time after China Clash

Pakistan has accused India of trying to distract the attention of its people by expelling Pakistani diplomats after Indian forces got a "battering" at the hands of Chinese troops in a clash on their..




WorldNews - Published





When India hosted China amid 1962 war tension

The recent stand-off in a disputed Himalayan region is not the first time India and China have clashed.




BBC News - Published





Indian army chief visits troops near troubled China border

NEW DELHI (AP) — India's army chief visited the Himalayan border region with China to review his troops' preparedness after hand-to-hand combat between Indian and Chinese soldiers left 20 Indians..




WorldNews - Published





India reinforces flashpoint area as China holds ground: Sources

Indian fighter jets roared over the flashpoint Himalayan region on Wednesday as part of a show of strength following a violent clash between the two armies in Galwan valley in eastern Ladakh.Chinese..




IndiaTimes - Published





India, China Agree to Cool Border Tensions

India and China have agreed to cool tensions along their disputed Himalayan border following their worst border clash in 50 years that left 20 Indian soldiers dead. Indian army officials said on..




WorldNews - Published





Mercury drops in parts of north India; monsoon to reach Delhi, UP in 2 days

Mercury dropped a few notches in parts of north India which also witnessed rainfall in some places, with the MeT Department stating that monsoon is likely to reach Uttar Pradesh, Punjab, Haryana and..




IndiaTimes - Published





Why this Japan-China island dispute could be Asia's next military flashpoint

Hong Kong (CNN)While China is engaged in a tense border standoff with India high in the Himalayas, a small group of islands thousands of miles away could be another military tinderbox waiting to..




WorldNews - Published





India accuses China of preparing attack on border troops

India has accused Chinese troops of meticulously preparing an attack on its soldiers on the treacherous Himalayan border, claiming they erected a tent on the Indian side, dammed a river, brought in..




WorldNews - Published





Satellite images suggest Chinese activity at Himalayan border with India before clash

In the days leading up to the most violent border clash between India and China in decades, China brought in pieces of machinery, cut a trail into a Himalayan mountainside and may have even dammed a..




Reuters - Published

Also reported by •Reuters India


India says to join June 23 trilateral meeting with Russia, China

India will take part in a trilateral meeting with Russia and China next week, India's foreign ministry said on Thursday, days after Indian and Chinese troops clashed on a remote Himalayan border,..




Reuters India - Published

Also reported by •Reuters


Picture of nail-studded clubs 'used by Chinese forces' in deadly Himalayan skirmish spark outrage in India

A photograph of nail-studded clubs purportedly used by Chinese forces in a brutal hand-to-hand skirmish that left 20 Indian soldiers dead in the Himalayas has caused outrage in India. As the nation..




WorldNews - Published





Deadly clash in the Himalayas ups ante for China and India




IndiaTimes - Published





Border clashes between China and India 14,000 feet up in the Himalayas are much more than a local dispute

"Two bald men fighting over a comb" was the despairing assessment of Jorge Luis Borges of the Falklands War as the Argentine writer deplored of so many lives lost in a war over a remote, sparsely..




WorldNews - Published





Why are Chinese and Indian troops fighting in a remote Himalayan valley?

The Indian army says at least 20 of its soldiers were killed after hand-to-hand fighting with Chinese troops at a disputed border site on Monday night, the deadliest clash in decades.




Reuters India - Published

Also reported by •Reuters


India, China want peace but blame each other after deadly border clash

India and China said they wanted peace but blamed each other on Wednesday after soldiers of the two sides savagely fought each other with nail-studded clubs and stones on their Himalayan border,..




Reuters - Published

Also reported by •Reuters India


India-China dispute: The border row explained in 400 words

A military stand-off between India and China on their disputed border in the Himalayas has escalated into deadly clashes. In 400 words, here is all the important background to help you understand what..




WorldNews - Published





Indian army says 20 of its troops killed in border clash with China

At least 20 Indian soldiers have been killed in a "violent faceoff" with Chinese forces on the disputed Himalayan border, the Indian army said late on Tuesday, the deadliest clash between the..




WorldNews - Published

Also reported by •Reuters •Reuters India


India, China troops clash at Himalayan border, 'casualties on both sides'

India's army said on Tuesday 20 of its soldiers had been killed in clashes with Chinese troops at a disputed border site, in a major escalation of a weeks-long standoff between the two Asian giants in..




Reuters - Published

Also reported by •Reuters India