Peru
Country in South America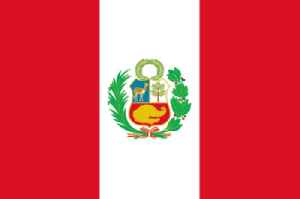 Peru, officially the Republic of Peru, is a country in western South America. It is bordered in the north by Ecuador and Colombia, in the east by Brazil, in the southeast by Bolivia, in the south by Chile, and in the west by the Pacific Ocean. Peru is a megadiverse country with habitats ranging from the arid plains of the Pacific coastal region in the west to the peaks of the Andes mountains vertically extending from the north to the southeast of the country to the tropical Amazon Basin rainforest in the east with the Amazon river. At 1.28 million km2, Peru is the 19th largest country in the world, and the third largest in South America.


Peru hospitals run out of oxygen to treat COVID-19 patients

The president has issued an emergency decree ordering factories to increase production.
Credit: Al Jazeera STUDIO Duration: 01:30
Published
Latin America Is Losing The Battle Against COVID-19

Latin America has seen an explosive spread of the coronavirus, with no end in sight. According to CNN, roughly half of all new COVID-19 cases originate in Latin America as a whole. However, individual..
Credit: Wochit News Duration: 00:39
Published
Latin America and the Caribbean surpass Europe's number of coronavirus cases

A skyrocketing case count in Brazil and heavy outbreaks in Peru, Chile and Colombia have been the main contributors.View on euronews
Credit: euronews (in English) Duration: 01:10
Published
Excessive sugar intake linked with unhealthy fat deposits

Sugar consumption is linked with larger fat deposits around the heart and in the abdomen, which are risky for health, finds a new study. Excess sugar consumption is a worldwide problem. The six..
Credit: ANI Duration: 01:25
Published
Peru COVID-19 outbreak: Health workers demand more protection

Peruvian healthcare workers protest against a lack of protective gear as the country faces the worst coronavirus outbreak in South America.
Credit: Al Jazeera STUDIO Duration: 02:34
Published
Peru's low income families, hardest hit by coronavirus, attack poor healthcare standards

Peru's number of COVID-19 cases overtook Italy's this week.View on euronews
Credit: euronews (in English) Duration: 01:00
Published
Tension in Peru amid coronavirus lockdown

A day after Peruvian President Martin Vizcarra called the coronavirus outbreak "a most serious crisis in our history," street vendors clashed with riot police who tried to remove them amid a nationwide..
Credit: Reuters Studio Duration: 01:29
Published
Experts say Latin America coronavirus death toll under-reported

Latin America has become a global epicentre for the pandemic, Brazil, Mexico, Peru and Chile recording high numbers.
Credit: Al Jazeera STUDIO Duration: 02:30
Published
Peru doctors warn they cannot cope with coronavirus infections

Doctors and nurses in Peru say hospitals cannot cope with the rising number of coronavirus infections and are demanding more government help.
Credit: Al Jazeera STUDIO Duration: 02:30
Published
Peru coronavirus cases surpass 100,000

Latin America has overtaken the US and Europe in new daily coronavirus cases for three days now becoming the new epicentre of the pandemic.
Credit: Al Jazeera STUDIO Duration: 02:14
Published
You Might Like



Ineligible for Medicare and unable to return to Peru, Ines is facing a $500,000 medical bill

Ines Oscategui Rodriguez needs a bone marrow transplant, but because she's ineligible for government health benefits due to her visa status, she's facing enormous out-of-pocket costs to have the..




SBS - Published




Coronavirus: What's happening in Peru?

Peru has one of the highest case totals and excess death rates in the world - but why?




BBC News - Published





Peru overtakes Italy in total cases of coronavirus

Peru topped 240,000 total cases of coronavirus on Wednesday, surpassing hard-hit Italy, government data showed, even as the pace of infections has begun to moderate in the South American nation.




Reuters - Published





Coronavirus: Peru economy sinks 40% in April amid lockdown

Peru's economy sank by more than 40% year-on-year in April, its worst-ever percentage drop in output, amid a lockdown...




WorldNews - Published

Also reported by •BBC News


Coronavirus: Technicians held in Peru over false 5G Covid links

The Andean villagers mistakenly fear 5G will transmit coronavirus, the technicians' company says.




BBC News - Published





A Peruvian driver delivers ashes of the dead as coronavirus toll mounts

Héctor Orellanqui, 65, wearing a white overcoat and mask, has a painful duty to carry out: delivering the ashes of those who have died from COVID-19 to families who can in most cases no longer carry..




Reuters - Published





How Che Guevara Taught Cuba to Confront COVID-19

Beginning in December 1951, Ernesto "Che" Guevara took a nine-month break from medical school to travel by motorcycle through Argentina, Chile, Peru, Colombia, and Venezuela. One of his goals was..




WorldNews - Published





Peru's most catastrophic natural disaster

On 31 May 1970 an earthquake struck in Peru, triggering a landslide and leading to the deaths of 70,000.




BBC News - Published





Spread of coronavirus fuels corruption in Latin America

MIAMI (AP) — Even in a pandemic, there's no slowdown for swindlers in Latin America. From Argentina to Panama, a number of officials have been forced to resign as reports of fraudulent purchases of..




WorldNews - Published





LATAM Airlines Group files for US bankruptcy protection

Latin America's largest airline LATAM Airlines Group said today that the company and its affiliates in Chile, Peru, Colombia, Ecuador and the US have filed for Chapter 11 bankruptcy protection in the..




WorldNews - Published

Also reported by •Reuters


Peru extends protracted national lockdown until end of June

Peru on Friday extended its state of emergency and a nationwide lockdown to fight the coronavirus pandemic until the end of June, marking one of the longest periods of mandatory isolation in the world.




Reuters - Published





Peru coronavirus cases surpass 100,000 as demand sends drug prices soaring

Peru's number of confirmed coronavirus cases surpassed 104,000, the Ministry of Health reported on Wednesday, as the outbreak puts pressure on the demand for medicines, whose prices have soared in..




Reuters - Published





Peru's confirmed coronavirus cases surpass 100,000: health ministry

Peru's number of confirmed coronavirus cases surpassed 100,000, the Ministry of Health reported on Wednesday.




Reuters - Published





Regional health body warns of COVID-19 spread in Amazon tri-border area

The Pan American Health Organization (PAHO) warned on Tuesday that new coronavirus is spreading rapidly in the tri-border area of the Amazon between Brazil, Colombia and Peru and threatens to infect..




Reuters - Published





Peru extends nationwide lockdown until May 24 as coronavirus cases rise

Peru has extended a nationwide lockdown by two weeks until May 24, President Martin Vizcarra said on Friday, the fourth extension of the isolation period amid a sharp rise in cases of COVID-19 in the..




Reuters - Published





Peru's opposition leader Keiko Fujimori freed from prison

Peru's opposition leader Keiko Fujimori was released on Monday from a 15-month pre-trial detention on corruption charges after just three months, an AFP reporter witnessed. ......




WorldNews - Published





Peru's Keiko Fujimori to be freed from prison during graft investigation

Former Peruvian presidential candidate Keiko Fujimori will be released from prison while she is under investigation for money laundering, her lawyer said on Thursday.




Reuters - Published





Coronavirus Live Updates: Pandemic Sends World's Poor Scrambling

From war-torn Yemen to the teeming streets of Lima, Peru, the world's most vulnerable people face a new challenge as the virus reaches their countries.




NYTimes.com - Published





Peru's leader says to propose comprehensive pension reform

Peruvian President Martin Vizcarra on Wednesday rejected a bill approved by Congress earlier this month that would have let people withdraw up to 25% of their holdings in private pension funds and..




Reuters - Published





Death toll in Peru prison riot over coronavirus demands rises to nine

Nine inmates have died after a prison riot in Peru over demands for better sanitary measures and coronavirus medical care, the country's prison authority said on Tuesday,




Reuters - Published





At least three inmates dead after Peruvian prison riot over coronavirus

At least three inmates died following a Peruvian prison riot over the demand for better sanitary measures and coronavirus medical care, the country's prison authority said late on Monday.




Reuters - Published





Coronavirus: 17 police officers die of Covid-19 in Peru

A new interior minister has vowed to spend more money to buy protective equipment after 17 deaths.




BBC News - Published





Peru indigenous warn of 'ethnocide by inaction' as coronavirus hits Amazon tribes

Indigenous tribes in Peru's Amazon say the government has left them to fend for themselves against the coronavirus, risking "ethnocide by inaction," according to a letter from natives to the United..




Reuters - Published




Coronavirus cases accelerate in Peru to top 20,000, government extends quarantine

Peru's reported coronavirus cases rapidly increased this week and topped 20,000 on Thursday, doubling in nine days, as President Martin Vizcarra extended a national quarantine in the world's No. 2..




Reuters - Published




Special Report: Peruvian coca farmers to Paris pushers, coronavirus upends global narcotics trade

Countries around the world have spent billions of dollars bailing out businesses affected by the coronavirus outbreak. Peru's coca farmers, who grow the bushy plant used to make cocaine, say they want..




Reuters - Published




Orlando Moncada, a Building Foreman in Manhattan, Dies at 56

Mr. Moncada, who died of the coronavirus, left Peru 40 years ago in pursuit of the American dream. He then grabbed it with both hands.




NYTimes.com - Published





Masks reused and bodies mount as Peru strains under coronavirus

Peru's hospitals are straining to deal with a rapid rise in the number of COVID-19 infections, with bodies being kept in hallways, masks being repeatedly reused, and protests breaking out amongst..




Reuters - Published





Coronavirus cases in Peru top 15,000, second highest in Latin America

Peru reported over 15,000 cases of coronavirus on Sunday, the second-highest tally in Latin America, as the disease continues to ravage the economy of the world's No. 2 copper producer.




Reuters - Published





Man City: Kluiverth Aguilar, 16, agrees to join in 2021

Manchester City agree a deal to sign 16-year-old Peruvian defender Kluiverth Aguilar from Alianza Lima.




BBC News - Published





COVID impasse: Bolivian and Peruvian migrants trapped at Chilean border

More than a thousand mainly Bolivian migrants are stranded near Chile's northern border after informal labor sources in their host country dried up but they were unable to return home because of..




Reuters - Published





Peru will emerge from 'economic hibernation' by May, elections date safe: president

Peru hopes to gradually emerge from the economic hibernation aimed at halting the spread of the novel coronavirus and return to "more or less" normal levels of productive activity in 2021, President..




Reuters - Published





Hundreds of Australians stuck in Peru now back home after coronavirus repatriation

About 280 evacuees have been flown from Peru to Melbourne as the federal government steps up efforts to rescue Australians stranded overseas.




SBS - Published





Peru flight returns Australians to Melbourne in latest coronavirus evacuation

About 280 evacuees have been flown from Peru to Melbourne as the federal government steps up efforts to rescue Australians stranded overseas.




SBS - Published





Coronavirus: US evacuees sprayed with unknown chemicals by Peruvian authorities

Authorities in Peru sprayed down a group of American tourists and other foreigners trying to leave the country with an unknown chemical after imposing a mandatory coronavirus quarantine on their..




WorldNews - Published





Coronavirus rescue flights secured for Australians stranded in Peru, Argentina and South Africa

Foreign Minister Marise Payne has announced three flights from Peru, Argentina and South Africa to bring Australians home during the coronavirus pandemic.




SBS - Published





Qantas strikes deal to provide three additional COVID-19 rescue flights

Foreign Minister Marise Payne has announced three flights from Peru, Argentina and South Africa to bring Australians home during the coronavirus pandemic.




SBS - Published





Two Peruvian women diagnosed with COVID-19 give birth to healthy babies - doctor

Two pregnant women diagnosed with the new coronavirus in Peru have given birth to babies who have tested negative for the disease, a hospital in the capital Lima said on Tuesday.




Reuters - Published





Azul Rojas Marín: Peru found responsible for torture of LGBT person

Azul Rojas Marín was beaten and raped in custody in Peru, a top human rights court rules.




BBC News - Published





Coronavirus: Peru limits movement by gender to stem spread

Men and women are allowed out on different days, while on Sunday everyone must stay at home.




BBC News - Published





Gender divide: Peru, Panama limit men and women to alternate days out to stall virus

Peru and Panama both started on Thursday limiting the times men and women can leave their homes in an attempt to slow the spread of the coronavirus pandemic.




Reuters - Published




Peru calls up 10,000 army reserves to enforce quarantine

Peru's government has called up around 10,000 army reservists to return to barracks to help patrol the country's streets and enforce a coronavirus quarantine, due to the high number of people failing..




Reuters - Published





Celebrations as Peru evacuation flight lands in Australia

Hundreds of Australians have arrived home from South America but many find themselves still stuck abroad.




SBS - Published





Aaron Rodgers got out of Peru in dramatic fashion before borders close due to coronavirus

The Green Bay Packers quarterback cut his trip to South America short and flew out of Peru just before the airport shut down. "That was quite the ordeal," he said.




USATODAY.com - Published





Evacuation flight for Australians trapped in Peru and Uruguay incoming, but many to be left behind

Two evacuation flights are scheduled to rescue hundreds of Australians stranded in Peru and Uruguay "in the coming days".




SBS - Published





Australian facing three months confined to Peru hostel room after guests test positive for coronavirus

A statement issued to guests at the hostel warned that they could face up to 10 years in prison if they breached the strict quarantine orders.




SBS - Published




Death toll in Peru hits seven as coronavirus spreads

The death toll from coronavirus in Peru hit 7 on Tuesday after a 38-year-old man died after he contracted the disease while on a trip to Canada, the country's Ministry of Health said.




Reuters - Published





Canadian man, 38, dies of coronavirus in Peru

A 38-year-old Canadian man has died in Peru after contracting Covid-19 from a colleague in his home country, the country's Ministry of Health said on Tuesday.




Reuters - Published