Latin America
Region of the Americas where Romance languages are primarily spoken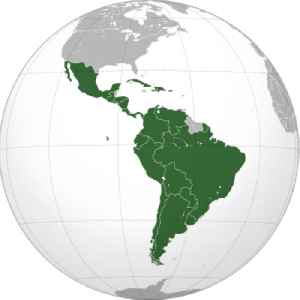 Latin America is a group of countries and dependencies in the Western Hemisphere where Romance languages such as Spanish, Portuguese, and French are predominantly spoken. However, it is often used as a synonym for Ibero-America or Hispanic America in categorizing the New World, thus excluding Latin-language speaking territories such as Quebec. The term is recent in origin and comes from the fact that the predominant languages of the countries originated with the Latin language.


Ecuador faces worst unemployment crisis in Latin America

A shocking 85 percent of Ecuadorans are now either unemployed or in precarious jobs.
Credit: Al Jazeera STUDIO Duration: 02:30
Published
Colombia lifts restrictions as COVID-19 cases stabilise

Colombia lifts months-long travel ban and allows restaurants to reopen, as it eases one of Latin America's longest coronavirus lockdowns.
Credit: Al Jazeera STUDIO Duration: 02:25
Published
COVID-19 in Latin America: Medic protest work conditions

At the root of the problem across Latin America lies a lack of adequate investment in health services infrastructure.
Credit: Al Jazeera STUDIO Duration: 02:29
Published
Covid update: Vaccine for Mexico, Argentina; Ram Temple trust head infected

From Ram Temple trust head getting infected to Congress slamming Kerala CM, here are the top updates of coronavirus pandemic. Head of Ram Temple trust Mahant Nritya Gopal Das was rushed to Medanta..
Credit: HT Digital Content Duration: 03:48
Published
COVID-19: Chile death toll tops 10,000

While Brazil rightly gets most of the attention in Latin America, other countries are also passing grim milestones.
Credit: Al Jazeera STUDIO Duration: 02:15
Published
Latin America hits five million COVID-19 cases

Latin America has passed five million confirmed cases of COVID-19, a Reuters tally showed.
Credit: Al Jazeera STUDIO Duration: 02:05
Published
Latin America COVID-19 death toll rises past 200,000

The number of recorded Coronavirus deaths in Latin America doubles in just over a month.
Credit: Al Jazeera STUDIO Duration: 01:59
Published
Latin America: Millions at risk of famine as COVID-19 cases surge

A warning that millions of people in Latin America could go hungry this year, because of COVID-19.
Credit: Al Jazeera STUDIO Duration: 02:34
Published
Chile lifts COVID-19 lockdown as Latin America still hardest-hit

After months of lockdown, Chile cautiously starts to lift restrictions, while its neighbours across Latin America struggle to get a grip on the coronavirus pandemic.
Credit: Al Jazeera STUDIO Duration: 02:31
Published
You Might Like



Pompeo Travels to Brazil on Third Stop of Latin American Tour

U.S. Secretary of State Mike Pompeo traveled Friday to Brazil where he visited a Venezuelan refugee processing center, while calling for democracy and for Venezuelan President Nicolas Maduro to step..




WorldNews - Published





Animal populations have declined nearly 70% since 1970, report says

World Wildlife Fund says species in Latin America and the Caribbean were disproportionately affected, declining 94% on average — and humans are to blame.




CBS News - Published





Google's Waze lays off 5 percent of its workforce, closes offices in Asia and Latin America

Photo by Amelia Holowaty Krales / The Verge Waze, the Google-owned navigation and mapping service, will lay off 5 percent of its global workforce, or about 30 people out of 555 total employees, the..




The Verge - Published





Bolivia's ex-president Evo Morales rejects U.S. nominee to head IDB

BUENOS AIRES, Sept. 6 (Xinhua) -- Bolivia's former president Evo Morales on Sunday rejected the nomination of a U.S. official to preside over the Inter-American Development Bank (IDB), a lending..




WorldNews - Published





A White professor says she has been pretending to be Black for her entire professional career

(CNN)A professor of African and Latin American studies who portrayed herself as Black has now revealed she has been lying. Jessica A. Krug, an associate professor at George Washington University, has..




WorldNews - Published





Carter Center, pushing for fair elections, turns focus to US

WASHINGTON (AP) — The Carter Center, an organization founded by former President Jimmy Carter and his wife, Rosalynn, has worked for decades to ensure fair elections in Africa, Latin America and..




WorldNews - Published





Lima Group members reject Venezuelan parliamentary elections

BOGOTA (Reuters) – A regional bloc comprised mostly of Latin American nations said on Friday it rejects plans by Venezuelan President Nicolas Maduro to hold legislative elections without..




WorldNews - Published





Latin America: The global epicenter of COVID-19

Latin America, which accounts for 8% of the world population, has reported nearly 30% of the global fatalities.




CBS News - Published





PH bans imported chicken from Brazil over possible COVID-19 contamination

As a precautionary measure, the Philippine government has imposed a temporary ban on the importation of poultry meat from Brazil after COVID-19 was detected on chicken wings imported from the Latin..




WorldNews - Published





US Crimes Against Humanity at Home and Abroad

This month marks the second year since former President of Bolivia, Evo Morales, announced to the world a campaign promoted by a group of Latin American writers and academics to declare August 9 as..




WorldNews - Published





Coronavirus deaths in Latin America hit global high

Latin America and the Caribbean has become the region hardest-hit in terms of deaths related to Covid-19, while India has surpassed two million cases of infection. The world's worst-affected region has..




WorldNews - Published





How to prevent the looming sovereign-debt crisis

While the COVID-19 pandemic rages, more than 100 low- and middle-income countries will still have to pay a combined US$130 billion in debt service this year – around half of which is owed to private..




WorldNews - Published





What would a Joe Biden victory mean for world diplomacy?

A Joe Biden presidency would likely see a foreign policy about-face for the US with many of President Donald Trump's most significant and boldest actions dismantled or curtailed. From the Middle East..




WorldNews - Published





Record 212 environmental activists murdered in 2019: NGO

Shares At least 212 environmental campaigners worldwide were murdered in 2019, making last year the deadliest on record for frontline activists battling the destruction of Nature, watchdog group Global..




WorldNews - Published





China offers $1 billion loan to Latin America and the Caribbean for access to its Covid-19 vaccine

Mexico City (CNN)Chinese Foreign Minister Wang Yi announced a $1 billion loan to Latin America and the Caribbean for Covid-19 vaccine access during a virtual gathering with his Latin American..




WorldNews - Published





Latin American Foto Festival: Culture and coronavirus

Caribbean and Latin American photography features in the third Annual Latin American Foto Festival.




BBC News - Published





The number of coronavirus deaths in Latin America have now surpassed the United States

Latin America has overtaken the United States to become the world's second hardest-hit region for coronavirus deaths.




SBS - Published





Coronavirus: Fake cures in Latin America's deadly outbreak

The desperate search for a cure has led people to 'harmful and ineffective' alternatives online.




BBC News - Published





LATAM Airlines adds $1.3 bln to bankruptcy financing proposal, Brazil unit seeks protection

SANTIAGO — LATAM Airlines, the largest airline group in Latin America, said Thursday it had secured an additional $1.3 billion for its financing proposal before a New York bankruptcy court, while..




WorldNews - Published





Brazil to become testing ground for coronavirus vaccine

Shares Brazil may be struggling in its battle against the coronavirus, but it is on the cutting edge of vaccine development with large-scale trials and the production of millions of doses on the..




WorldNews - Published





Gravedigger takes Covid-19 more seriously than Brazil's President

São Paulo, Brazil (CNN)Adenilson Costa has worked at the Vila Formosa graveyard for a quarter of a century and he says he has never seen the fresh graves fill up so fast. It's the largest cemetery in..




WorldNews - Published





Latin America Becomes World's New Coronavirus Epicenter

With the death toll surpassing 100,000 deaths, Latin America has emerged as the world's newest epicenter for the novel coronavirus pandemic. Brazil leads the region with 1,145,906 confirmed COVID-19..




WorldNews - Published





Trump 'open to meeting Venezuela's Maduro' amid hints of fragile trust in Guaido

In an apparent overture to Venezuelan President Nicolas Maduro, US President Donald Trump has suggested that he is open to meeting the Latin American leader, also sending signals of his waning..




WorldNews - Published





Virus cases pass two million in Latin America

Live version of coronavirus map Coronavirus infections in Latin America surged past two million on Saturday, with worst-hit Brazil home to nearly half of the cases as the virus accelerates its spread..




WorldNews - Published





U.S. to nominate Trump's top Latin America adviser to lead IDB

The United States on Tuesday said it will nominate President Donald Trump's top Latin America adviser to head the Inter-American Development Bank, upending a longstanding tradition to reserve that post..




Reuters - Published





In Latin America, big league clubs are exploiting prospects as young as 12, whistleblower told feds

Major league teams are making verbal agreements with kids in Latin America before they turn 16, a violation of MLB rules, and then reneging on deals.




USATODAY.com - Published





Factbox: Latest on the worldwide spread of the coronavirus

Global cases of the novel coronavirus reached over 8 million on Monday, as infections surged in Latin America, while the United States and China grappled with fresh outbreaks.




Reuters India - Published





Global coronavirus cases reach over 8 million as outbreak expands in Latin America

Global cases of the novel coronavirus reached over 8 million on Monday, as infections surge in Latin America, according to a Reuters tally.




Reuters - Published





Pandemic threatens Latin America's once vibrant culinary scene

Fans of his uniquely Mexican take on high-end dining once packed a months-long wait list for Enrique Olvera's Pujol but the restaurant is grappling with a tough new reality as the novel coronavirus..




Reuters - Published





Latin America hits 70,000 pandemic deaths, daily record in Mexico

Latin America's coronavirus crisis reached a grim new milestone on Wednesday with total deaths exceeding 70,000, according to a Reuters count, as Mexico hit a daily record for confirmed infections.




Reuters India - Published

Also reported by •Reuters


Brazil's Jair Bolsonaro followed Trump's coronavirus blueprint. Now its cases are surging

RIO DE JANEIRO – He's shown disdain for facts and science-based recommendations. He's said the public will eventually realize they were "tricked" by governors and large parts of the media over a..




WorldNews - Published





Bolsonaro threatens WHO exit as virus kills 'a Brazilian per minute'

Brazil President Jair Bolsonaro has threatened to pull Brazil out of the World Health Organization after the UN agency warned Latin American governments about the risk of lifting lockdowns before..




WorldNews - Published





Brazil's Supreme Court halts police raids in Rio's favelas during pandemic

A Brazilian Supreme Court minister on Friday prohibited police raids in Rio de Janeiro's favelas during the novel coronavirus pandemic, as a groundswell of criticism of brutal police tactics grows in..




Reuters - Published





Brazil virus toll surges to third-highest in world

Brazil's death toll from the new coronavirus has surpassed Italy's to become the third-highest in the world, as the UN's secretary-general called for a "people's vaccine" to stem the pandemic. The..




WorldNews - Published





Coronavirus deaths surge in Brazil, Mexico as regional leaders look to reopen

The number of coronavirus deaths in Brazil blew past Italy's toll on Thursday, while Mexico reported a record number of new cases, as regional leaders in Latin America push to end quarantine measures..




Reuters - Published





Mexico sees record coronavirus increase, 816 more deaths

The number of new novel coronavirus infections in Mexico reported on Thursday surpassed the record set just the previous day, and officials reported 816 more deaths as the pandemic engulfs Latin..




Reuters - Published





Brazil reports record 1,349 coronavirus deaths in 24 hours

Brazil reported a record 1,349 coronavirus deaths in a 24-hour period Wednesday, the Health Ministry said, as the pandemic continued to take a grim toll on Latin America's hardest-hit country. The..




WorldNews - Published





Mexico overtakes US coronavirus daily deaths

Mexico City: Mexico overtook the United States in daily reported deaths from the novel coronavirus for the first time on Wednesday, with the health ministry registering a record 1,092 fatalities it..




WorldNews - Published





Brazil to test vaccine as Europe emerges from lockdown

Shares Researchers in hard-hit Brazil on Wednesday said they would begin testing a coronavirus vaccine developed in Britain, while across the Atlantic European nations began reopening borders in a bid..




WorldNews - Published





Mexico reports record toll of coronavirus deaths, new infections

Mexican health authorities reported 1,092 novel coronavirus deaths on Wednesday, the country's highest toll in one day so far, with total infections surging past 100,000 as the Latin American country..




Reuters - Published




Death toll from Covid-19 surpasses 30,000 in Brazil, Latin America's worst-hit country

Brazil surpassed 30,000 deaths from the coronavirus outbreak on Tuesday as the disease continued to rip through South America's worst-hit country. ......




WorldNews - Published





Brazil sets another record for daily coronavirus deaths

Brazil registered another new record number of new coronavirus deaths over the last 24 hours, the health ministry said on Tuesday evening, as the pandemic in Latin America's largest country shows no..




Reuters - Published





Latin America virus surge puts world's biggest mines at risk

The decision to keep Chinese factories shut after the Lunar New Year sent shudders through the massive mines of Brazil and Chile that feed...




WorldNews - Published





Mexican president defies leftist label in virus response

When Andrés Manuel López Obrador won Mexico's presidency after years of agitating for change, many expected a transformative leader who would take the country to the left even as much of Latin..




WorldNews - Published





Coronavirus cases top 6m across planet

BRASLIA: The number of coronavirus cases worldwide has topped six million as the disease spread rapidly across Latin America and political leaders feuded over how to deal with the pandemic. Much of the..




WorldNews - Published





World virus cases top six million as leaders disagree on pandemic response

The number of coronavirus cases worldwide topped six million, with Brazil registering another record surge in daily infections as divisions deepened on how to deal with the pandemic. Latin American..




WorldNews - Published





Global coronavirus cases surpass 6 million

Global coronavirus cases surpassed 6 million on Saturday, according to a Reuters tally, as Latin America reported a grim milestone of 50,000 deaths from the disease.




Reuters - Published





US Turns Away Two Ships Carrying Iranian Fuel From Venezuela Under Sanctions Threat

Iran has been supplying petroleum products to Venezuela as the Latin American country is facing a severe shortage of gasoline and is struggling to procure it abroad because of US sanctions. ......




WorldNews - Published





In Brazil's shadow, laid-back Uruguay curbs COVID-19

Leonardo Silveira, a bookstore owner in Montevideo, is hopeful about the future as Uruguay begins a gradual reopening. The small country has kept rates of COVID-19 at one of the lowest levels in Latin..




Reuters - Published





Spread of coronavirus fuels corruption in Latin America

MIAMI (AP) — Even in a pandemic, there's no slowdown for swindlers in Latin America. From Argentina to Panama, a number of officials have been forced to resign as reports of fraudulent purchases of..




WorldNews - Published