Daniel Andrews
Australian politician, Premier of Victoria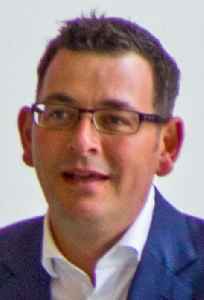 Daniel Michael Andrews is an Australian politician who is the 48th Premier of Victoria, a post he has held since 2014. He has been the state leader of the Australian Labor Party (ALP) since 2010, and from 2010 to 2014 was Leader of the Opposition. Andrews has represented the Legislative Assembly seat of Mulgrave since the 2002 election, and served as a parliamentary secretary and minister in the Bracks and Brumby Labor governments. He led the ALP to victory at the 2014 state election, defeating the incumbent Coalition government, and won re-election at the 2018 election with an increased majority.


NSW moves to block Black Lives Matter protest

Authorities in Australia's most populous state, New South Wales, are trying to block a Black Lives Matter protest in Sydney scheduled for Saturday, citing the risk of a coronavirus outbreak. Ryan..
Credit: Reuters Studio Duration: 01:43
Published
You Might Like



Victoria announces rent support for locked-down public housing tenants

The affected public housing tenants will not be charged rent for the next two weeks, Victorian Premier Daniel Andrews says.




SBS - Published





Concern for vulnerable residents in Melbourne public housing towers in 'hard lockdown' as coronavirus spreads

Victorian Premier Daniel Andrews says the concern is that the "virus can spread like wildfire" in large apartment blocks that have now emerged as new clusters in the state, with concern mounting for..




SBS - Published





Victoria reports 108 new coronavirus cases, as 'hard lockdown' announced for nine public housing towers

Victorian Premier Daniel Andrews says the concern is that the "virus can spread like wildfire" in large apartment blocks that have now emerged as new clusters in the state.




SBS - Published





Daniel Andrews warns 'whole state could get locked down' if coronavirus numbers keep growing

Daniel Andrews has warned that the whole state of Victoria may face a lockdown if "we don't get control of this really quickly."




SBS - Published





Watch: Vic COVID-19 update

The Victorian Premier Daniel Andrews is speaking live with a COVID-19 update at 3.15pm (AEST). Victorian health officials have confirmed the state has another 64 cases of coronavirus. It's the 14th..




SBS - Published





Victoria introduces mandatory testing for quarantined travellers

Victorian Premier Daniel Andrews says the number of quarantined travellers not being tested is being reduced to 15 per cent or less.




SBS - Published





Watch: Victorian Premier Daniel Andrews live

Victorian Premier Daniel Andrews is speaking live shortly. It comes as Victoria's fight against COVID-19 intensifies as an emergency department nurse tested positive to the virus and health workers..




SBS - Published




Victoria records 33 new coronavirus cases, Daniel Andrews declares 'testing blitz'

Thirty-three new coronavirus cases have been confirmed in Victoria as more than 1,000 troops are deployed to help the state cope.




SBS - Published





Victoria records another 17 coronavirus cases as Daniel Andrews warns of 'significant community transmission'

Victoria has recorded double-digit growth in new coronavirus cases for the seventh day in a row.




SBS - Published





Victoria records 19 new coronavirus cases, mayors warn against 'crude' local lockdowns as restrictions re-imposed

Victorian Premier Daniel Andrews says the decision to re-impose restrictions is a precautionary measure to prevent a second wave of coronavirus.




SBS - Published





Mayors warn against 'crude' local lockdowns as Victoria re-imposes restrictions

Victorian Premier Daniel Andrews says the decision to re-impose restrictions is a precautionary measure to prevent a second wave of coronavirus.




SBS - Published





Third Victorian minister steps down over Labor branch stacking scandal

Consumer Affairs Minister Marlene Kairouz is stepping down from Daniel Andrews' cabinet over the branch stacking scandal engulfing Victorian Labor.




SBS - Published




Daniel Andrews says he sacked Adem Somyurek over branch stacking allegations, moves to kick him out of ALP

Victoria's anti-corruption watchdog and police should investigate branch stacking claims levelled at former minister Adem Somyurek, Premier Daniel Andrews says.




SBS - Published




Worried about coronavirus, Daniel Andrews urges Victorians to avoid Black Lives Matter rally

Victorian Premier Daniel Andrews says even if people won't be fined for attending a protest in solidarity with Black Lives Matter, they shouldn't go.




SBS - Published




Don't go to Melbourne protest: Andrews

Victorian Premier Daniel Andrews says even if people won't be fined for attending a protest in solidarity with Black Lives Matter, they shouldn't go.




SBS - Published





Australia's Victoria state to reopen classrooms earlier than expected

Australia's second-most populous state will resume face-to-face teaching from May 27, weeks earlier than expected, after a school shutdown to halt the spread of the new coronavirus, Premier Daniel..




Reuters - Published





Students to return to Vic classrooms soon

Victorian students will return to face-to-face learning in staggered stages before term two ends, Premier Daniel Andrews says, though a date is yet to be set.




SBS - Published





Protesters flout social distancing rules at coronavirus lockdown rally in Melbourne

Protesters chanted slogans criticising Victorian Premier Daniel Andrews and demanded stay at home restrictions be lifted.




SBS - Published





Dan Tehan admits he 'overstepped the mark' in attacking Daniel Andrews over school closures

In a sign of cracks within the successful national cabinet, the Morrison government has attacked Victoria over its handling of schools during the crisis.




SBS - Published





Dan Tehan attacks Daniel Andrews over handling of schools during coronavirus crisis

In a sign of cracks within the successful national cabinet, the Morrison government has attacked Victoria over its handling of schools during the crisis.




SBS - Published





Calls for Victorian schools to reopen

Victorian premier Daniel Andrews is under pressure to reopen schools in term two, while the government will throw the struggling arts sector a lifeline.




SBS - Published





One new Victorian coronavirus case

The number of fresh coronavirus cases in Victoria has remained modest, but Premier Daniel Andrews has urged people to stick with the virus restrictions.




SBS - Published





Daniel Andrews adamant opening schools would only achieve 'spreading the virus'

Victorian Premier Daniel Andrews believes opening schools would only risk spreading COVID-19 given the numbers of people that would be moving around the state.




SBS - Published





Opening schools would spread virus:Andrews

Victorian Premier Daniel Andrews believes opening schools would only risk spreading COVID-19 given the numbers of people that would be moving around the state.




SBS - Published





Vic flattened curve 'fragile': premier

Victoria is flattening the curve of new coronavirus infections but Premier Daniel Andrews warns "there can be no sense of complacency" as restrictions remain.




SBS - Published





Victoria enters 'new normal' in pandemic response

Victorian Premier Daniel Andrews has signalled a step-change in our pandemic policy response.




The Age - Published





Four Vic hospital workers with cornavirus

Now is not the time to party, it's a time to stay home, begs Victorian Premier Daniel Andrews, as the state's coronavirus tally rises by 55 to 466 cases.




SBS - Published





Stay home, no excuses, Daniel Andrews tells Victorians

Now is not the time to party, it's a time to stay home, begs Victorian Premier Daniel Andrews, as the state's coronavirus tally rises by 55 to 466 cases.




SBS - Published





More Vic restrictions to stop virus spread

Victoria's Premier Daniel Andrews says hospitality venues and schools are set to shut down as part of a statewide shutdown to curb the spread of coronavirus.




SBS - Published





Australia's Victoria state brings forward school holidays amid coronavirus outbreak

Australia's Victoria state will bring forward school holidays to plan for "remote, flexible learning", Premier Daniel Andrews told a news conference on Monday as states plan for the coronavirus..




Reuters - Published





Vic premier attacks COVID19 selfishness

Victoria's Premier Daniel Andrews says hospitality venues and schools are set to shut down as part of a statewide shutdown to curb the spread of coronavirus.




SBS - Published





Dedicated taskforce of 500 police officers to enforce Victoria's coronavirus shutdown

Victoria's Premier Daniel Andrews says hospitality venues and schools are set to shut down as part of a statewide shutdown to curb the spread of coronavirus.




SBS - Published





Taskforce of 500 to police Vic virus rules

Victoria's Premier Daniel Andrews says hospitality venues and schools are set to shut down as part of a statewide shutdown to curb the spread of coronavirus.




SBS - Published





Daniel Andrews stands firm on policy not to close Victoria schools as coronavirus cases jump

Victorian Premier Daniel Andrews insists closing all schools in the state to prevent the spread of coronavirus could do more harm than good.




SBS - Published




Victoria, ACT declare states of emergency to deal with coronavirus crisis

Victorian Premier Daniel Andrews said the declaration would allow the government to enforce the 14-day isolation period mandated for travellers arriving in Australia.




SBS - Published




State of emergency declared in Victoria to deal with coronavirus outbreak

Victorian Premier Daniel Andrews has declared a state of emergency to deal with coronavirus for at least four weeks.




SBS - Published





No fans will be allowed to watch the Australian F1 Grand Prix

Victorian Premier Daniel Andrews says no fans will be allowed to watch the formula one grand prix due to the risk of coronavirus spreading.




SBS - Published





Daniel Andrews' stern warning to land owners after 'terrible' koala logging deaths

Dozens of koalas found dead and injured on a Victorian farm have prompted a wave of indignation and a stern reaction from government.




SBS - Published





Victorian firefighter Bill Slade farewelled

Forest Management firefighter Bill Slade, who died in Victoria's East Gippsland bushfires has been farewelled by hundreds of mourners including premier Daniel Andrews and Opposition Leader Michael..




SBS - Published





Victoria announces inquiry as Morrison government pushes for fire royal commission

Victorian Premier Daniel Andrews has announced a state-based review into the bushfires and questioned what a national inquiry would examine.




SBS - Published




States question national bushfire inquiry

Victorian Premier Daniel Andrews has announced a state-based review into the bushfires and questioned what a national inquiry would examine.




SBS - Published





'Disgusting behaviour': Daniel Andrews slams Nazi flag at private property in rural Victoria

The flying of a Nazi flag on a private property in regional Victoria has been labelled "disgusting" by Premier Daniel Andrews.




SBS - Published





'Long way to go' before Vic bushfires ease

Premier Daniel Andrews has warned Victorians the bushfire crisis will continue for weeks as firefighters worked through the night to contain blazes.




SBS - Published





'Strong, visible' police presence as climate rallies kick off amid bushfires

Organisers of a climate protest in Melbourne's CBD on Friday night have resisted calls from Victorian Premier Daniel Andrews to postpone their event.




SBS - Published




'Selfish and reckless': Victorian government criticise climate protest on day of fire danger

Organisers of a climate protest in Melbourne's CBD on Friday night have resisted calls from Victorian Premier Daniel Andrews to postpone their event.




SBS - Published




Daniel Andrews tells people to stop donating food and clothes for bushfire crisis

Victorian Premier Daniel Andrews says no more clothes and food donations are needed.




SBS - Published