Phoenix, Arizona
State capital city in Arizona, United States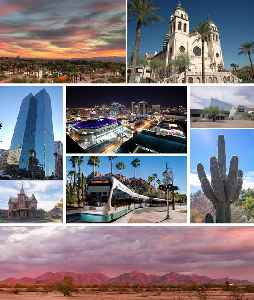 Phoenix is the capital and most populous city of Arizona, with 1,626,000 people. It is also the fifth most populous city in the United States, and the most populous American state capital, and the only state capital with a population of more than one million residents.


An Afghan War Widower Is Caught Up in a 'Chronic Problem': Wrongful Deportation
Officials deported the spouse of a U.S. soldier killed in Afghanistan, leaving the couple's 12-year-daughter to live with her grandparents in Phoenix before the decision was abruptly reversed.
NYTimes.com - Published
Deported Husband Of Soldier Killed In Afghanistan Returned
A man whose wife died in Afghanistan while fighting for the U.S. military was deported and sent to Mexico before he was later returned to the U.S., BBC News reports Jose Gonzalez Carranza, 30, was..
WorldNews - Published
HHS Looking Into New Shelters For Some Migrant Children
A spokesperson said vacant properties are being considered in parts of Texas, Georgia and Arizona.
Credit: Newsy Studio Duration: 01:09Published
First look at Joaquin Phoenix as 'Joker'
A trailer is released for the upcoming thriller with Phoenix in the title role as the iconic villain. Rough cut (no reporter narration).
Credit: Reuters Studio Duration: 02:24Published
Charlotte Wilder Checks Out The Insane Hot Dogs The Diamondbacks Have At Chase Field
SI's Charlotte Wilder goes to Chase Field in Phoenix, Arizona to see what the Diamondbacks staff is stuffing into a hot dog bun.
Credit: Sports Illustrated Duration: 00:35Published
Another incident at AZ Hacienda Healthcare facility
An armed off-duty Florence police officer on Monday shot and critically wounded a man who was purportedly the former spouse of a worker at Hacienda Healthcare in Phoenix and had been pointing a gun at..
Credit: Reuters Studio Duration: 01:15Published
Jaguar Attacks Woman Who Tried to Take a Photo at an Arizona Zoo
Authorities say a jaguar attacked a woman who crossed a barrier while trying to take a photo Saturday at a wildlife park west of Phoenix
Credit: Time Duration: 00:51Published
Kyle Busch Talks About Phoenix NASCAR Win
According to Autosport.com, "Busch is now on 199 wins across NASCAR's top three divisions, having won in all three series - Trucks, Xfinity and Cup - at Phoenix. At Vegas, he swept the two supporting..
Credit: Wochit News Duration: 00:34Published
Jaguar attacks woman taking selfie at zoo
Fire officials say a woman who crossed over a barrier at an Arizona zoo while trying to take a selfie was attacked by a jaguar. Linda So reports.
Credit: Reuters Studio Duration: 00:38Published
Retired NASA Astronaut Mark Kelly Kicks Off US Senate Run
​Kelly launched his Senate campaign with a rally in Tucson, Arizona, on Saturday.
Credit: Newsy Studio Duration: 00:59Published
Francis Ngannou Knocks Out Cain Velasquez
Francis Ngannou's scary power was on display in Phoenix, as he collapsed Cain Velasquez in 26 seconds. But Ngannou's night was not yet over as he then insulted Brock Lesnar before calling out the UFC..
Credit: Wochit News Duration: 00:51Published
Dad who killed wife, children over suspected affair said God told him it was OK, police say
The shootings appeared to involve a domestic dispute that may have been the result of an extramarital affair, Phoenix police said.
USATODAY.com - Published
Passenger opens plane door, tries to jump onto tarmac
An unruly passenger aboard an American Airlines flight to Phoenix opened the airplane door and tried to jump onto the tarmac. A fellow passenger caught the aftermath on video.
USATODAY.com - Published
Police say ex-NBA player Mike Bibby won't face criminal charges in sexual abuse case
A Phoenix police investigation into sexual abuse claims against Mike Bibby will likely not lead to charges against the former NBA star.
USATODAY.com - Published
AP Top Stories April 12 A
Here's the latest for Friday April 12th: Julian Assange lawyer vows to fight US charges; Remains of 3 Marines returned to US from Afghanistan; Federal agents, suspects have shootout in Phoenix; Huge..
USATODAY.com - Published
Federal agents & suspects have gunfight in Phoenix
Authorities say federal agents in Phoenix exchanged gunfire with suspects while trying to execute a felony arrest warrant connected to human smuggling. A woman in the suspects' vehicle was killed. Four..
USATODAY.com - Published
Nowitzki says goodbye at home, set to visit Spurs in finale
Dirk Nowitzki tells Dallas Mavericks fans that his record 21st season with the same franchise will be his last after win over Phoenix in final home game, set sights on career finale in San Antonio
USATODAY.com - Published
You Might Like