Rat (zodiac)
Sign of the Chinese zodiac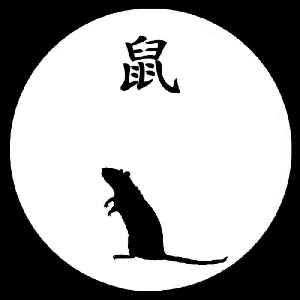 The Zodiacal Rat is the first of the repeating 12-year cycle of animals which appear in the Chinese zodiac, constituting part of the Chinese calendar system. The Year of the Rat in standard Chinese is ; the rat is associated with the first branch of the Earthly Branch symbol 子 (zǐ), which starts a repeating cycle of twelve years. The Chinese word shǔ​ (鼠) may refer to rat, mouse, or other muroid-type animal. There are also a yearly month of the rat and a daily hour of the rat. Years of the rat are cyclically differentiated by correlation to the Heavenly Stems cycle, resulting in a repeating cycle of five years of the rat, each rat year also being associated with one of the Chinese wu xing, also known as the "five elements".


Virus anxieties cast shadow over Year of the Rat festivities
Chinese communities in Australia and New Zealand were among the first to greet the Year of the Rat on Saturday but Lunar New Year celebrations globally were marred by anxieties about the virus outbreak..
Reuters - Published
Search this site and the web:
You Might Like