Ocean City, Maryland
Town in Maryland, United States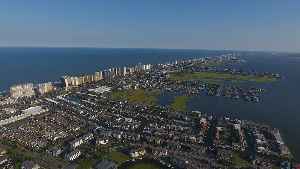 Ocean City, officially the Town of Ocean City, is an Atlantic resort town in Worcester County, Maryland, United States. Ocean City is a major beach resort area along the East Coast of the United States. The population was 7,102 at the 2010 U.S. Census, although during summer weekends the city hosts between 320,000 and 345,000 vacationers, and up to 8 million visitors annually. During the summer, Ocean City becomes the second most populated municipality in Maryland, after Baltimore. It is part of the Salisbury, MD-DE Metropolitan Statistical Area, as defined by the United States Census Bureau.


You Might Like
'I understand both sides': Black police officer gives emotional speech to protesters
An Ocean City police officer told peaceful protesters that "we can't keep repeating our fault."
USATODAY.com - Published
Maryland restaurant uses 'bumper tables' amid virus
Diners in a Maryland beach town are gathering at eateries again with a little help from inflatable inner tubes on wheels. The bumper tables allow people to keep six feet from each other at Fish Tales..
USATODAY.com - Published
In time for Memorial Day: Ocean City, Maryland, lifts hotel, vacation rental coronavirus restrictions
Ocean City, Maryland, Mayor Rick Meehan announced that the town will repeal its lodging restrictions. The move follows the reopening of the beach.
USATODAY.com - Published
In time for Mother's Day? Ocean City, Maryland, announces plan to reopen beach, boardwalk
Ocean City, Maryland, announced plans to reopen its beach and boardwalk Mother's Day weekend that were closed to prevent spread of the coronavirus.
USATODAY.com - Published
Massive search launched for 'missing' kite surfer who was at home the whole time
After the Coast Guard received a report that a kite surfer was stranded off of Ocean City, it turned out the man had actually made it home safely.
USATODAY.com - Published
Roller coaster malfunction causes cars to collide; multiple kids taken to hospital
Five people were taken to the hospital Friday night after malfunctioning roller coaster failed to stop in Ocean City, Maryland.
USATODAY.com - Published
Maryland man catches record Mahi Mahi
It took a Maryland man 25 minutes to reel in a monster Mahi Mahi off the coast of Ocean City, Maryland.
USATODAY.com - Published