Royal Dutch Shell
Anglo-Dutch oil company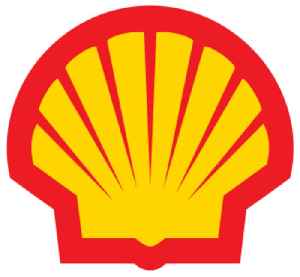 Royal Dutch Shell PLC, commonly known as Shell, is a British-Dutch multinational oil and gas company headquartered in the Netherlands and incorporated in England. It is one of the oil and gas "supermajors" and the third-largest company in the world measured by 2018 revenues. In the 2019 Forbes Global 2000, Shell was ranked as the ninth-largest company in the world, and the largest energy company. Shell was first in the 2013 Fortune Global 500 list of the world's largest companies; in that year its revenues were equivalent to 84% of the Dutch national $556 billion GDP.


Shell Will Cut 9,000

CNN reports that Royal Dutch Shell will slash as many as 9,000 jobs as the oil giant accelerates a shift away from fossil fuels. On Wednesday, the company said it would cut between 7,000 and 9,000..
Credit: Wochit News Duration: 00:32
Published
Shell to slash up to 9,000 jobs worldwide

Shell has said it plans to cut between 7,000 and 9,000 jobs worldwidefollowing a collapse in demand for oil amid the coronavirus pandemic. The oilgiant has said the cuts will be fully implemented by..
Credit: PA - Press Association STUDIO Duration: 01:14
Published
You Might Like



Royal Dutch Shell plans to cut up to 9,000 jobs in transition to low-carbon energy

Royal Dutch Shell announced on Wednesday plans to cut up to 9,000 jobs, or over 10% of its workforce, as part of a major overhaul to shift the oil and gas giant to low-carbon energy. Shell, which had..




WorldNews - Published





Shell to cut up to 9,000 jobs as oil demand slumps

The move comes five months after it cut its dividend for the first time since World War Two.




BBC News - Published





Oil price crash! Is now the time to dump BP and Shell for good?

The oil price is sliding again, and BP (LSE: BP) and Royal Dutch Shell (LSE: RDSB) are watching their share prices slide with it. Until recently, these two companies were the two most profitable stocks..




WorldNews - Published





Royal Dutch Shell to write down up to £17.90 billion of assets in the second quarter

Royal Dutch Shell to write down up to £17.90 billion of assets in the second quarter. Shell is committed to reducing greenhouse gas emissions to net zero by 2050. The oil and gas company forecasts a..




WorldNews - Published





India steps up bet on gas with first gas trading exchange

India on Monday launched its first gas trading exchange, enabling local and foreign players such as Shell, Vitol and Trafigura to sell directly to domestic customers.




Reuters India - Published





Shell cuts dividend for first time since WW2

Royal Dutch Shell slashes its quarterly dividend by two-thirds amid the global oil price shock.




BBC News - Published





Argentina's energy bust spawns 'ghost town' in prized Vaca Muerta

Just weeks into his young administration, Argentina's new president convened a meeting with executives from Chevron Corp , Royal Dutch Shell PLC and other oil companies in a bid to smooth things over..




Reuters - Published




Shell sends some Singapore staff home after coronavirus scare

Shell said on Friday it had identified an employee at its main Singapore office who had been in contact with a coronavirus case and had advised other staff close to him to work from home.




Reuters - Published




BP sets deeper 2050 carbon target in CEO reinvention

LONDON — BP pledged to sharply reduce its carbon emissions by 2050 as part of a reinvention of the 111-year old company by newly-appointed chief executive Bernard Looney. BP on Wednesday set more..




WorldNews - Published





Extinction Rebellion protesters occupy Shell gas rig to stop it heading out to North Sea

Activists urge UK government to 'tell the truth' about impact of fossil fuel industry




Independent - Published





Oil rises seven-month high, Wall Street stocks fall

LONDON: Meanwhile, world oil prices jumped on Friday after the US killed the Iranian general. Brent oil surged 4.5 per cent in the London morning and WTI jumped 4.1 per cent as traders fretted over the..




WorldNews - Published





Exclusive: No choice but to invest in oil, Shell CEO says

Royal Dutch Shell still sees abundant opportunity to make money from oil and gas in coming decades even as investors and governments increase pressure on energy companies over climate change, its chief..




Reuters - Published





Trump speech at Shell worksite raises a question: Should bosses mix business and politics?

Tying workers pay to attending a Donald Trump speech was legal, but some question if it was the right thing to do.




USATODAY.com - Published





British Airways backs plans for plant that will turn everyday waste into fuel

British Airways has submitted plans for a plant to turn waste into jet fuel that will one day power its aircraft. The flag carrier has submitted plans to develop a site in northeast Lincolnshire that..




WorldNews - Published





Trump tours new Shell Pennsylvania Petrochemicals Plant

On Tuesday, President Trump toured the site of Shell's new Pennsylvania Petrochemicals Complex. The plant is expected to produce more than 1 million tons of plastic every year, pitting local..




CBS News - Published





Shell not taking British-flagged tankers through Hormuz

Royal Dutch Shell is not taking any British-flagged tankers through the Strait of Hormuz amid heightened tensions with Iran in the vital chokepoint for oil shipments.




Reuters - Published





Shell says earnings decline amid lower oil prices

LONDON — Anglo-Dutch energy giant Royal Dutch Shell says second-quarter earnings dropped 26% as lower oil and natural gas prices overshadowed an increase in production....




WorldNews - Published





Two killed in accident at Shell Auger platform in Gulf of Mexico

Two people were killed at Royal Dutch Shell's Auger Tension Leg Platform in the deepwater U.S. Gulf of Mexico on Sunday morning while testing mandatory safety equipment, the company said on Monday.




Reuters - Published




Rachel Riley accused of 'greenwashing' for promoting oil company Shell

'These companies must stop their cynical use of celebrity ambassadors to try and divert our attention from their destruction of the planet,' say campaigners




Independent - Published