Apple Inc.
American technology company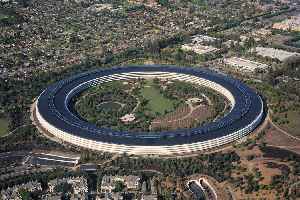 Apple Inc. is an American multinational technology company headquartered in Cupertino, California, that designs, develops and sells consumer electronics, computer software, and online services. It is considered one of the Big Tech technology companies, alongside Amazon, Google, Microsoft, and Facebook.


Apple Dips 4% After Disappointing iPhone Sales

On Friday, Apple shares fell as much as 5.6%. The drop comes after the tech giant's fiscal fourth-quarter figures failed to meet analysts' expectations. Business Insider reports the slide saw as much..
Credit: Wochit News Duration: 00:38
Published
Stocks rebound with tech in the lead

U.S. stocks recovered on Thursday some of the steep losses seen the day before as investors gobbled up high-flying tech names in anticipation of strong quarterly results after the close, which Amazon,..
Credit: Reuters Studio Duration: 02:09
Published
Jon Stewart Set to Front Current Affairs Series for Apple | THR News

Jon Stewart is headed back to our TV sets.
Credit: The Hollywood Reporter Duration: 01:06
Published
Comedian Jon Stewart to host Apple TV+ series

Jon Stewart will host a current-affairs series for Apple's subscription video service. Bryan Wood reports.
Credit: Reuters - Politics Duration: 01:16
Published
MGM shuts down rumours 'No Time To Die' could have streamed release

Executives at MGM have denied considering selling 'No Time to Die' to a streaming service such as Apple or Netflix.
Credit: Cover Video STUDIO Duration: 00:53
Published
Gwyneth Paltrow proud of daughter Apple's empowered view on Gender Equality

Gwyneth Paltrow has shared how proud she is of her daughter Apple's outlook on life, and how the 16 year old won't settle for less than.
Credit: Cover Video STUDIO Duration: 00:45
Published
iPhone 12 unboxing ahead of launch on Friday

Footage showing the unboxing of the new iPhone 12 (red) and iPhone 12 Pro(grey). The new iPhone 12, iPhone 12 Pro and iPad Air are due to go on sale onFriday. In preparation, Apple has announced a new..
Credit: PA - Press Association STUDIO Duration: 01:21
Published
Meet Honda City 5th gen, an Alexa-powered connected car

Cars are becoming smarter, aren't they? Connectivity on-board allows you to perform several tasks remotely. Thanks to Apple CarPlay and Android Auto, we have so many new things on our in-car display...
Credit: HT Digital Content Duration: 03:14
Published
Apple Music launches TV channel for music videos

Tech giant Apple has recently launched the channel Apple Music TV which is exclusively for music videos. According to The Verge, Apple Music TV is a free, curated, 24-hour live stream of popular music..
Credit: ANI Duration: 01:10
Published
Stocks that'll gain off the iPhone 12: fund manager

Jackson Square Capital's Andrew Graham identifies the stocks of Apple suppliers that could benefit the most from sales of the newly released 5G iPhone. He also tells Reuters' Fred Katayama which ones..
Credit: Reuters Studio Duration: 05:18
Published
Apple Unveils 5G-Capable iPhone 12 Models

On Tuesday during their "Hi, Speed" live-streaming event, Apple launched the long-awaited iPhone 12 lineup.
Credit: Cover Video STUDIO Duration: 01:14
Published
Apple enters 5G race with new iPhone 12s

Apple on Tuesday launched four versions of its new flagship iPhone 12 with faster 5G connectivity in hopes of sparking an upgrade cycle that will keep sales booming through the end of the year. Conway..
Credit: Reuters - Politics Duration: 02:18
Published
Hold off on buying Apple: CIO

Apple stock has spiked sharply in anticipation of the unveiling of its 5G iPhone Tuesday. O'Neil Global Advisors' Randy Watts tells Reuters' Fred Katayama investors should resist buying Apple shares at..
Credit: Reuters Studio Duration: 04:32
Published
Apple and Amazon drive Wall Street rally

Stocks jumped on Monday led by high-flying tech names Apple and Amazon. Investors were also upbeat on vaccine progress and stimulus talks. Conway G. Gittens has the action.
Credit: Reuters Studio Duration: 01:59
Published
Apple's new 'iPhone 12' has a 5G problem

5G will finally get its U.S. closeup with the expected debut of Apple Inc's next iPhone on Tuesday. But the blazing speeds promised will not materialize for most Americans. Conway G. Gittens has more.
Credit: Reuters Studio Duration: 01:42
Published
Apple Shipping Devices From Store

Apple Shipping Devices From Store
Credit: Wochit News Duration: 00:26
Published
You Might Like



Apple ordered to pay VirnetX $502.8 million in patent trial

Illustration by Alex Castro / The Verge A jury in Texas has ruled that Apple has to pay VirnetX $502.8 million in royalties for VPN on Demand, a feature that lets iOS users access a VPN connection,..




The Verge - Published





Samsung is once again the largest cell phone manufacturer and a Chinese brand dropped Apple ...

South Korean tech Samsung reclaimed the top spot as the largest mobile phone maker, which was held by Huawei, although the surprise was the china Xiaomi what knocked�Apple off the podium among the..




WorldNews - Published





Apple will replace AirPods Pro for free with faulty noise cancellation, static or crackling

Photo by Chris Welch / The Verge Today, exactly one year after Apple first launched the AirPods Pro — and thus the same day the very first AirPods Pro owners will see their one-year warranties..




The Verge - Published





Apple One now available, bundling Apple's services into a single subscription

Image: Apple Apple One, a bundle combining services like Apple Music, Apple TV Plus, and Apple Arcade into one monthly subscription, is now available. The bundle was first announced at an event last..




The Verge - Published





How to sign up for Apple One

Image: Apple Apple has rolled out its Apple One subscription bundle, which combines several services — including Apple Music, Apple TV Plus, and Apple Arcade — for a single monthly price. Apple..




The Verge - Published





Apple added a secret button to your iPhone, and you may not have even noticed

Your iPhone got a new button last month, and you may not have even noticed. No, Apple didn't sneak into your house and secretly superglue a button onto your smartphone. But it did release iOS 14,..




The Verge - Published





Apple to launch its subscription-based Apple One services on Oct 30

The US-based Apple is gearing up to launch its all-new Apple One which would compile most of the subscription-based applications on one platform. As reported by Bloomberg, Apple CFO Luca Maestri..




WorldNews - Published





Samsung regains top smartphone vendor spot as Xiaomi overtakes Apple

Photo by Vjeran Pavic / The Verge Samsung is back on top as the world's biggest smartphone vendor one quarter after losing its spot to Huawei, according to reports from IDC, Counterpoint, and..




The Verge - Published





Lil Yachty's Quibi show is the first to find a life raft

Illustration by Alex Castro / The Verge Remember Quibi, short-lived media company and purveyor of bizarre shows like Murder House Flip and a horror anthology featuring a golden arm? It's only been..




The Verge - Published





The pandemic boosted Apple: Company sold more Macs this summer than ever before

Apple has higher prices for computers, but during COVID crisis, consumers didn't care, and bought $9 billion worth of computers from Apple




USATODAY.com - Published





For Amazon, Apple, Facebook and Google business is booming

Latest sales and profit figures from America's big tech companies exceed Wall Street expectations.




BBC News - Published





Apple's Mac and services hit new records in Q4 earnings

Illustration by Alex Castro / The Verge Apple today announced its fiscal fourth quarter earnings, reporting $64.7 billion in revenue and earnings per share of $0.73 in a quarter that was "led by..




The Verge - Published





Apple's big services bundle, Apple One, launches tomorrow

Apple's big services bundle that will bring together products like Apple Music, Apple TV Plus, Apple Arcade, and Apple News Plus, will launch tomorrow, the company's chief financial officer, Luca..




The Verge - Published





Spotify surges past 300M users after successful Russia launch

Illustration by Alex Castro / The Verge Spotify now has 320 million monthly active users and 144 million paid subscribers, an increase of 29 and 27 percent respectively year-over-year, the company..




The Verge - Published





First iPhone 12 mini hands-on video shows just how tiny it is

Image: George Buhnici (YouTube) After launching two identically sized phones — the iPhone 12 and 12 Pro — last week, Apple will next start taking preorders for the iPhone 12 mini and iPhone 12..




The Verge - Published





T-Mobile expands its faster midband 5G network, nearly doubling its coverage

Illustration by Alex Castro / The Verge T-Mobile has announced another expansion of its 2.5GHz midband 5G network, which is now available in dozens of new cities, nearly doubling the coverage of its..




The Verge - Published





Apple's Clips app finally supports vertical video

The Apple Clips video app is finally getting its most-requested feature: different aspect ratios. With the 3.0 update rolling out today, Clips can record in 16:9, 4:3, and square — and do all three..




The Verge - Published





ShowBiz Minute: Teigen, Stewart, Stefani

Chrissy Teigen delivers heartfelt essay on miscarriage; Jon Stewart will be back in the host's chair for Apple TV+; "The Voice" co-stars Blake Shelton and Gwen Stefani engaged. (28 Oct)  




USATODAY.com - Published





Jon Stewart will return to TV with an Apple TV Plus series

Photo by Zach Gibson/Getty Images Apple is bringing Jon Stewart back to TV. Stewart will host a new series for Apple TV Plus that will feature focused looks at his advocacy work and "topics that..




The Verge - Published





Apple's AirPods Pro are $200 at Amazon and B&H Photo today

Photo by Chris Welch / The Verge You can grab the AirPods Pro for just $200 at Amazon and B&H Photo today. Normally, these wireless earbuds cost $249. While this is not the lowest price we have seen..




The Verge - Published





Office for iPad now has mouse and trackpad support

Photo by Vjeran Pavic / The Verge Microsoft is bringing mouse and trackpad support to its Office for iPad apps today. The software maker promised it would update its Office iPadOS apps earlier this..




The Verge - Published





iPhone 12 vs. Pixel 5 camera comparison video - CNET

Apple just launched the iPhone 12, and Google the Pixel 5. While the iPhone 12 is more expensive, on paper the two phones have similar camera setups. We took dozens of photos and videos to see how they..




WorldNews - Published





Epic says Apple 'has no rights to the fruits of Epic's labor' in latest filing

Illustration by Alex Castro / The Verge Epic Games fired back against Apple yet again in a new court filing, saying the iPhone maker "has no rights to the fruits of Epic's labor," the latest..




The Verge - Published





Where to buy refurbished products

Photo by Amelia Holowaty Krales / The Verge Buying a refurbished device rather than one that's brand-new can save you a ton of money. However, these products don't usually get the spotlight from..




The Verge - Published





Here's how Apple imagined AirTags would work one year ago

One diagram shows how the tags could be attached to a set of keys. | Image: Apple / USPTO As well as letting you find lost items, Apple has considered allowing its unannounced, but heavily leaked..




The Verge - Published





Don't look to stand on line at Apple Store for new iPhone, they won't let you

Apple is offering interest-free monthly installments to buy the new iPhone12 for users of its Apple Card credit card.




USATODAY.com - Published





Apple revamps more stores into 'Express' format for faster iPhone 12 pickups

Illustration by Alex Castro / The Verge Apple is expanding its new "Express" retail format to more locations, according to Reuters. The Express stores have a wall of plexiglass-protected sales..




The Verge - Published





Halide gets a major update with upgraded RAW processing and new pricing

Image: Halide Halide has launched a new version of its popular iPhone camera app, now dubbed Halide Mark II, and it comes with a lot of new features. Those include a redesign, upgraded RAW..




The Verge - Published





Former Apple designer Sir Jony Ive to revamp Airbnb

Sir Jony Ive, the designer behind the iPhone, will lead a redesign of Airbnb's core products and services, as it aims to shift public perception of its brand. The British designer, 53, left Apple in..




WorldNews - Published

Also reported by •BBC News


Porsche's Taycan is the first car with a native Apple Podcasts app

The service can be accessed from the Taycan's infotainment system. | Image: Porsche Porsche's all-electric Taycan is the first car to get full Apple Podcasts integration, allowing owners to..




The Verge - Published





Jony Ive is bringing his design talents to... Airbnb

I'm not going to pretend it makes obvious sense, but famed former Apple designer Jony Ive and his firm LoveFrom will soon be working for Airbnb. Yes, the company that primarily makes it easy for you..




The Verge - Published





iOS 14 resets default email and browser apps after App Store updates

Photo by Amelia Holowaty Krales / The Verge Apple continues to have trouble with its new default app settings in iOS 14 and iPadOS 14. After it was discovered that power cycling devices would flip..




The Verge - Published





Hands-on with Amazon's Luna game streaming service

Amazon's Luna streaming service has arrived, with the company rolling out early access to a limited set of customers today. It's starting with a library of 50 games and support for Mac, PC, Fire..




The Verge - Published





Apple updates HomePod with intercom and other new features

Photo by James Bareham / The Verge Apple's HomePod smart speaker is getting some new capabilities thanks to a software update that's available today as part of iOS 14.1. These were announced..




The Verge - Published





DOJ files antitrust lawsuit against Google, alleging it maintains a search monopoly

The Department of Justice filed suit against Google for allegedly violating antitrust regulations. The DOJ alleges that Google, which is a division of Alphabet, paid billions of dollars to Apple and..




CBS News - Published





Department of Justice to sue Google for antitrust violation

Department of Justice expected to allege that search giant paid billions to Apple and others to maintain its dominance.




CBS News - Published





Apple should switch the iPhone to USB-C if it really wants to help the environment

Image: Apple If you buy an iPhone in the future, you're not getting an included charging brick or earbuds. Apple says the reasons are environmental. Giving out fewer "free" accessories with..




The Verge - Published





This app lets you do custom iOS icons without the Shortcuts app

iPhone icon customization is booming, thanks to new features in iOS 14, but there's still some big catches. The workaround for a bespoke iPhone homescreen requires routing through Apple's Shortcuts..




The Verge - Published





The iPhone 12 won't support 5G in dual SIM mode at launch

Image: Apple Apple's latest iPhone supports 5G networks, but not if you use the device in dual SIM mode, according to an internal Apple training document revealing the issue that began circulating..




The Verge - Published





Apple TV Plus will get classic Peanuts holiday specials as part of a new streaming deal

The Peanuts crew. | Image: Apple Apple TV Plus will be getting the beloved Peanuts Halloween, Thanksgiving, and Christmas holiday specials added to its catalog this year, and they'll each be..




The Verge - Published





Apple Music launches a TV channel for music videos

Illustration by Alex Castro / The Verge Today, Apple launches Apple Music TV, which is exactly what it sounds like: Apple Music on television. It's a free, curated, 24-hour live stream of popular..




The Verge - Published





Peak Design has made the stylish magnetic modular bike-mountable phone case I didn't know I needed

Peak Design, makers of one of The Verge's favorite backpacks, has a new magnetic modular mounting system for your Apple or Samsung phone. The company's launching a Kickstarter today with the intent..




The Verge - Published





Apple ditching chargers saves costs but not the planet

In this photo illustration a screenshot from Apple's launch promotional material of the the new iPhone 12 seen displayed on a iPad tablet screen with the Apple logo in the background. | Photo..




The Verge - Published





OtterBox reveals the first third-party MagSafe cases for the iPhone 12

OtterBox's Figura Series case with MagSafe. | Image: OtterBox OtterBox has launched the first third-party iPhone 12 cases that officially support Apple's new MagSafe accessory system, with the..




The Verge - Published





Vergecast: Questions we have about the iPhone 12

This week, we saw Apple announce the next generation of iPhones at its virtual event, with a focus on the company's first 5G devices. In Vergecast tradition, The Verge's Nilay Patel, Dieter..




The Verge - Published





T-Mobile is also offering a $30 discount on the iPhone 12 and 12 mini

Apple T-Mobile has clarified that it will offer a $30 discount on the iPhone 12 mini and iPhone 12 — same as AT&T and Verizon. That means the phones will start at $699 and $799, respectively, for..




The Verge - Published





How to preorder the iPhone 12 and the iPhone 12 Pro

Image: Apple Apple's newest iPhones — the iPhone 12, 12 mini, 12 Pro, and 12 Pro Max — were announced earlier this week, and they've generated a lot of interest from iPhone fans. In fact,..




The Verge - Published





Apple iPhone 12 and 12 Pro preorders begin at 5 a.m. PT Friday. Here's when the new iPhones will be delivered

Apple pre orders for the new iPhone 12 and 12 Pro start Friday, Oct. 16. Order early if you want the latest smartphone delivered on Friday, Oct. 23.




USATODAY.com - Published





Verizon pulls misleading ads claiming its 5G service is 'necessary' for firefighters

Illustration by Alex Castro / The Verge Verizon has agreed to pull 5G advertisements claiming its new network was "built for" firefighters and first responders, after the National Advertising..




The Verge - Published





The HomePod mini could be Apple's secret weapon for expanding HomeKit

Apple is taking another try at building a smart home speaker with the new HomePod mini, a smaller, less expensive version of its original HomePod. The original HomePod was a product that focused..




The Verge - Published