Leo Varadkar
Irish Fine Gael politician and Tánaiste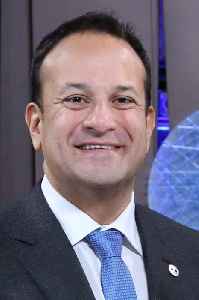 Leo Eric Varadkar is an Irish Fine Gael politician and physician who has served as Tánaiste and Minister for Enterprise, Trade and Employment since June 2020 and Leader of Fine Gael since June 2017. He has been a Teachta Dála (TD) for the Dublin West constituency since 2007. He previously served as Taoiseach and Minister for Defence from 2017 to 2020, Minister for Social Protection from 2016 to 2017, Minister for Health from 2014 to 2016 and Minister for Transport, Tourism and Sport from 2011 to 2014.


Coronavirus restrictions tightened in Dublin

The Irish Government has announced plans to tighten its coronavirusrestrictions in Dublin. Deputy Prime Minister Leo Varadkar warned that withoutfurther action there was a very real threat that Dublin..
Credit: PA - Press Association STUDIO Duration: 01:10
Published
You Might Like



EU commissioner in 'profound apology' over golf dinner

The EU's trade commissioner has issued a "fulsome and profound" apology as calls for him to quit after attending a golf dinner during the pandemic intensify. Irishman Phil Hogan has been urged to..




WorldNews - Published





Ireland: Micheal Martin elected new prime minister

Fianna Fail leader Micheal Martin has been elected as Ireland's new prime minister, replacing Leo Varadkar. A coalition deal, which took four months, has been agreed between the country's two political..




WorldNews - Published





Leo Varadkar hails end of 'Civil War politics' in Ireland's parliament

Civil War politics has ended in Ireland's parliament, after political rivals agreed to form a historic governing coalition, Leo Varadkar has said. Ireland's new premier is set to be elected today,..




WorldNews - Published





Micheal Martin to take over as Irish prime minister in grand coalition

Micheal Martin is set to take over as Ireland's new prime minister Saturday at the helm of the nation's first grand coalition, replacing Leo Varadkar in what will be a rotating premiership. The..




WorldNews - Published





Irish PM expects coalition deal in next couple of days

There is a strong possibility negotiators from Ireland's Fianna Fail, Fine Gael and Green parties will strike a deal over the next couple of days to form a new coalition government, acting Prime..




Reuters - Published





Ireland hopes to restart international travel later in the summer

Ireland is hopeful that it will be able to resume air travel to other European countries later in the summer, acting prime minister Leo Varadkar said on Friday.




Reuters - Published





'Summer is not yet lost', Irish PM backs air bridges

Ireland hopes to be able to recommend the resumption of air travel with a select number of countries in a number of weeks, Prime Minister Leo Varadkar said on Thursday, telling prospective..




Reuters - Published





Ireland seeks health officials' backing to speed up reopening plan

Ireland's government has proposed speeding up the reopening of parts of its economy to the country's top health officials and will make a decision on Friday, Prime Minister Leo Varadkar said.




Reuters - Published





Irish PM expects new coalition government in place by end of June

Ireland's acting prime minister Leo Varadkar on Friday said he expected a new coalition government to be in place by the end of June once the three parties involved have agreed a policy programme and..




Reuters - Published





Irish PM says good chance social distancing rule can be relaxed

Irish Prime Minister Leo Varadkar raised the prospect on Friday of halving social distancing rules from two metres to one if the rate of coronavirus infections comes down further in a potential boost..




Reuters - Published





Ireland may decide next week to speed up reopening plan

Ireland may next week speed up the reopening of its economy if coronavirus infections remain low, Prime Minister Leo Varadkar said on Wednesday, though its chief medical officer said he was likely to..




Reuters - Published




Of course Matt Damon is spending lockdown in Dublin. Ireland is the perfect celebrity hiding place

In one of the stranger tales to emerge from the ongoing pandemic, Hollywood heartthrob Matt Damon is living out lockdown in Dalkey, a coastal suburb south of Dublin city. Apparently Damon was filming..




WorldNews - Published





UK deal on EU ties is possible, PM Johnson tells Ireland's Varadkar

Prime Minister Boris Johnson told his Irish counterpart Leo Varadkar on Friday that he believed it was possible to reach an agreement with the European Union over Britain's future relationship,..




Reuters - Published




Ireland to make 14-day quarantine for travellers compulsory

Ireland will make it mandatory for incoming travellers to provide the address at which they will self-isolate for 14 days, having previously asked for such details but not required them, Prime Minister..




Reuters - Published





Ireland to press ahead with partial reopening of economy

Ireland will begin the partial and gradual reopening of its economy as planned from Monday, Prime Minister Leo Varadkar said on Friday.




Reuters - Published





Irish PM says it will take months for EU travel to return to normal

It will take months not weeks for COVID-19 restrictions to be lifted and travel around the European Union to return to normal, Irish Prime Minister Leo Varadkar told parliament on Thursday.




Reuters - Published





Irish PM sees targeted extension of emergency wage, welfare schemes

Ireland will likely extend COVID-19 emergency wage and jobless payment schemes beyond June, keeping them in place at the very least for sectors unable to open by then, Prime Minister Leo Varadkar said..




Reuters - Published





Ireland to consider easing restrictions every 2-4 weeks, PM says

Ireland's roadmap for gradually easing coronavirus restrictions will lay out how any changes will be made every two to four weeks, but the government will intervene earlier if things go off track,..




Reuters - Published





Nursing home supports not happening fast enough: Irish PM

New measures to help protect residents in Irish nursing homes from the coronavirus are not being implemented fast enough, Prime Minister Leo Varadkar said as his acting government faced criticism for..




Reuters - Published





Irish PM says any lifting of restrictions will be over months

When Ireland is able to begin relaxing stay-at-home restrictions to slow the spread of the coronavirus outbreak, the measures will be rolled back over a number of months, Prime Minister Leo Varadkar..




Reuters - Published





Ireland extends coronavirus lockdown to May 5

Ireland on Friday extended its stay-at-home coronavirus restrictions until May 5, as Prime Minister Leo Varadkar said the curbs had significantly slowed the spread of the outbreak but more work was..




Reuters - Published




Irish PM says 'fervent hope' is to ease virus restrictions after May 5

The Irish government's "fervent hope" is to gradually ease coronavirus restrictions on movement and economic activity after May 5, but that is not guaranteed and any easing would be gradual, Prime..




Reuters - Published





Ireland's prime minister to work as doctor amid coronavirus pandemic

Leo Varadkar studied medicine and trained to be a doctor at King's Hospital and Trinity College Dublin. He'll work one day a week amid coronavirus.




USATODAY.com - Published





Ireland's PM returns to medical practice to help in coronavirus crisis

Ireland's prime minister Leo Varadkar has re-registered as a medical practitioner and will work one shift a week to help out during the coronavirus crisis, his office said on Sunday.




Reuters - Published





Irish PM's party sees support surge on coronavirus response - poll

The party of Irish Prime Minister Leo Varadkar has seen its support surge on its response to the coronavirus pandemic, an opinion poll showed on Sunday, reversing a sharp fall in support registered in..




Reuters - Published





Irish PM says new government can be formed in next two weeks

Acting Irish Prime Minister Leo Varadkar said on Wednesday it would be possible to form a new government in the next two weeks, returning the focus to negotiations that have been sidelined by the..




Reuters - Published





Irish PM says schools could stay closed until May

Ireland's schools could stay closed until May with a big rise in coronavirus cases expected over the coming days as testing ramps up, Irish Prime Minister Leo Varadkar told a meeting of his Fine Gael..




Reuters - Published





'A St. Patrick's Day like no other,' Irish PM speaks to nation

Ireland's government will at some point advise the elderly and those with long-term illnesses to stay at home for weeks to try to save lives from the coronavirus, Prime Minister Leo Varadkar said on a..




Reuters - Published





Irish PM expects 15,000 coronavirus cases by end of March

Ireland expects its number of coronavirus cases to increase to around 15,000 by the end of the month from 223 currently, Prime Minister Leo Varadkar said on Monday, as the government advised against..




Reuters - Published




Ireland to shut schools and universities over coronavirus

Ireland will shut schools, universities and childcare facilities until March 29 and restrict mass gathering to slow the spread of the coronavirus, acting Prime Minister Leo Varadkar said on Thursday.




Reuters - Published




Ireland's center-right parties, Greens to hold post-election talks

Acting Irish Prime Minister Leo Varadkar told his parliamentary party on Wednesday that there was currently no basis to negotiate a government program with other parties, but that he would hold talks..




Reuters - Published





Ireland's PM warns there can be 'no backsliding' on Withdrawal Agreement

Ireland's premier has urged the UK Government to honour all the terms of the Withdrawal Agreement. Leo Varadkar was speaking after reports suggested that Prime Minister Boris Johnson ordered his..




WorldNews - Published





Irish Prime Minister Leo Varadkar resigns after inconclusive election result

Irish Prime Minister Leo Varadkar resigned on Thursday, but stayed on as interim leader while the country's three main parties battle out coalition talks after an inconclusive election.




France 24 - Published





Irish Fianna Fail lawmaker says party undecided on Fine Gael talks

Ireland's center-right Fianna Fail party has not come to any decision about the prospect of coalition talks with the Fine Gael party of Prime Minister Leo Varadkar, one of its lawmakers said on..




Reuters - Published





Irish PM tacitly criticizes Johnson's sacking of Northern Ireland minister

Leo Varadkar, the prime minister of Ireland, tacitly criticized British leader Boris Johnson for sacking his Northern Ireland minister Julian Smith, hailing Smith as "one of Britain's finest..




Reuters - Published





Irish PM ready for opposition, leaves coalition option open

Irish Prime Minister Leo Varadkar said on Wednesday it was likely he would be the next leader of the opposition after government formation talks but that his Fine Gael party would be willing to help..




Reuters - Published





Irish PM says obligation on all to ensure political stability

Irish Prime Minister Leo Varadkar, whose Fine Gael party came a narrow third in national elections at the weekend, said that while the poll had transformed politics, there was an obligation on all..




Reuters - Published





Ireland's Fine Gael said will try to form a government

Irish Prime Minister Leo Varadkar's Fine Gael party still hopes to lead the next government, Finance Minister Paschal Donohoe said on Monday after initial results indicated the party will have the..




Reuters - Published




Irish PM Varadkar says coalition with Sinn Fein is not an option

Irish Prime Minister Leo Varadkar said on Sunday a coalition between his center-right Fine Gael party and left-wing nationalists Sinn Fein is not an option as the parties' policies are "not..




Reuters - Published




Sinn Fein's surge in the Irish election leaves three parties tied: exit poll

Support for left-wing Irish nationalists Sinn Fein surged in an election on Saturday, leaving it tied with the party of Prime Minister Leo Varadkar but unlikely to emerge with the highest number of..




France 24 - Published

Also reported by •Reuters


Election 2020: Strong turnout reported as voting continues around Ireland

High turnout has been reported in many parts of the country as voting continues to elect the 33rd Dáil. Turnout was as high as 34 per cent in some areas by midday as voters cast their ballots on a..




WorldNews - Published





Irish vote may end Varadkar's spell as PM as Sinn Fein surges

Irish voters look likely to dump Prime Minister Leo Varadkar from power on Saturday in an election that could alter the political landscape with a surge by Sinn Fein, which has struck a chord among..




Reuters - Published




'Three horse race' as Ireland goes to the polls to vote for next government

Ireland votes in a general election on Saturday, with Prime Minister Leo Varadkar hoping to secure a new term on the back of Brexit but voters likely to judge him more on his domestic record.




France 24 - Published