BBC Sport
Sports division of the BBC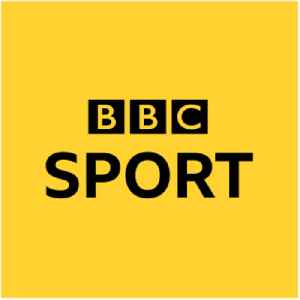 BBC Sport is the sports division of the BBC, providing national sports coverage for BBC Television, radio and online. The BBC holds the television and radio UK broadcasting rights to several sports, broadcasting the sport live or alongside flagship analysis programmes such as Match of the Day, Test Match Special, Ski Sunday, Today at Wimbledon and previously Grandstand. Results, analysis and coverage is also added to the BBC Sport Website and through the BBC Red Button interactive television service.


Harry Maguire: I feared for my life during Greek arrest

Harry Maguire says he feared for his life during an incident on the Greekisland of Mykonos which saw the Manchester United captain arrested by police.He made the comment in an interview with Dan Roan..
Credit: PA - Press Association STUDIO Duration: 00:39
Published
You Might Like



NBA Finals: Can the Miami Heat stop LeBron James and the Los Angeles Lakers?

As the Los Angeles Lakers prepare to meet the Miami Heat, BBC Sport takes a look at the storylines behind the Finals and speaks to those inside the NBA bubble at the Disney World Resort in Florida.




BBC News - Published





World Podcast Day: what to listen to from BBC Sport

On World Podcast Day, here are some of the best podcasts from BBC Sport.




BBC News - Published





Why Bellingham reminds me of a young Vieira

In her latest BBC Sport column, Karen Carney discusses the impact Jude Bellingham can have at Borussia Dortmund and where he can develop.




BBC News - Published





Stunning Saracens, coronavirus cloud & World Cup plans

BBC Sport reviews a week of rugby, in which a stunning Saracens v Leinster European Champions Cup clash was the highlight.




BBC News - Published





Where will new signing Jota fit in among Liverpool's attacking superstars?

Where will Diogo Jota fit into a Liverpool side that possesses one of the best attacks in football? BBC Sport takes a look.




BBC News - Published





Broad, Anderson, BLM, Cook and Vaughan - England's bio-secure summer

As England men's summer comes to a close, BBC Sport looks at the winners and losers from the unique time in the bio-secure bubbles.




BBC News - Published





'Records, takeaways and the Shipping Forecast' - England's summer in a bio-secure bubble

As England men's summer comes to a close, BBC Sport looks at the winners and losers from the unique time in the bio-secure bubbles.




BBC News - Published





Manchester United: Will Old Trafford side push for major honours this season?

As Manchester United prepare for their season opener against Crystal Palace on Saturday, BBC Sport's Simon Stone looks at whether they can challenge for major trophies.




BBC News - Published




EFL: Future of some Football League clubs beyond Christmas in doubt

Some English Football League clubs will struggle to stay afloat beyond Christmas if there is a delay to the wider rollout of fans and a financial rescue package is not secured urgently, BBC Sport has..




BBC News - Published





Will Winged Foot wreak havoc once more? US Open preview

Geoff Ogilvy, the 2006 US Open champion, tells BBC Sport why Winged Foot always proves so tricky for the world's best.




BBC News - Published





Women's Super League: Which star signing will have the biggest impact?

As Alex Morgan's move to Tottenham concludes a busy Women's Super League transfer window, BBC Sport looks at the best signings of 2020.




BBC News - Published





EFL: Harrogate make dream start as Sheffield Wednesday begin long road back

BBC Sport looks at five of the big results on the opening weekend of the EFL season.




BBC News - Published





Meet Alex Morgan - Tottenham's new USA striker who 'transcends her sport'

After signing for Tottenham Hotspur, BBC Sport assesses USA striker Alex Morgan's status as one of the game's greats.




BBC News - Published




World stars & a whirlwind arrival - the EFL is back

Newcomers, an ensemble of fallen giants and a sprinkling of star dust - BBC Sport looks ahead to the 2020-21 EFL season.




BBC News - Published





EFL 2020-21: Choose who you think will get promoted from the Championship, League One and League Two

Have a go at BBC Sport's promotion predictor for the Championship, League One and League Two.




BBC News - Published





Jack Grealish: He has made mistakes but is England midfielder misunderstood?

As Jack Grealish is involved with England for the first time, BBC Sport speaks to those who know him well to find out what he is really like.




BBC News - Published





From Galactico to Everton - can Ancelotti revive Rodriguez?

World Cup top scorer and serial trophy winner but a Real Madrid "nearly man" - BBC Sport analyses Everton's new signing James Rodriguez.




BBC News - Published





Women's Super League 2020-21: Team-by-team guide

BBC Sport gives you the lowdown on each Women's Super League team before the 2020-21 season gets under way on Saturday.




BBC News - Published





How Leeds midfielder Kalvin Phillips earned his England call-up

BBC Sport profiles one of the England squad's newest faces - the man Leeds fans call the 'Yorkshire Pirlo'.




BBC News - Published





Where will Lionel Messi be playing next season? Guillem Balague's analysis

Spanish football journalist Guillem Balague talks to BBC Sport's Liam Loftus about Lionel Messi's potential exit from Barcelona, and some possible destinations for the Argentine.




BBC News - Published





Lionel Messi: Is Barcelona captain and Man City target as good as ever?

With Manchester City investigating the possibility of signing Lionel Messi, BBC Sport examines whether he is still the best player in the world.




BBC News - Published





Rachael Heyhoe Flint Trophy: New domestic women's competition starts on Saturday

BBC Sport previews the new domestic women's 50-over competition, which starts on Saturday.




BBC News - Published





How does the Tour de France avoid Covid-19?

How does the Tour de France avoid Covid-19 and what are the rules around fans? BBC Sport looks at what the Tour will be like in 2020.




BBC News - Published





Cricket and autism: How the sport provides solace for a recreational cricketer

BBC Sport speaks to Andrew Edwards, a 35-year-old recreational cricketer, about how the sport has helped with his autism.




BBC News - Published





Dillian Whyte's boxing column: Howling like a werewolf, growing up in Jamaica & a cook-off against Eddie Hearn

In Dillian Whyte's first column for BBC Sport, he talks about growing up in Jamaica, racism, his cook-off against Eddie Hearn and why he howls like a werewolf.




BBC News - Published





Is Lukaku showing Man Utd what they are missing? Reaction, stats & vote

BBC Sport digs into another stellar showing from Inter's Romelu Lukaku and asks - are Manchester United missing the striker?




BBC News - Published





'People will always be negative but take nothing to heart' - UK's first Muslim female ref

In an exclusive interview with BBC Sport, the UK's first Muslim female referee discusses learning English, how she handles discrimination and her career goals.




BBC News - Published





2020 NBA play-offs: All you need to know about the first-round match-ups

The 2020 NBA play-offs begin on Monday after one of the most unusual seasons in the sport's history - here's BBC Sport's guide to what to look out for.




BBC News - Published





Fans to be at Crucible for final as government permits pilot events

Fans to be allowed into the Crucible Theatre this weekend for the final of the World Snooker Championship, BBC Sport understands.




BBC News - Published





Champions League: How Atalanta took Europe by storm before facing PSG

As they prepare to take on PSG in the Champions League, BBC Sport finds out how Atalanta have become a force in Italy and on the continent.




BBC News - Published





'It feels like harassment' - sportswomen share social media trolling stories

A BBC Sport survey uncovered shocking examples of social media abuse sent to sportswomen. Here are three women's stories in their own words.




BBC News - Published





Social media trolls: BBC Sport strengthens stance against hateful messages

BBC Sport strengthens its stance against social media trolls with a new policy for responding to hateful messages.




BBC News - Published





Sportswomen tell BBC survey about 'scary' social media abuse

Elite British sportswomen speak out about "horrific abuse" on social media, telling a BBC Sport survey about constant comments on their appearance and sexist remarks questioning their right to play..




BBC News - Published





Social media trolling affects almost a third of elite British sportswomen, BBC Sport survey finds

Elite British sportswomen speak out about "horrific abuse" on social media, telling a BBC Sport survey about constant comments they receive.




BBC News - Published





Lionel Messi and Barcelona: Is his time at Nou Camp coming to an end?

BBC Sport examines the relationship between Barcelona and Lionel Messi, who has put contract talks on hold, and is free to walk away from the Nou Camp at the end of the season.




BBC News - Published





England v Pakistan: James Anderson and Stuart Broad praised by Michael Vaughan

BBC Sport's Michael Vaughan says James Anderson and Stuart Broad "set the tone" as England bowled well against Pakistan in the morning session of day two of the first Test.




BBC News - Published





Carlo Ancelotti: 'Deadwood, mismanagement & a total rebuild' - is this his biggest challenge?

BBC Sport's chief football writer looks at the "herculean" task facing Everton boss Carlo Ancelotti as he starts a "complete rebuild".




BBC News - Published




'I've hidden all my gymnastics trophies away' - five ex-gymnasts tell their troubling stories

Five former gymnasts tell BBC Sport about their experiences in the sport.




BBC News - Published





Scott Parker: How ex-England midfielder turned Fulham from losers into promotion winners

BBC Sport explores how Scott Parker transformed Fulham's fortunes around in his first season as a manager.




BBC News - Published





EFL 2019-20 recap: Leeds joy, Rooney joins Rams, empty grounds and much more

The 2019-20 EFL season will live long in the memory, not surprising as it lasted over a year. BBC Sport looks back at the highs and lows.




BBC News - Published





Who were the post-lockdown winners and losers across Europe?

Who won the most games post-lockdown? Who scored the most goals? Did anyone fail to pick up even a single point? BBC Sport looks at the statistics from across Europe.




BBC News - Published





Will no crowd mean less controversy? ATP and WTA tours return

With the ATP and WTA Tours set to resume behind closed doors, BBC Sport explores the relationship between on-court controversy and fans - and how bad behaviour sells.




BBC News - Published





FA Cup final: The Wembley showpiece that deserved so much more

As Arsenal beat Chelsea to lift the FA Cup behind closed doors, BBC Sport chief football writer Phil McNulty reflects on a surreal experience.




BBC News - Published




Top Premier League moments of the season - we've picked them, you rank them

From Liverpool's title win to Son Heung-win's wonder goal, BBC Sport looks back at 12 significant moments from this season's Premier League.




BBC News - Published





Who needs what? The Championship final day permutations

Clearing up the confusion. BBC Sport unravels the ifs, buts and maybes as the regular Championship season reaches a fascinating finale.




BBC News - Published





EFL: Jimmy Glass and Paul Caddis feature in most memorable final days

An injury time goal from a goalkeeper and winner-takes-all drama feature in BBC Sport's most memorable EFL final days.




BBC News - Published





Several firms interested in buying stake in WSL

Private equity group Bridgepoint are among several firms interested in buying a stake in the WSL, BBC Sport understands.




BBC News - Published





Janine Beckie: Man City star on quarantine & 'humbling' experience

Manchester City's Janine Beckie speaks to BBC Sport after spending lockdown in a different continent and enduring a two-week quarantine.




BBC News - Published





What happened in the Championship on Saturday?

BBC Sport rounds up Saturday's Championship action, with drama at both ends at the table.




BBC News - Published





Late start, streamlined cups, no break - what will give in the 2020-21 calendar?

Could Chelsea, Manchester City, Manchester United and Wolves start next season later? BBC Sport looks at what could give in the 2020-21 calendar.




BBC News - Published