Gulf
A large inlet from the ocean into the landmass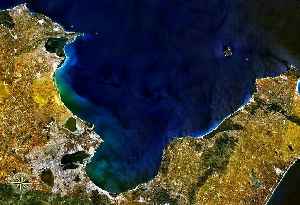 A gulf is a large inlet from the ocean into the landmass, typically with a narrower opening than a bay; though this is not observable in all geographic areas so named. The term gulf was traditionally used for large, highly indented, navigable bodies of salt water which are enclosed by the coastline. Many gulfs are major shipping areas, such as the Persian Gulf, Gulf of Mexico, and Gulf of Aden.


Late night shelling in Tripoli as Europe, Gulf divided over Haftar's push
Shelling could be heard late on Tuesday in several parts of the Libyan capital Tripoli as Europe and the Gulf were divided over a push by eastern forces commander Khalifa Haftar to seize the city.
Reuters - Published
Libya conflict stirs divisions in Gulf and Europe
Qatar called on Tuesday for a blocking of foreign arms supplies to eastern Libyan forces commander Khalifa Haftar, whose push to seize the capital Tripoli is causing rifts around the Gulf and Europe.
Reuters - Published
Search this site and the web:
You Might Like