Gulf
A large inlet from the ocean into the landmass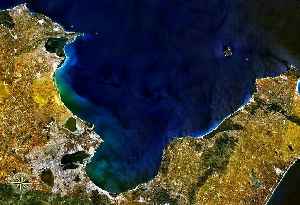 A gulf is a large inlet from the ocean into the landmass, typically with a narrower opening than a bay; though this is not observable in all geographic areas so named. The term gulf was traditionally used for large, highly indented, navigable bodies of salt water which are enclosed by the coastline. Many gulfs are major shipping areas, such as the Persian Gulf, Gulf of Mexico, and Gulf of Aden.


Saudi Arabia calls urgent summit with Gulf and Arab League leaders
Saudi Arabia has called for urgent meetings of the regional Gulf Cooperation Council and the Arab League to discuss escalating tensions in the region, the kingdom's official news agency said on..
France 24 - Published
Saudi Arabia to convene Arab leaders over recent attacks
Saudi Arabia's King Salman invited Gulf and Arab leaders to convene emergency summits to discuss the implications of this week's attacks against the kingdom and neighboring United Arab Emirates,..
Reuters - Published
U.S. issues warning on airspace near Gulf as Iran tensions simmer
The Federal Aviation Administration has issued an advisory to U.S. commercial airliners flying over the waters of the Gulf and the Gulf of Oman to exercise caution as tensions between Washington and..
Reuters - Published
Iranian missiles can hit U.S. ships in Gulf: Guards
A deputy head of Iran's elite Revolutionary Guards said short-range Iranian missiles could reach U.S. warships in the Gulf, and the United States could not afford a new war, the semi-official news..
Reuters - Published
Search this site and the web:
You Might Like