45th G7 summit
International economic conference held in 2019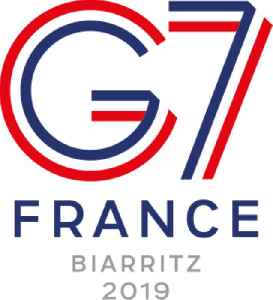 The 45th G7 summit was held on 24–26 August 2019, in Biarritz, France. In March 2014, the G7 declared that a meaningful discussion was currently not possible with Russia in the context of the G8. Since then, meetings have continued within the G7 process. However, according to a senior administration official, Donald Trump and Emmanuel Macron had agreed that Russia should be invited to the next G7 Summit to be held in 2020.


10/18: CBSN AM
U.S. to host next G7 Summit at Trump Doral Resort; first all-female spacewalk
CBS News - Published
PM Narendra Modi talks Climate change, e-rickshaws at G7 Summit
In his meeting with UN General Secy, Modi also raised the issue of India's bid to join NSG
DNA - Published
G7 Summit: PM Modi holds talks with UK PM Johnson, strengthens bilateral ties
IndiaTimes - Published
G7 Summit in France's Biaritzz ends: World leaders discussed trade wars, Brexit, climate change at forum
G7 leaders closed their summit on Monday with discussion of global issues including the fires ravaging the Amazon rainforest, but the summit was overshadowed by President Donald Trump's trade wars and..
Firstpost - Published
At G7 Summit, PM Modi highlights India's efforts to use digital tech to fight social inequalities
IndiaTimes - Published
PM Modi emplanes for France to attend G7 Summit, will speak on global issues
IndiaTimes - Published
Trump Dines With Macron at G7 Summit Hours After Escalating Growth-Suppressing Trade War
US President Donald Trump sits to lunch with the French president at the Hotel du Palais in Biarritz, south-west France on August 24, 2019, on the first day of the annual G7 Summit attended by the..
WorldNews - Published
You Might Like