6ix9ine
American rapper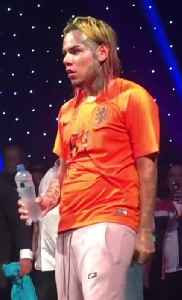 Daniel Hernandez, known professionally as 6ix9ine or Tekashi69, is an American rapper and songwriter. His musical career has been marked by an aggressive style of rapping, while his controversial public persona is characterized by his distinctive rainbow-colored hair, extensive tattoos, public feuds with fellow celebrities, and legal issues.


Tekashi 6ix9ine 'signs new £8m record deal in prison'
Tekashi, real name Daniel Hernandez, is awaiting sentencing for racketeering and firearms charges.
BBC News - Published
ShowBiz Minute: Franco, Tekashi 6ix9ine, De Niro
James Franco's ex-students sue alleging sexual impropriety; 2 men convicted at trial on Tekashi 6ix9ine testimony; Actor Robert De Niro in real-life drama with ex-worker. (Oct. 4)  
USATODAY.com - Published
Tekashi 6ix9ine: Two men convicted after rapper's testimony
Tekashi 6ix9ine, 23, joined the gang in 2017 but left less than a year later. "He testified that he was a member of this gang but that he was basically doing it as a publicity stunt to promote his..
WorldNews - Published
Tekashi 6ix9ine Not Planning to Go into Witness Protection After Prison
Tekashi 6ix9ine plans to do something...
WorldNews - Published
Cardi B ignores Tekashi69's gang claims as she celebrates second wedding anniversary with Offset
Offset proposed to Cardi B in October 2017. (Pictures: Getty) Cardi B ignored Tekashi69's gang claims by celebrating her second anniversary with her husband Offset The 26-year-old marked two years of..
WorldNews - Published
Tekashi 6ix9ine pleads guilty to federal charges
The embattled rap star pleaded guilty to gun charges, drug trafficking, conspiracy and racketeering
CBS News - Published
Rapper Tekashi 6ix9ine admits gang membership and pleads guilty
Tekashi 6ix9ine has pleaded guilty to federal charges of participating in a violent gang and will cooperate with feds.
USATODAY.com - Published
You Might Like