Anti-fascism
Opposition to fascist ideologies, groups and individuals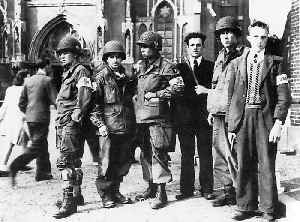 Anti-fascism is opposition to fascist ideologies, groups and individuals. The anti-fascist movement began in a few European countries in the 1920s, and eventually spread to other countries around the world. It was at its most significant shortly before and during World War II, where the Axis powers were opposed by many countries forming the Allies of World War II and dozens of resistance movements worldwide. Anti-fascism has been an element of movements holding many different political positions, including social democratic, nationalist, liberal, conservative, communist, Marxist, trade unionist, anarchist, socialist, republicanist, pacifist and centrist viewpoints.


Little evidence extremists drive U.S. protests: DHS report

Part of an internal review by the Department of Homeland Security said most of the recent violence and looting linked to civil rights protests in U.S. cities was being driven by opportunists, not..
Credit: Reuters - Politics Duration: 02:32
Published
U.S. cities braced for another night of violence

Major U.S. cities feared another night of violent protests on Sunday over the death of George Floyd in police custody, cleaning up broken glass and burned out cars after curfews failed to stop..
Credit: Reuters Studio Duration: 02:34
Published
You Might Like
If We Aren't Yet Antifa We Should Be-It's The Only Thing Keeping Us From Fascism
Article by WN.Com Correspondent Dallas Darling Fascism, understanding it and how we combat it, is as important today as it was in the past. Just like the protests that resisted Nazism in Germany and..
WorldNews - Published
Ten Reasons, Other Than George Floyd And Racism, America Is Facing A National Resistance Movement
Article by WN.Com Correspondent Dallas Darling As President Donald Trump tries to pin the blame of America's nationwide resistance movement on Antifa, an anti-fascist organization, he cannot seem to..
WorldNews - Published
Trump tweets Antifa will be labeled a terrorist organization but experts believe that's unconstitutional
(CNN)President Donald Trump tweeted Sunday that the United States will designate Antifa as a terrorist organization, even though the US government has no existing legal authority to label a wholly..
WorldNews - Published
Amid protests, Trump says he will designate Antifa as terrorist organization
U.S. President Donald Trump said on Sunday the U.S. government will designate anti-fascist group Antifa as a terrorist organization, a move that legal experts say would be hard to execute.
Reuters - Published
Donald Trump calls for Antifa movement to be labelled a terrorist organisation
US president Donald Trump has branded the anti-fascism movement in America a terrorist organisation. His comments have prompted accusations of hypocrisy from critics who say he hasn't...
WorldNews - Published
Right-wing protesters, 'antifa' clashes bring chaos to streets of Portland, Oregon
Order was restored to the streets of Portland, Oregon, after protests that clogged streets, crippled public transit and left at least 8 people hurt.
USATODAY.com - Published