John Kerry
68th United States Secretary of State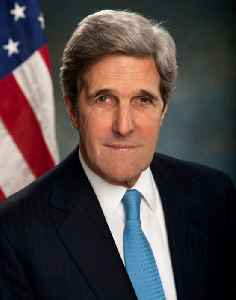 John Forbes Kerry is an American politician who served as the 68th United States Secretary of State from 2013 to 2017. A member of the Democratic Party, he previously served as a United States Senator from Massachusetts from 1985 until 2013. He was the Democratic nominee in the 2004 presidential election, losing to Republican incumbent President George W. Bush.


John Kerry: There is no leader of the free world

Former US secretary of state John Kerry says the United States has reneged on its role as leader of the free world as President Donald Trump moves towards isolationism and against global co-operation.
Credit: PA - Press Association STUDIO Duration: 00:59
Published
AOC to co-head Biden climate change panel

U.S. Representative Alexandria Ocasio-Cortez will co-chair a climate change policy group for presumptive Democratic presidential nominee Joe Biden, giving him a prominent liberal voice that could help..
Credit: Reuters Studio Duration: 01:13
Published
You Might Like



Only three out of 53 countries say US has handled coronavirus better than China

China has beaten the US in the battle for world opinion over the handling of coronavirus, according to new polling, with only three countries out of 53 believing the US has dealt with the pandemic..




WorldNews - Published





John Kerry denies report that he is contemplating running for president.

Mr. Kerry made the rookie mistake on Sunday of conducting a private phone call in the lobby of a Des Moines hotel on the day before the Iowa caucuses.




NYTimes.com - Published





John Kerry, poet.

He closed with a rhyme of sorts about Joe Biden's ability to defeat President Trump.




NYTimes.com - Published





World's richest countries need to behave like adults in climate fight: Kerry

The world's richest nations are failing to "behave like adults" and act firmly enough to meet global warming targets set in the Paris climate accord, former U.S. Secretary of State John Kerry said on..




Reuters - Published




Kerry joins Biden in Iowa, making a foreign policy pitch

Former Vice President Joe Biden campaigned in Iowa on Friday with John Kerry, the former U.S. secretary of state and presidential nominee, seeking to bolster his case that he can set right a world..




Reuters - Published





Biden endorsed by John Kerry for U.S. presidency

WASHINGTON, Dec. 5 (Xinhua) -- Former U.S. Secretary of State John Kerry on Thursday endorsed former U.S. Vice President Joe Biden's presidential bid. "I'm not endorsing Joe because I've known him for..




WorldNews - Published

Also reported by •Reuters


John Kerry: 'Joe (Biden) will defeat Donald Trump next November'

John Kerry, former Secretary of State and 2004 Democratic nominee, endorsed Biden and announced he would campaign for him in Iowa and New Hampshire.




USATODAY.com - Published





Joe Biden Challenges Man to Push-Up Contest After Testy Exchange

Shortly after John Kerry, the former secretary of state, endorsed Mr. Biden in the 2020 Democratic primary, the former vice president had a heated confrontation with a voter.




NYTimes.com - Published





Joe Biden: John Kerry endorses presidential bid

The ex-secretary of state says Mr Biden has "the wisdom and standing to fix what Trump has broken".




BBC News - Published





John Kerry Endorses Joe Biden for President

"I believe Joe Biden is the president our country desperately needs right now," said Mr. Kerry, the former secretary of state and 2004 Democratic presidential nominee.




NYTimes.com - Published





Kerry launches US bipartisan group addressing climate 'like a war'

Washington (AFP) - Former US secretary of state John Kerry said Sunday that he had formed a cross-party, celebrity-studded coalition to take on the cause of climate change and confront it "like a war."..




WorldNews - Published





Former US Secretary of State Kerry launches group to tackle climate 'like a war'

Former US Secretary of State John Kerry said Sunday that he had formed a cross-party, celebrity-studded coalition to take on the cause of climate change and confront it "like a war."




France 24 - Published





John Kerry says Trump comments in Helsinki were "dangerous"

"Face the Nation" moderator Margaret Brennan sat down Thursday with the former secretary of state. More from their interview will air on "Face the Nation."




CBS News - Published





Open: This is "Face the Nation," July 22, 2018

This week on "Face the Nation," moderator Margaret Brennan interviews Sens. Lindsey Graham, Marco Rubio, Bernie Sanders and Democratic candidate Alexandria Ocasio-Cortez. Plus, Former Secretary of..




CBS News - Published




Face The Nation - Edward Wong, Margaret Talev, Kelsey Snell

Missed the second half of the show? The latest on our chat with John Kerry, President Donald Trump's tweets and memorial service of John McCain




CBS News - Published





John Kerry says U.S. "paid a price" for not enforcing Obama's red line in Syria

Former Secretary of State John Kerry says he was "surprised" former President Obama did not go ahead with military strikes in Syria, admitting the U.S. "paid a price" for not enforcing a so-called red..




CBS News - Published





Full interview: former Secretary of State John Kerry

An extended cut of "Face the Nation" moderator Margaret Brennan's interview with former Secretary of State John Kerry. A cut of this interview aired Sunday on "Sunday Morning" and "Face the Nation."




CBS News - Published





John Kerry says Iran was likely behind Saudi oil attack "one way or another"

Former Secretary of State John Kerry talks to Margaret Brennan about the recent attack on a Saudi oil plant and his efforts to address climate change.




CBS News - Published




Full Transcript of "Face the Nation" - September 22, 2019

Secretary of State Mike Pompeo, Iranian Foreign Minister Javad Zarif, former Secretary of State John Kerry, Ben Domenech, Radhika Jones, Lanhee Chen and David Sanger appeared in this broadcast of "Face..




CBS News - Published





9/22: Mike Pompeo, Javad Zarif, John Kerry

This week on "Face the Nation," Margaret Brennan talks to Secretary of State Mike Pompeo, Iranian Foreign Minister Javad Zarif and former Secretary of State John Kerry.




CBS News - Published





Transcript: John Kerry on "Face the Nation"

The following is a transcript of the interview with former Secretary of State John Kerry that aired Sunday, September 22, 2019, on "Face the Nation"




CBS News - Published





Sunday: Pompeo, Kerry, and more

Secretary of State Mike Pompeo and former Secretary of State John Kerry will appear on "Face the Nation" this Sunday




CBS News - Published





Former State Department aide Glen Johnson on "The Takeout" - 7/12/19

Reporter turned public servant Glen Johnson talks about his time working beside former Secretary of State John Kerry, and his new book "Window Seat on the World," on this week's episode of "The..




CBS News - Published





Former Kerry aide says Iran and U.S. at a "very dangerous place"

Glen Johnson, a former aide to Secretary of State John Kerry, criticized Trump for pulling out of the Iran nuclear deal




CBS News - Published





Former State Department insider Glen Johnson says U.S. losing credibility abroad under Trump

Glen Johnson traveled the world with former Secretary of State John Kerry for four years and participated in negotiations to broker key international agreements, including the 2015 nuclear deal with..




CBS News - Published





John Kerry to talk food futures in Aust

Former US Secretary of State John Kerry will join experts in Melbourne to look at how to feed a booming global population amid climate change.




SBS - Published





9/2: John Kerry, John Kasich

This week on "Face the Nation," moderator Margaret Brennan interviews former Secretary of State John Kerry and Ohio Gov. John Kasich. Plus, we look back at the nation's memorial for Sen. John McCain.




CBS News - Published