Emmy Award
American television production award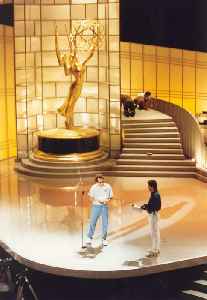 An Emmy Award, or simply Emmy, is an American award that recognizes excellence in the television industry. It is presented at numerous annual events held throughout the calendar year, each honoring one of the various sectors of the television industry. The two ceremonies that receive the most media coverage are the Primetime Emmy Awards and the Daytime Emmy Awards, which recognize outstanding work in American primetime and daytime entertainment programming, respectively. Other notable Emmy events include those honoring national sports programming, national news and documentary shows, and technological and engineering achievements in television, including the Primetime Engineering Emmy Awards. Regional Emmy Awards are also presented throughout the country at various times through the year, recognizing excellence in local and statewide television. In addition, the International Emmy Awards honor excellence in TV programming produced and initially aired outside the United States.


Comedian Jon Stewart to host Apple TV+ series

Jon Stewart will host a current-affairs series for Apple's subscription video service. Bryan Wood reports.
Credit: Reuters - Politics Duration: 01:16
Published
'Leaving Neverland' director Dan Reed working on sequel for Channel 4

Director Dan Reed is working on a sequel to his Emmy award-winning documentary 'Leaving Neverland.'
Credit: Cover Video STUDIO Duration: 00:48
Published
Billy Porter, Samira Wiley star in new HBO LGBT+ docu series

Emmy Award-winning actors Samira Wiley and Billy Porter star in the upcoming HBO documentary series "Equal" which depicts some of the lesser-known moments in LGBT+ history. Francesca Lynagh reports.
Credit: Reuters Studio Duration: 02:59
Published
Regina King honoured among Glamour's Women of the Year

Oscar and Emmy winner Regina King has been saluted as one of Glamour magazine's Women of the Year.
Credit: Cover Video STUDIO Duration: 00:46
Published
Arjun Mathur Talks About The Hypocrisy In Bollywood.

Noted actor Arjun Mathur speaks at length about the hypocrisy that exists n Bollywod in terms of nepotism, favouritism and so on and so forth. He also spoke at length about his Emmy nomination and..
Credit: HT Digital Content Duration: 25:19
Published
Delhi Crime's Richie Mehta on Emmys nomination, not returning for season 2

Richie Mehta, writer and director of Netflix's Delhi Crime, inspired by the 2012 Delhi gang rape case, reacts to the show's nomination for Best Drama at the International Emmys, not returning for..
Credit: HT Digital Content Duration: 09:15
Published
Issa Rae reveals a white TV producer told her what black people wanted during pitch

She opened up about the experience of her first TV pitch during the Emmy's.
Credit: Cover Video STUDIO Duration: 01:33
Published
American Crime Story Season 3: Impeachment

American Crime Story, the Emmy-winning FX series that gave audiences a closer look into the trial of O.J. Simpson and the assassination of Gianni Versace, will be tackling a new, eerily-relevant topic..
Credit: Wochit News Duration: 00:32
Published
Jimmy Kimmel on Low Emmys 2020 Ratings | THR News

Jimmy Kimmel addressed the all-time-low ratings for the 72nd annual Emmys ceremony, which he hosted, at the top of his ABC show on Monday.
Credit: The Hollywood Reporter Duration: 01:45
Published
Jimmy Kimmel reacts after virtual Emmys attracts lowest-ever audience

Jimmy Kimmel addressed the lowest-ever Emmy ratings after hosting the virtual awards ceremony on Sunday night as he made his talk show return.
Credit: Cover Video STUDIO Duration: 00:54
Published
Zach Braff and friends campaigned to honour Nick Cordero at the Emmys

Zach Braff campaigned to shine the spotlight on his late friend Nick Cordero during the Emmy Awards' In Memoriam tribute, but organisers passed.
Credit: Cover Video STUDIO Duration: 00:50
Published
Chadwick Boseman, Naya Rivera among those remembered at Emmys

Singer H.E.R. appeared on stage at Los Angeles' Staples Center to sing an emotional version of "Nothing Compares 2 U".
Credit: Cover Video STUDIO Duration: 01:04
Published
'Schitt's Creek' star Daniel Levy calls show's Emmys sweep 'absolutely incredible'

On Sunday night, 'Schitt's Creek' made history at the 2020 Emmys.
Credit: Cover Video STUDIO Duration: 01:21
Published
Schitt's Creek, Succession and Watchmen steal the show at the 'Pandemmys'

The TV shows Schitt's Creek, Succession and Watchmen were the big winners at the Emmy Awards on Sunday - this year dubbed 'The Pandemmys' due to the ceremony being held virtually amid the..
Credit: Euronews English Duration: 01:18
Published
Zendaya makes history at Emmys

Zendaya has made history by becoming the youngest winner of an Outstanding Lead Actress in a Drama Series trophy at this years Emmys Awards.
Credit: Cover Video STUDIO Duration: 00:45
Published
You Might Like



Billy Porter narrates new docuseries about LGBTQ pioneers

Emmy-winning actor has new season of 'Pose' and memoir keeping him busy. (Oct 19)  




USATODAY.com - Published





Sydney Sweeney talks 'Nocturne'; 'freaked out' over Zendaya Emmy win

Sydney Sweeney stars in Prime Video's new thriller "Nocturne." The actress said she "freaked out" when her "Euphoria" co-star Zendaya won an Emmy. (Oct. 16)  




USATODAY.com - Published





Paul Mecurio on Trump's coronavirus "blessing in disguise"

The president told Americans, "Don't be afraid of Covid"; the Emmy-winning writer/comedian, who also suffered symptoms from the virus, begs to differ




CBS News - Published





Paul Mecurio on Trump and the "blessings" of COVID-19

After President Trump was diagnosed with coronavirus and hospitalized, he released a video in which he stated, "This was a blessing from God that I caught it. This was a blessing in disguise."..




CBS News - Published





On This Day: 23 September 2009

Emmy Award-winning comedy drama "Modern Family" premiered in the U.S.. (Sept. 23)  




USATODAY.com - Published





Vivica A. Fox says she's negative for COVID-19, after positive test bumps her from Emmys show

Vivica A. Fox had to pull out of the Emmys red carpet show after a positive COVID-19 test. But she says a new, professional test shows she's negative.




USATODAY.com - Published





ShowBiz Minute: Hollywood, Royals, Emmys

Hollywood unions, studios agree on rules to start production; Duchess of Sussex's lawyers deny she cooperated with royal book authors; Another record low in viewership for "Pandemmys." (Sept. 22)  




USATODAY.com - Published





Ben Crump Praises Regina King for Using Emmys Platform for Breonna Taylor

Regina King pulled a real-life hero move by wearing a Breonna Taylor shirt while accepting her Emmy for playing a superhero ... so says Breonna's family attorney, Ben Crump. The civil rights lawyer was..




TMZ.com - Published





Jeremy Parsons of PEOPLE (the TV show!) reacts to Emmy wins

Jeremy Parsons, correspondent for PEOPLE (the TV show!) discusses "Schitt's Creek" and "Watchmen" which both had huge wins at this year's Emmys. (Sept. 21)  




USATODAY.com - Published





How to watch the Emmys 2020 winning TV shows: 'Schitt's Creek,' 'Succession,' and more

You can stream 2020 Emmys winning shows like 'Schitt's Creek,' 'Watchmen,' 'The Morning Show,' and more on Netflix, Hulu, and HBO Max.




USATODAY.com - Published





Emmys In Memoriam segment leaves off Kelly Preston, Kobe Bryant, Nick Cordero, viewers react

Viewers of the Emmy Awards Sunday night didn't see a few famous faces in the memoriam segment, including Nick Cordero, Kobe Bryant and Kelly Preston.




USATODAY.com - Published





2020 Emmy Awards ceremony goes virtual

The Emmys on Sunday night was the biggest live virtual awards show yet during the coronavirus pandemic. Entertainment Tonight host Kevin Frazier joined CBSN to break down the highlights.




CBS News - Published





Jerry Harris to Remain in Custody After Arrest on Child Pornography Charge

A lawyer for Mr. Harris, star of the Emmy-winning Netflix series "Cheer," waived his initial hearings on Monday.




NYTimes.com - Published





Primetime Emmy Awards go virtual for live show

"Schitt's Creek" became the first show to sweep the comedy category in the history of the Emmy Awards. Nominees and winners also promoted messages of social justice in the largest live award show since..




CBS News - Published





8 pajama sets inspired by celebrities who wore them to the 2020 Emmys

Celebs like Jennifer Aniston and Jameela Jamil celebrated the Emmys in pajamas—here are some of the most popular matching sets you can buy.




USATODAY.com - Published





"Schitt's Creek" co-creator Dan Levy on show's finale, 15 Emmy nominations and legacy of love

The critically acclaimed hit series "Schitt's Creek" has gone from Canadian cult comedy to one of the most Emmy-nominated shows of 2020. Co-creator and showrunner Dan Levy tells "CBS This Morning"..




CBS News - Published





Emmy Winners Regina King, 'Succession' Creator Make Powerful Statements

Even though it was the Emmys, television wasn't the most important thing on the minds of some of the winners Sunday night ... and they made that very clear. Regina King -- who won for Outstanding Lead..




TMZ.com - Published





Jennifer Aniston, Jimmy Kimmel's Emmys Fire Gag Perfect 2020 Metaphor

Turns out Jennifer Aniston is a boss with a fire extinguisher, lucky for Jimmy Kimmel ... as their dumpster fire bit at the Emmys, inadvertently, turned into a recreation of 2020. The fire gag went..




TMZ.com - Published





Emmy Awards 2020: Schitt's Creek wins nine awards at the Emmys

The ceremony went ahead despite the coronavirus pandemic, with all the nominees watching from home.




BBC News - Published





Emmys 2020: The biggest losers (including Netflix), on an unusual night

Jennifer Aniston and more big stars were passed over during Sunday's Emmy Awards, hosted by Jimmy Kimmel.




USATODAY.com - Published





ShowBiz Minute: Emmys, 'Nomadland,' US Box Office

A sweep for 'Schitt's Creek,' 'Succession' tops Emmy Awards; Chloé Zhao's 'Nomadland' wins TIFF People's Choice Award; Outlook not improving for beleaguered US movie theaters. (Sept. 21)  




USATODAY.com - Published





Zendaya Is The Youngest Actress To Bag Best Lead Actress Trophy At 72nd Emmy Awards

Actress Zendaya became the youngest star to win the award for best lead actress at the 72nd Emmy Awards for her ace performance in HBO series, titled Euphoria. The 24 year-old actress also became the..




WorldNews - Published





Zendaya makes Emmys history and sends message of 'hope in young people'

The actress beat the likes of Olivia Colman to her Emmy win, breaking a record in the process.




BBC News - Published





WandaVision's first trailer resurrects Marvel's Vision for Disney Plus TV debut

Image: Disney Plus Last night's Emmys saw the arrival of the debut trailer for WandaVision, which could be the first major Marvel TV series to arrive on Disney Plus. If the trailer is anything to..




The Verge - Published





A sweep for 'Schitt's Creek,' 'Succession' tops Emmy Awards

"Schitt's Creek" was the talk of this year's Emmys with a historic comedy awards sweep. Other big winners included "Succession" for best drama series, "Watchmen" for outstanding limited series and..




USATODAY.com - Published




Regina King uses Emmys to highlight push for social justice

Regina King was among the Emmy winners who used the remote ceremony to highlight the national struggle for social justice. The "Watchmen" star wore a T-shirt featuring Breonna Taylor. (Sept. 20)  




USATODAY.com - Published





Zendaya is the youngest Emmys lead drama actress winner. She's 24

She's also the second Black woman to win in that category.




CBS News - Published





Dan Levy: 'Schitt's Creek' Emmy wins 'like a dream'

"Schitt's Creek" co-creator and star Dan Levy says "it feels like a dream" after the series completed a historic sweep of Emmys comedy categories. Next: a movie? (Sept. 20)  




USATODAY.com - Published





Emmy Awards 2020: Seven highlights from the ceremony

Monica, Rachel and Phoebe's reunion just about broke the internet during the virtual Emmys ceremony.




BBC News - Published





Even after Emmy wins, 'Watchmen' creator Damon Lindelof is done with show; Regina King weighs in

Damon Lindelof explains how HBO's "Watchmen" could return for a second series after winning 11 Emmys. Big hint, it would have to be without him.




USATODAY.com - Published





Voting and Black Lives Matter take center stage at 2020 Emmys

Capping off the evening was an "un-thank you" speech from "Succession" creator Jesse Armstrong, who singled out President Trump and British Prime Minister Boris Johnson for their coronavirus response..




CBS News - Published





Emmys 2020: Jimmy Kimmel kicks off an audience-free awards, as 'Schitt's Creek' shines in comedy

(CNN)The Emmy Awards went on Sunday, with Jimmy Kimmel noting at the outset that while an awards show might "seem frivolous and unnecessary" in the middle of a pandemic, "Right now, we need fun."..




WorldNews - Published





'Literal dumpster fire': Jennifer Aniston extinguishes fire at Emmys, ignites controversy

The Emmys got off to a fiery start on Sunday night – literally – when Jennifer Aniston extinguished a small blaze in a trash can.




USATODAY.com - Published





The scene outside the much-changed Emmy Awards

Sunday's Emmy Awards are mostly remote this year -- but security and production crews are in place as Staples Center in downtown Los Angeles welcomes unknown number of on-site attendees. (Sept. 20)




USATODAY.com - Published




Emmys 2020: 'Schitt's Creek' wins three awards, including honors for Eugene Levy, Catherine O'Hara

The pandemic is forcing the 72nd Emmys to be the first virtual show ever. Sunday's awards – hosted by Jimmy Kimmel – honor TV's best and brightest.




USATODAY.com - Published





Emmys 2020: Jimmy Kimmel kicks off a weird, virtual night while the world burns around him

The 2020 Emmy Awards looked like no other Emmys in history due to the COVID pandemic. Here are the highs, and the lows of the ceremony and winners.




USATODAY.com - Published





Emmy Awards 2020: Jimmy Kimmel kicks off virtual ceremony

Nominated actors will have someone waiting outside their home to hand over an award if they win.




BBC News - Published





Giuliana Rancic, Vivica A. Fox miss hosting Emmys virtual red carpet after testing positive for COVID-19

E News! Guiliana Rancic and Vivica A. Fox both missed hosting the Emmys red carpet after testing positive for COVID-19.




USATODAY.com - Published





2020 Emmy Awards winners and nominees

The ceremony is being held virtually due to the ongoing coronavirus pandemic.




CBS News - Published





How to watch the 2020 virtual Emmys tonight

Producers have sent 130 cameras to 20 cities in 10 countries to capture the winners.




CBS News - Published





Eddie Murphy Wins Emmy For 'SNL' 40 Years After First Nomination

Eddie Murphy made it clear Saturday night ... some things are just worth waiting for. Eddie scored his first Emmy ever -- yep, hard to believe, but true. This time around he was nominated for..




TMZ.com - Published





Emmy Awards 2020: Stars prepare to dial in for virtual ceremony

Nominated actors will have someone waiting outside their home to hand over an award if they win.




BBC News - Published





Staying apart, together: Spice up your weekend with new reads, the Emmys

Prime pumpkin season is upon us. Here are some tips for spicing up your weekend.




USATODAY.com - Published





The Emmys are 'literally all over the world'

Producers of the Emmy Awards on Sunday are relying on winners to keep the show interesting as they react live on-camera from their homes in Los Angeles and around the world. (Sept. 18)  




USATODAY.com - Published





Emmys Going Full 2020 With Trophy Presenters In Hazmat Suits

The Emmys are going full 2020 ... presenters will be wearing complete hazmat suits to hand out awards as safely as possible during a deadly pandemic. Ya gotta see the getup for the presenters who will..




TMZ.com - Published





Emmy outfits? Tuxedo robes and pajamas

Emmy nominated stars Helena Bonham Carter, Anthony Anderson and Laura Dern discuss their outfits for the big night. (Sept. 18)  




USATODAY.com - Published





Who is Tatiana Maslany, the new star of She-Hulk?

The Emmy-winning Orphan Black star will play the cousin of Bruce Banner in the upcoming series.




BBC News - Published





Emmys 2020: Who will win (and who really should) at this year's awards

From Jennifer Aniston to "Schitt's Creek," here's who will win at the 2020 Emmy Awards, plus the actors and series that actually should.




USATODAY.com - Published





Emmys red carpet: The best-dressed stars ever

These are the best Emmy Awards red carpet looks of all time.




CBS News - Published





Disney Plus won its first Emmy awards last night, thanks to The Mandalorian

The Mandalorian was one of the first shows to premiere on Disney's streaming service when it launched in November 2019, and now it's the reason Disney Plus won its first Emmy awards. The..




The Verge - Published