Mazu
Water deity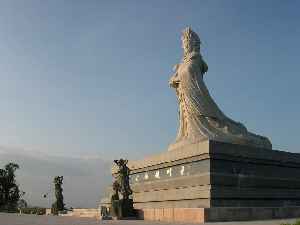 Mazu, also known by several other names and titles, is a Chinese sea goddess. She is the deified form of the purported historical Lin Mo or Lin Moniang, a Fujianese shamaness whose life span is traditionally dated from 960 to 987. Revered after her death as a tutelary deity of seafarers, including fishermen and sailors, her worship spread throughout China's coastal regions and overseas Chinese communities throughout Southeast Asia. She was thought to roam the seas, protecting her believers through miraculous interventions. She is now generally regarded by her believers as a powerful and benevolent Queen of Heaven. Mazuism is popular in Taiwan as the majority of Taiwanese are of Fujianese descent; her temple festival is a major event in the region, with the largest celebrations around her temples at Dajia and Beigang.


Taiwan's Foxconn boss Terry Gou says sea goddess inspired presidential bid
Foxconn's Terry Gou says goddess Mazu encouraged him to promote peace between Taiwan and China.
BBC News - Published
Search this site and the web:
You Might Like