United Nations Security Council
One of the six principal organs of the UN, charged with the maintenance of international peace and security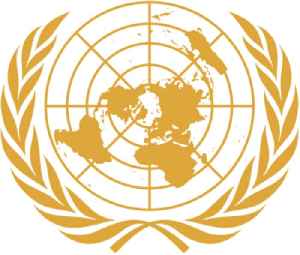 The United Nations Security Council (UNSC) is one of the six principal organs of the United Nations (UN), charged with ensuring international peace and security, recommending the admission of new UN members to the General Assembly, and approving any changes to the UN Charter. Its powers include establishing peacekeeping operations, enacting international sanctions, and authorizing military action. The UNSC is the only UN body with the authority to issue binding resolutions on member states.


Members of UN Security Council except China agrees JandK is bilateral issue: India's representative to UN

India's permanent representative to the United Nations, TS Tirumurti spoke to ANI on Pakistan and China raking JandK issue even after a year in UN. TS Tirumurti said that Pakistan's efforts have not..
Credit: ANI Duration: 01:33
Published
Major concerns over border restrictions on Syria aid

The UN Security Council agreed on Friday to a compromise that leaves only one border crossing, instead of two, with Turkey open, which could prevent many from receiving vital aid.
Credit: Al Jazeera STUDIO Duration: 02:35
Published
UN limits aid to Syria's rebel area after Russia opposes dual routes

Opposition from Russia forced the UN Security Council to limit humanitarian deliveries to Syria's mostly rebel-held northwest from only one crossing point. View on euronews
Credit: euronews (in English) Duration: 01:39
Published
Syria aid deal: UNSC manages to keep only one crossing open

In a setback for millions of displaced Syrians, several attempts to keep a second border crossing open failed to pass at the Security Council.
Credit: Al Jazeera STUDIO Duration: 04:15
Published
UNSC: Russia, China veto cross-border aid extension to Syria

The UNSC resolution would have extended cross-border humanitarian aid to three million Syrians for a year.
Credit: Al Jazeera STUDIO Duration: 02:27
Published
Iran's Zarif says ending arms ban 'inseparable' from nuclear deal

As the US tries to rally support to extend UN arms embargo on Iran it faces scepticism from UNSC members.
Credit: Al Jazeera STUDIO Duration: 02:34
Published
Egypt, Ethiopia discuss Nile dam dispute at UN Security Council

The UN Security Council holds a virtual session on Ethiopia's controversial dam project, which has caused a bitter dispute with Egypt and Sudan.
Credit: Al Jazeera STUDIO Duration: 02:44
Published
UN, Arab League call on Israel to drop annexation plans

At Security Council meeting, leaders warn Israel's unilateral action in occupied West Bank threatens peace prospects.
Credit: Al Jazeera STUDIO Duration: 02:50
Published
Egypt calls on UN to intervene after impasse in Nile dam talks

Egypt appeals for UN Security Council help on Ethiopia's Nile dam after latest round of talks ended without a deal.
Credit: Al Jazeera STUDIO Duration: 02:15
Published
U.N. Humiliates Trudeau

Prime Minister Justin Trudeau's bid to get Canada back on the United Nations Security Council was dashed Wednesday. Trudeau was humiliated. The UN dealt a decisive and embarrassing loss to him and..
Credit: Wochit News Duration: 00:29
Published
Combating terrorism going to be priority for us in Security Council: India's Envoy to UN

The India's Permanent Representative to the United Nations, Ambassador TS Tirumurti informed on June 18 that the United Nations member States elected India for non-permanent seat in the Security..
Credit: ANI Duration: 01:32
Published
India secures UNSC seat, sails through with 184 out of 192 valid votes polled

India on June 17 secured a comfortable victory in the United Nations Security Council elections to join the powerful 15-nation body as a non-permanent member for the 2021-22 term. With 184 votes out of..
Credit: ANI Duration: 01:03
Published
You Might Like



Indian Mission in NY to get 4 more diplomats as it prepares to take seat at UNSC high table

India will increase its diplomatic strength at its Permanent Mission in New York ahead of taking the role as a non-permanent member at United Nations Security Council (UNSC) from January 1, 2021 for a..




DNA - Published




Iran's UN envoy: Security Council must reject US bullying, unilateralism

Iran's permanent ambassador to the United Nations says the world body's Security Council must resist bullying efforts by the United States that aims to extend an arms embargo on the Islamic..




WorldNews - Published





Dawood, other terrorists continue to enjoy 'patronage' in a neighbouring country: India to UNSC

India has told the UN Security Council that Dawood Ibrahim, who perpetrated the 1993 Mumbai bomb blasts, and other UN-designated terrorists "unsurprisingly" continue to enjoy "patronage" in a..




IndiaTimes - Published





China tries raising Kashmir in UNSC, gets no support

On the first anniversary of India's revocation of the special status of J&K, China tried to initiate a discussion in the UN Security Council (UNSC) on the issue, but failed to find support from the..




IndiaTimes - Published





India gives stern response to China after it raises Kashmir issue at UNSC

China got a stern reposnse from India after it raised the Kashmir issue at United Nations Security Council (UNSC).




DNA - Published

Also reported by •IndiaTimes


China-backed attempt by Pakistan to discuss Kashmir issue at UNSC fails yet again: Indian diplomat




IndiaTimes - Published





Belarus accuses Russian contractors of plotting terror acts

MINSK, Belarus (AP) — Belarusian authorities have opened a criminal case against more than 30 Russian private military contractors detained earlier this week, on the charges of plotting terrorist..




WorldNews - Published





More than 40 countries accuse North Korea of breaching U.N. sanctions

NEW YORK — More than 40 countries accused North Korea on Friday of illicitly breaching a United Nations cap on refined petroleum imports and called for an immediate halt to deliveries until the end..




WorldNews - Published





UN blacklists Pakistan Taliban terror group's leader

UNITED NATIONS: The Tehrik-e-Taliban Pakistan (TTP) terror group's leader Mehsud has been designated as a global terrorist by the UN for participating in the financing, planning and perpetrating acts..




WorldNews - Published





PM to deliver keynote speech at UN Economic and Social Council

Prime Minister Narendra Modi will virtually address the UN on Friday at the High-Level Segment of the ECOSOC, his first since India was overwhelmingly elected as a non-permanent member of the powerful..




WorldNews - Published





On United Nations' 75th anniversary, PM Narendra Modi to virtually deliver keynote address in New York

This comes as an important bit of development as it will be Prime Minister Modi's first speech at the UN after India's Security Council win




DNA - Published





Syrians will die as aid access is cut, agencies warn

Lives will be lost and more than 1.3 million will suffer following a UN resolution that leaves only one border crossing open for aid deliveries from Turkey into rebel-held northwest Syria, humanitarian..




WorldNews - Published





Pompeo: US seized Iranian weapons on way to Houthi rebels in Yemen

US Secretary of State Mike Pompeo announced on Wednesday that US and partner forces seized a boat in June carrying Iranian weapons to Houthi rebels in Yemen as he renewed his call for the UN Security..




WorldNews - Published





UN chief: Foreign interference in Libya conflict at 'unprecedented levels'

United Nations Secretary-General Antonio Guterres warned the Security Council on Wednesday that the conflict in Libya has entered a new phase "with foreign interference reaching unprecedented levels."..




WorldNews - Published





India, US hold foreign office consultations, reaffirm commitment towards free, open Indo-Pacific

India and the US have reaffirmed their commitment to work towards ensuring a free, open, inclusive, peaceful and prosperous Indo-Pacific. They also agreed on the need to deepen cooperation in the..




IndiaTimes - Published





1st LD: UN chief warns of impacts of COVID-19 on peace and security

UNITED NATIONS, July 2 (Xinhua) -- UN Secretary-General Antonio Guterres on Thursday reminded the Security Council of the multi-faceted implications of COVID-19 on international peace and security...




WorldNews - Published





UNSC's Covid-19 resolution not applying to terrorists vindicates India's long-held position

The UNSC has unanimously adopted its first Covid-19 resolution that demands "immediate cessation of hostilities" and explicitly states that it "does not apply" to terror groups, a vindication..




IndiaTimes - Published





UN Security Council adopts resolution on immediate ceasefire in conflict zones

The United Nations Security Council has unanimously passed a resolution calling for an immediate halt to conflicts worldwide in an attempt to facilitate the fight against the deadly coronavirus..




WorldNews - Published





Germany, US block China's anti-India move at UNSC

China is livid after the US stepped in on Wednesday evening to delay a draft press statement condemning the Karachi Stock Exchange terrorist attack at the UN Security Council. ​​The US was the..




IndiaTimes - Published





Pompeo pushes Iran arms embargo at UN, Russia says U.S. knee on Iran's neck

NEW YORK (Reuters) – U.S. Secretary of State Mike Pompeo pushed the U.N. Security Council on Tuesday to extend an arms embargo on Iran before it expires in October, prompting Russia to slam..




WorldNews - Published





Middle East risks renewed arms race, US warns

The US and Saudi governments have made a joint public appeal to the UN Security Council to extend the 13-year old arms embargo on Iran or risk a renewed arms race in the Middle East. "Iran has not..




WorldNews - Published





UN Security Council to meet Monday on Ethiopia dam

The United�Nations Security Council plans to meet Monday to discuss Egypt and Sudan's�objections to Ethiopia's construction of a mega-dam on the Nile River,�diplomatic sources said Thursday...




WorldNews - Published





Sudan warns window closing in Nile dam dispute, asks UN help

UNITED NATIONS (AP) — Sudan has joined Egypt in asking the U.N. Security Council to intervene in a dispute over Ethiopia's newly built hydroelectric dam on the Blue Nile, warning that the window..




WorldNews - Published





US report on Pak terror safe haven: UN chief expects all members to abide by UNSC resolutions

UN Secretary-General Antonio Guterres expects all member states to "live up" to their obligations under the relevant Security Council resolutions, his spokesperson has said, after a US report noted..




WorldNews - Published





US threatens China and Russia with UN isolation if Iran arms ban blocked

Russia and China will be isolated at the United Nations if they continue down the "road to dystopia" by blocking a US bid to extend a weapons ban on Iran, US Iran envoy Brian Hook told Reuters..




WorldNews - Published





Arab League: Israeli annexation could ignite a religious war

UNITED NATIONS (AP) — The head of the Arab League warned a high-level U.N. meeting Wednesday that Israel's annexation of parts of the West Bank would endanger Middle East peace and could ignite..




WorldNews - Published





UN chief urges Israel to abandon annexation plans

UNITED NATIONS - UN Secretary-General Antonio Guterres has urged Israel to drop plans to annex parts of the occupied West Bank, saying it would be a "most serious violation of international law," in a..




WorldNews - Published





US blocks Pakistan's effort to term India terror backer

Pakistan's efforts, after the UN ban on Jaish-e-Mohammed (JeM) chief Masood Azhar, to draw a moral equivalence with India on the issue of cross-border terrorism have been nullified by the US. Top..




IndiaTimes - Published




China lukewarm to India's emphatic win at UNSC




IndiaTimes - Published





India at UN Security Council: 'Reformed multilateralism', a bigger say in global governance top the agenda




IndiaTimes - Published





After second round of voting, Kenya wins spot on U.N. Security Council

Kenya was elected to the U.N. Security Council on Thursday, defeating Djibouti in a second-round of voting by the 193-member General Assembly after an initial ballot failed to produce a clear winner.




Reuters - Published





India's election to UNSC shows goodwill country enjoys in world community: Venkaiah Naidu

Vice-President M Venkaiah Naidu on Thursday expressed delight over India's unopposed election to the UN Security Council as a non-permanent member, saying it reflected the goodwill enjoyed by New..




IndiaTimes - Published





U.N. mulls proposal to reopen Iraq crossing for pandemic aid to Syria

The United Nations Security Council is considered a proposal to reopen a border crossing from Iraq into Syria for six months to allow the delivery of humanitarian aid to help millions of Syrian..




Reuters - Published





Election as non-permanent member of UNSC displays goodwill India enjoys at UN: MEA




IndiaTimes - Published





India, Mexico, Norway, Ireland elected to UN Security Council

The UN General Assembly elected on Wednesday four new members of the Security Council for 2021 and 2022, with Canada losing out again and the battle for the African seat going to a second round. India,..




WorldNews - Published





Amit Shah expresses gratitude after India got elected as non-permanent member of UNSC

"Gratitude to the member nations for unanimously supporting India's membership to UN Security Council. Under the strong and visionary leadership of PM @NarendraModi, India will uphold its mantra of..




IndiaTimes - Published





US congratulates India on UNSC election, says looking ahead to working with it on global peace, security




IndiaTimes - Published





Deeply grateful for support shown by global community to India's membership of UNSC:PM Modi

India garnered 184 votes out of the 192 ballots cast in the General Assembly to win the election for the non-permanent seat in the powerful Security Council. India's two year term will begin on January..




IndiaTimes - Published





India secures seat as non-permanent member of UN Security Council; elected unopposed to join 15-nation body

The UNSC comprises 15 members including 10 non-permanent and 5 permanent members.




DNA - Published





India received overwhelming support in its election to the UN Security Council: Indian Ambassador Tirumurti

India received overwhelming support in its election to the UN Security Council and it will continue to provide leadership and a new orientation for a reformed multilateral system, India's Permanent..




IndiaTimes - Published





Canada loses out to Ireland and Norway in Security Council vote

Norway secured 130 votes, while Ireland got 128 and Canada managed just 108. India ran unopposed to win in the Asia-Pacific region, while Mexico...




WorldNews - Published

Also reported by •BBC News


India elected non-permanent member of UN Security Council

India was elected as non-permanent member of the powerful UN Security Council for a two-year term on Wednesday, winning 184 votes in the 193-member General Assembly.




IndiaTimes - Published





Mexico, India, Ireland, Norway elected to U.N. Security Council, one seat still open

Mexico, India, Ireland and Norway were elected to the United Nations Security Council on Wednesday, but the 193 U.N. member states must return on Thursday to continue voting to fill one more vacant..




Reuters India - Published

Also reported by •Reuters


US wants to discuss prisoner swaps with Iran face-to-face

The United States would like a face-to-face meeting with Iran to discuss prisoner releases and it wants the UN Security Council to impose an indefinite arms embargo on the Islamic Republic, a senior US..




WorldNews - Published





Disagreement on WHO hindering U.N. Security Council conference: RIA

Russia said on Wednesday that differences between other nations over the role of the World Health Organization have delayed a video conference being organized between the permanent members of the U.N...




Reuters - Published





India set for comfortable victory in UN Security Council elections

India is all set to join the powerful 15-nation Security Council as a non-permanent member. India is a candidate for a non-permanent seat from the Asia-Pacific category for the 2021-22 term. India's..




IndiaTimes - Published





U.S. wants face-to-face meeting with Iran on prisoners

The United States would like a face-to-face meeting with Iran to discuss prisoner releases and it wants the U.N. Security Council to impose an indefinite arms embargo on the Islamic Republic, a senior..




Reuters - Published




Netanyahu: Putin saved Israel from UNSC resolution to create Palestine state

Russian President Vladimir Putin saved Israel from a potential UN Security Council resolution in 2016 that would have forced the occupation state to setup a...




WorldNews - Published





Canada sees tight U.N. Security Council race, says coronavirus response could help

Canada faces a tight race for a rotating seat on the United Nations Security Council but the country's response to the coronavirus outbreak could help win support, Foreign Minister Francois-Philippe..




Reuters - Published