Kevin Durant
American basketball player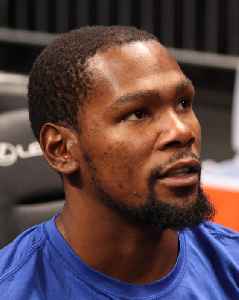 Kevin Wayne Durant is an American professional basketball player for the Golden State Warriors of the National Basketball Association (NBA). He played one season of college basketball for the University of Texas, and was selected as the second overall pick by the Seattle SuperSonics in the 2007 NBA draft. He played nine seasons in Oklahoma City before signing with Golden State in 2016, winning back-to-back championships in 2017 and 2018.


Kevin Durant's agent says Warriors star still undecided on what he'll do in free agency
Rich Kleiman said the Golden State Warriors forward is focused on rehabbing his calf injury and the NBA Finals, not the free agency period looming.
USATODAY.com - Published
Rest for the weary: Warriors will only get stronger with break before NBA Finals
These six straight wins since Kevin Durant went down have been as impressive a stretch as coach Steve Kerr has had during his tenure.
USATODAY.com - Published
Steve Kerr Channeled Jurgen Klopp And Called The Warriors 'F---ing Giants' After Win
The Golden State Warriors pulled out a huge Game 5 win over the Houston Rockets on Wednesday that was rife with drama. The Warriors built a massive first-half lead, only to see it evaporate in the..
Credit: Wochit News Duration: 01:19Published
Kevin Durant Suffers Inury
Kevin Durant injured his leg in Game 5 against the Houston Rockets. Many observers noted that Durant's reaction was similar to other athletes who have torn their Achilles' tendons.
Credit: Wochit News Duration: 00:42Published
Kevin Durant And Patrick Beverley Get Ejected
When it came to the Warriors-Clippers series, the prevailing prediction seemed to be that the Clippers hardly had a snowball's chance in hell of stealing at least one win from Golden State. However,..
Credit: Wochit News Duration: 00:51Published
Are The Warriors Playing With Fire By Feuding With The Referees?
After a plethora of recent feuds between the Warriors and NBA referees including stars Stephen Curry, Draymond Green, and Kevin Durant, Crossover Tv discusses whether this is a bad look for the..
Credit: Sports Illustrated Duration: 02:49Published
Zion wins Naismith Men's Player of the Year
Zion Williamson has joined Anthony Davis and Kevin Durant as the only freshmen to win the Naismith Men's Player of the Year Award.
Credit: Sports Illustrated Duration: 00:53Published
Zion Williamson's first NBA sneaker could start 'the biggest bidding war ever'
Zion Williamson is widely expected to be the No. 1 pick in the NBA draft. According to a report, before the draft, sneaker companies could engage in a massive bidding war for Williamson. It's unclear..
Credit: Wochit News Duration: 00:45Published
Warriors President Rick Welts: 'Kevin Durant Can Have Any Statue He Wants'
Will Kevin Durant be on the Warriors next season? Golden State President and Chief Operating Officer Rick Welts joins SI Now to make it clear that he's willing to do whatever it takes to keep KD with..
Credit: Sports Illustrated Duration: 01:22Published
Warriors remain optimistic Durant will return in postseason
Warriors coach Steve Kerr isn't going to predict when Kevin Durant might play again but the team is optimistic the two-time reigning NBA Finals MVP will be back this postseason
USATODAY.com - Published
Warriors' Kevin Durant to miss Games 3 and 4 vs. Blazers
Kevin Durant's strained right calf was re-evaluated before Game 2 and "has shown good progress," but he is still not ready to return to the court.
USATODAY.com - Published
Kevin Durant to miss Games 3, 4 of Western Conference finals
Warriors star Kevin Durant will miss the upcoming Games 3 and 4 of the Western Conference finals for Golden State in Portland as he continues to recover from a strained right calf
USATODAY.com - Published
Curry, Warriors take Game 1 of Western Conference finals
OAKLAND, Calif. (AP) — Stephen Curry had all kinds of room for a change and capitalized, finding his shooting touch in a hurry to get Golden State on a roll. Portland's defenders were too far back..
WorldNews - Published
Warriors outclass tired Trail Blazers
SportsPulse: Maybe Kevin Durant can take this week off anyways? The Trail Blazers looked sluggish and need to regroup quick, otherwise it could be a very short series says Martin Rogers.
USATODAY.com - Published
Steph Curry lifts Golden State Warriors to Game 1 win over Portland Trail Blazers
With Kevin Durant out injured, Steph Curry took over Game 1 of the Western Conference finals, scoring 36 points in the Warriors' win over the Blazers.
USATODAY.com - Published
Warriors Durant, Cousins may miss Western Conference Finals
Steve Kerr isn't ready to predict whether Kevin Durant or DeMarcus Cousins will be able to return from injuries to play for the Warriors during the best-of-seven Western Conference Finals against the..
USATODAY.com - Published
You Might Like