Alyssa Milano
American actress, producer, activist, and singer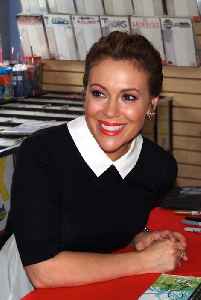 Alyssa Jayne Milano is an American actress, producer, and singer. She is known for her roles as Samantha Micelli in Who's the Boss?, Jennifer Mancini in Melrose Place, Phoebe Halliwell in Charmed, Billie Cunningham in My Name is Earl, Savannah "Savi" Davis in Mistresses, Renata Murphy in Wet Hot American Summer: 10 Years Later, and Coralee Armstrong in Insatiable.


Milano Standing By Biden

Joe Biden has been accused of sexual assault by former staffer, Tara Reade. Several members of the #MeToo movement, most visibly Alyssa Milano, stayed silent and stood by Joe Biden. It's notable..
Credit: Wochit News Duration: 00:37
Published
Rose McGowan slams Alyssa Milano over Joe Biden stance

Rose McGowan has labelled Alyssa Milano a "fraud" for continuing to back U.S. presidential candidate Joe Biden after s*xual assault allegations were made against him.
Credit: Cover Video STUDIO Duration: 00:52
Published
You Might Like
'Why am I watching this?' Alyssa Milano says of phenomenon 'Tiger King'
Alyssa Milano, Shane McAnally and Lovie Simone discuss the addictive quality of Netflix true crime documentary miniseries "Tiger King." (April 17)  
USATODAY.com - Published
Celebs react to impeachment: Alyssa Milano, Charlie Daniels, Bette Midler and more
Like many Americans, celebs took to social media to voice their thoughts on impeachment. Here's what they said, from Plies to Charlie Daniels.
USATODAY.com - Published
Kim Kardashian, Alyssa Milano speak out after Santa Clarita shooting: 'How many need to die?'
After a gunman opened fire at a California high school Thursday, celebrities took to social media to offer thoughts and prayers.
USATODAY.com - Published
11 of Our Best Weekend Reads
De Niro and Pacino. Alyssa Milano. Flea. Taste-testing plant-based burgers. The sunless world of immigrants in Queens. And more.
NYTimes.com - Published
Alyssa Milano, Celebrity Activist for the Celebrity Presidential Age
The actress is trying to stay just famous enough to still get invited to Washington.
NYTimes.com - Published
On This Day 15 October 2017
Alyssa Milano helped kick-start the #MeToo movement, with a single Tweet. (Oct. 15)  
USATODAY.com - Published
Gun control: Alyssa Milano begs Ted Cruz 'to have the courage to lead' at meeting after Twitter spat
Fans and followers of both the actress and the Texas GOP senator were able to watch the meeting online on a video live stream. The meeting happened the same day GOP leaders on Capitol Hill met at the..
USATODAY.com - Published
Gun control: Sen. Ted Cruz agrees to meet with actress Alyssa Milano, spars with Chicago mayor
The Republican senator who represents Texas, the site of two recent mass shootings in the national headlines, has recently been on Twitter sparring with on the issues of gun control and gun violence..
USATODAY.com - Published
Cruz would be "happy" to meet with Alyssa Milano about guns
"I'd love to come in and meet with you on the gun issue and many other issues that include life, liberty and the pursuit of happiness," Milano tweeted to Cruz
CBS News - Published
Alyssa Milano reveals she had two abortions in 1993 within months: 'It was my choice'
Actress and activist Alyssa Milano is opening up about her past experience with abortion in protest of restrictive laws.
USATODAY.com - Published
Alyssa Milano defends attending fundraiser for presidential hopeful Marianne Williamson
Alyssa Milano raised eyebrows by announcing her plans to attend a fundraiser for Democratic presidential candidate Marianne Williamson.
USATODAY.com - Published
Zachary Quinto, Alyssa Milano, others celebrities to stage adaptation of Mueller report
Zachary Quinto, Alyssa Milano, and others are part of the cast. Sigourney Weaver, Julia Louis-Dreyfus, Mark Hamill, and others will also participate.
USATODAY.com - Published