Supreme Court of the United States
Highest court in the United States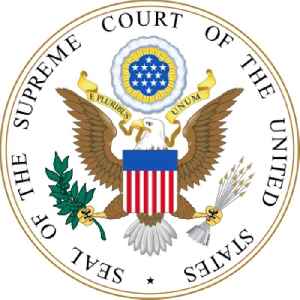 The Supreme Court of the United States (SCOTUS) is the highest court in the federal judiciary of the United States of America. It has ultimate appellate jurisdiction over all federal and state court cases that involve a point of federal law, and original jurisdiction over a narrow range of cases, specifically "all Cases affecting Ambassadors, other public Ministers and Consuls, and those in which a State shall be Party". The Court holds the power of judicial review, the ability to invalidate a statute for violating a provision of the Constitution. It is also able to strike down presidential directives for violating either the Constitution or statutory law. However, it may act only within the context of a case in an area of law over which it has jurisdiction. The Court may decide cases having political overtones, but it has ruled that it does not have power to decide non-justiciable political questions.


Trump: Election will 'end up in the Supreme Court'

Donald Trump predicted the 2020 presidential election "will end up in theSupreme Court", and suggested that is one of the reasons he is pushing sostrongly to fill the seat vacated by the death of..
Credit: PA - Press Association STUDIO Duration: 00:45
Published
Jharkhand govt will go to SC: Hemant Soren on HC order on teachers' recruitment

Chief Minister of Jharkhand, Hemant Soren, on September 23 said that the state government will go to Supreme Court after the High Court rejected teachers' recruitment process in the state. Earlier, the..
Credit: ANI Duration: 02:02
Published
Mourners pay respects to Ginsburg at U.S. Supreme Court

[NFA] Mourners quietly filed past the late Supreme Court Justice Ruth Bader Ginsburg's flag-draped coffin outside the white marble court building on Wednesday as the United States began three days of..
Credit: Reuters - Politics Duration: 01:53
Published
How a Trump pick could shift SCOTUS on abortion

[NFA] With President Donald Trump poised to nominate a U.S. Supreme Court justice to fill the vacancy created by the death of liberal icon Ruth Bader Ginsburg, a new 6-3 conservative majority could be..
Credit: Reuters - Politics Duration: 01:45
Published
Who Is Trump's Top SCOTUS Pick

Pres. Donald Trump has a short list for judges to fill the vacancy on the Supreme Court. Trump plans to make the announcement on Saturday, September 26th 2020 at 5pm EST. Trump claims the country will..
Credit: Wochit News Duration: 00:34
Published
Thousands expected to honor Ginsburg at Supreme Court


Credit: FRANCE 24 English Duration: 04:22
Published
Romney Indicates He Will Support SCOTUS Nominee Vote

Senator Mitt Romney's announcement that he would support President Donald Trump's nomination for a Supreme Court justice likely means that the nomination will be appointed.
Credit: Cover Video STUDIO Duration: 01:07
Published
Trump SCOTUS picks are 'great women, great scholars'

U.S. President Donald Trump held a campaign rally in the battleground state of Pennsylvania on Tuesday, as the death of liberal U.S. Supreme Court Justice Ruth Bader Ginsburg on Friday continued to..
Credit: Reuters Studio Duration: 01:22
Published
McConnell defends decision to fill Ginsburg's seat

When Senate Majority Leader Mitch McConnell was asked Tuesday about a possible contested election impacting the timeline of a Supreme Court pick, he responded, "all kinds of things could happen."
Credit: Reuters Studio Duration: 01:35
Published
Romney agrees to vote on Trump's Supreme Court pick

[NFA] Republican Senator Mitt Romney said the Senate should move forward with a vote on President Trump's replacement for liberal Justice Ruth Bader Ginsburg, paving the way for Trump to cement a 6-3..
Credit: Reuters Studio Duration: 02:19
Published
How Is A Supreme Court Justice Nominated?

Justice Ruth Bader Ginsburg's death leaves the Supreme Court with a vacancy just weeks before the presidential election. How are Supreme Court Justices nominated and confirmed? First, Pres. Donald..
Credit: Wochit News Duration: 00:43
Published
What Does RBG's Death Mean For The Health Care Industry

A team of UBS investment strategists studied how the passing of Ruth Bader Ginsberg would effect the health care industry. UBS said Ginsburg death will increase uncertainty within the healthcare..
Credit: Wochit News Duration: 00:32
Published
Who are the top contenders for Ginsburg's seat on Supreme Court?


Credit: FRANCE 24 English Duration: 01:44
Published
Trump to reveal Supreme Court pick by Saturday

U.S President Donald Trump raced on Monday (September 21) to cement a conservative majority on the U.S. Supreme Court before the Nov. 3 election, telling reporters he planned by Saturday to reveal his..
Credit: Reuters Studio Duration: 01:22
Published
Trump casts doubt on Ginsburg's dying wish

[NFA] President Donald Trump on Monday sought to discredit Justice Ruth Bader Ginsburg's family's statement that her last wish was the next president appoint her successor, saying without evidence it..
Credit: Reuters - Politics Duration: 02:51
Published
Senate leaders spar over Trump's intent to nominate

Democratic Senate Leader Chuck Schumer on Monday called Majority Leader Mitch McConnell "craven" for his intent to put President Donald Trump's to-be-determined Supreme Court nominee to a vote on the..
Credit: Reuters Studio Duration: 02:21
Published
Lagoa in 2019 chided judges against making law

Barbara Lagoa, a Cuban American who was the first Latina judge on Florida's Supreme Court, in 2019 said "it is for the legislature, and not the courts, to make the law."
Credit: Reuters Studio Duration: 01:07
Published
Maratha reservation: Maha govt moves SC seeking vacation on its stay order

Maharashtra government filed a petition in Supreme Court, seeking vacation of its stay order on Maratha reservation.The Cabinet Minister of Maharashtra and Congress leader, Ashok Chavan met with..
Credit: ANI Duration: 01:02
Published
You Might Like



Trump, other mourners to pay respects to Ginsburg during second day of viewing at Supreme Court

Donald Trump to pay respects to Ruth Bader Ginsburg as he gears up for a bruising battle to confirm the liberal justice's successor.




USATODAY.com - Published





Trump on accepting election results: "we're going to have to see what happens"

President Trump on Wednesday night refused to say if he would accept the results of the upcoming election. The comments came as the president continued to suggest the election may end up being decided..




CBS News - Published





Ginsburg Remembered as Champion of Justice as Struggle Continues Over Her Successor

Long lines of mourners waited outside the Supreme Court to pay their respects, but President Trump again made clear he would not honor her dying wish that filling her seat wait until the next president..




NYTimes.com - Published





Trump tightens Cuba sanctions as he woos Cuban American vote

WASHINGTON — President Trump announced Wednesday that U.S. travelers won't be allowed to bring home Cuban cigars and rum or stay in government-owned hotels there under new measures designed to help..




WorldNews - Published





Right Thinking: Justice Ginsburg merits prominent place in history

It is evident that the emotional public reaction to the passing of Justice Ruth Bader Ginsburg demonstrates that the historic significance of her accomplishments far surpasses that of the mine run of..




WorldNews - Published





US election: Trump won't commit to peaceful transfer of power

The president also predicted the election result will be determined before the Supreme Court.




BBC News - Published





Biden remains focused on COVID, economy amid SCOTUS battle

Meanwhile, President Trump will be announcing his conservative female Supreme Court nominee Saturday afternoon.




CBS News - Published





RBG lies in repose at Supreme Court, as Trump prepares to name next nominee

CBS News has confirmed that federal judge Amy Coney Barrett visited the White House for a second time Tuesday. President Trump says he will name his nominee to replace Ruth Bader Ginsburg on the..




CBS News - Published





Ruth Bader Ginsburg lies in repose at Supreme Court

Justice Ruth Bader Ginsburg is lying in repose at the Supreme Court. More than 100 former clerks greeted her casket when it arrived and thousands are expected to pay their respects. Jan Crawford..




CBS News - Published

Also reported by •BBC News •TMZ.com


Trump pushes to fill vacant Supreme Court seat before election

President Trump said Wednesday he wants to fill Ruth Bader Ginsburg's seat before the election. Mr. Trump said he is worried the election will come before the court. Weijia Jiang reports.




CBS News - Published





Lindsey Graham Says 'We've Got the Votes' to Approve Court Pick

Sure, most Senate Republicans will approve President Trump's Supreme Court nominee. But they seem to have already done so, without a name.




NYTimes.com - Published





How the Supreme Court vacancy impacts 2020 Senate races

The fight over Ruth Bader Ginsburg's now-vacant Supreme Court seat is highlighting the importance the Senate plays in controlling power in Washington. Washington Post reporter Amber Phillips spoke to..




CBS News - Published





Trump says he wants to fill Supreme Court seat quickly in case justices need to settle election dispute

Political opponents said Trump wants a bigger Supreme Court as soon as possible to fix the presidential election in his favor.




USATODAY.com - Published





What Amy Coney Barrett said about filling a Supreme Court seat in an election year

In an interview with CBSN in 2016, when she was a law professor at Notre Dame, Amy Coney Barrett talked about the political battles over filing a Supreme Court seat in a presidential election year...




CBS News - Published





Trump predicts Supreme Court needs a ninth justice to decide November election

"I think this will end up in the Supreme Court," the president said of the presidential election.




CBS News - Published





Sudarshan TV violated programme code, issued notice: Govt

Days after the Supreme Court asked the Union government why it had not examined alleged programme code violations by Sudarshan TV's series on alleged infiltration of civil services by Muslims, the..




IndiaTimes - Published





Trump says he wants a conservative majority on the Supreme Court in case of an Election Day dispute.




NYTimes.com - Published





Trump in 2016: "The judges will be pro-life"

In post-election interview on 60 Minutes, Lesley Stahl asked the future president whether his Supreme Court justice nominees would look to overturn Roe v. Wade.




CBS News - Published




Mourners line up to pay respects to Ginsburg

The casket of the late Justice Ruth Bader Ginsburg has been moved to the top of the Supreme Court's marble steps so the public can pay respect. (Sept. 23)  




USATODAY.com - Published





Remembering Ruth Bader Ginsburg's life and legacy as she lies in repose

Supreme Court Justice Ruth Bader Ginsburg is lying in repose at the Supreme Court through Thursday, after her death at age 87. Fatima Goss Graves, the president and CEO of the National Women's Law..




CBS News - Published





Fight over vacant SCOTUS Scalia seat gets ugly

The fight in Washington for late Supreme Court Justice Antonin Scalia's replacement is just getting started. President Obama may pick a nomination as early as next week, but Republicans vow to block..




CBS News - Published





Trump to court Latino votes in Miami as campaigns battle for Florida in final stretch

Trump's Miami trip is part of two-day swing that will take him to Jacksonville, Charlotte and Atlanta before he names a Supreme Court nominee.




USATODAY.com - Published





Senators clash over plans to fill Ginsburg's seat on Supreme Court

The solemn ceremonies to remember the life of Justice Ruth Bader Ginsburg are in stark contrast to the heated debate on Capitol Hill over her replacement. CBS News political reporter Grace Segers..




CBS News - Published





Judge Amy Coney Barrett visits White House for second time

Judge Amy Coney Barrett, one of President Trump's top contenders to be nominated for Justice Ginsburg's Supreme Court seat, visited the White House again yesterday. CBS News White House correspondent..




CBS News - Published





Trump's top contenders to take RBG's court seat

President Donald Trump's has said he would nominate a conservative woman to replace Supreme Court Justice Ruth Bader Ginsburg, but some disagree on whether the pick should cement the conservative court..




USATODAY.com - Published





Capturing How Ruth Bader Ginsburg Was Honored in Washington

Justice Ginsburg will be honored at the Supreme Court and the Capitol for three days.




NYTimes.com - Published





Watch live: Trump holds news conference as he touts vaccine progress

The president is expected to announce his Supreme Court pick in three days.




CBS News - Published





Roberts remembers Ginsburg as tough and brave

The death of Justice Ruth Bader Ginsburg is bringing together the court's remaining eight justices for the first time since the Supreme Court building was closed in March and they resorted to meetings..




USATODAY.com - Published





Special Report: Supreme Court ceremony honors the late Justice Ruth Bader Ginsburg

Chief Justice John Roberts paid tribute to Ruth Bader Ginsburg at a ceremony at the U.S. Supreme Court, where her casket will lie in repose following her death Friday at age 87. CBS News' Gayle King,..




CBS News - Published





Partisan fight escalates to fill Justice Ginsburg's Supreme Court seat as she lies in repose

Justice Ruth Bader Ginsburg is lying in repose Wednesday and Thursday at the Supreme Court. It comes as Republicans and Democrats escalate their fight over how to fill her vacancy. CBS News chief..




CBS News - Published





Ginsburg casket arrives at Supreme Court

The casket of the late Supreme Court Justice Ruth Bader Ginsburg has arrived at the Supreme Court for the start of two days of public viewing. (Sept. 23)  




USATODAY.com - Published





Examining Trump's claim about timing of 29 Supreme Court vacancies

Including Ginsburg, there have been 16 vacancies on the Supreme Court that have occurred during an election year.




CBS News - Published





Mehbooba Mufti's daughter moves SC seeking to amend plea against continued detention of her mother

Iltija Mufti, the daughter of former Jammu and Kashmir chief minister Mehbooba Mufti, has approached the Supreme Court seeking to modify her petition challenging the detention of her mother under the..




IndiaTimes - Published





Programme code violation by TV channel, have issued show-cause notice, Centre tells SC

The Centre informed the Supreme Court on Wednesday that it has prima facie found violation of programme code by Sudarshan TV's 'Bindas Bol' show and has issued a notice to the channel.A bench of..




IndiaTimes - Published





Senate GOP deliberates over SCOTUS nomination timeline as Trump prepares to announce pick

After Senator Mitt Romney of Utah announced his support for moving ahead with a Supreme Court nomination, Republican lawmakers are now deliberating over whether to hold a confirmation vote before or..




CBS News - Published





Eye Opener: Trump to announce Supreme Court pick Saturday

President Trump said he will announce a Supreme Court nominee Saturday after Senate Republicans said they have the votes to bring the nomination to the floor. Also, the coronavirus has now killed more..




CBS News - Published





At the Supreme Court, a Farewell to Justice Ruth Bader Ginsburg

Over three days at the court and the Capitol, the nation will mourn and celebrate a remarkable legacy.




NYTimes.com - Published





Justice Ruth Bader Ginsburg returns to Supreme Court for final time

Even as President Donald Trump readied a potential replacement, Ginsburg's family, friends, former clerks and colleagues prepared for a last goodbye.




USATODAY.com - Published





AP Top Stories September 23 A

Here's the latest for Wednesday September 23rd: Public viewing at Supreme Court of Ruth Bader Ginsburg's casket; Ricin suspect accused of threatening President Trump; Trump mocks Biden for wearing face..




USATODAY.com - Published





Ruth Bader Ginsburg to lie in repose, Breonna Taylor announcement, Beta still a threat: 5 things to know Wednesday

The body of late Justice Ruth Bader Ginsburg will lie in repose at the Supreme Court, Louisville prepares for Breonna Taylor announcement and more news to start your Wednesday.




USATODAY.com - Published





Facebook has more users in India than anywhere else. It's now dealing with a hate ...

San Francisco (CNN Business)Facebook is facing multiple simultaneous controversies in the United States, particularly around disinformation, hate speech and political bias. But those issues are also..




WorldNews - Published





Trump, Biden fight to define campaign's most pressing issues

SWANTON, Ohio (AP) — President Donald Trump was interrupted twice during an Ohio rally this week by sign-waving supporters chanting, "Fill that seat!" "I will fill that seat," Trump responded..




WorldNews - Published





Trump: There's "one or two" top contenders for Supreme Court vacancy

President Trump and Senate Republicans are preparing to move quickly after the president names his nominee for the high court. CBS News chief congressional correspondent Nancy Cordes and CBS News White..




CBS News - Published





Trump lays out his plan to have the Supreme Court intervene in the 2020 election

In a startling frank admission, President Donald Trump told reporters on Tuesday that he believes the country needs to have nine Supreme Court justices because of the millions of mail-in ballots at..




WorldNews - Published





9/22/20: Red and Blue

Pres. Trump to name Supreme Court nominee Saturday; Justice Ginsburg to lie in repose at Supreme Court




CBS News - Published





What's next for the Supreme Court?

As the fight over Justice Ruth Bader Ginsburg's replacement heats up, the big question is, what's next for the Supreme Court? CBSN legal analyst Rebecca Roiphe joined CBSN to talk about how this..




CBS News - Published





With Court Prize in Sight, Republicans Unite Behind Trump Once Again

The swift rally behind President Trump's push to fill a Supreme Court seat before the election reflects his lock on the Republican Party.




NYTimes.com - Published





Trump says Supreme Court nominee coming Saturday, with Senate ready to move forward

President Trump has set a date to announce his next Supreme Court nominee, and Republican Senate leaders say they have the votes to confirm her before Election Day. CBS News correspondent Nikole..




CBS News - Published





In Ohio, Trump supporters eager to see SCOTUS vacancy filled

Ahead of Trump's campaign event in Vandalia, his supporters expressed concern about abortion and about deciding what could be a close election in November.




CBS News - Published





Companies and celebrities help nationwide effort to register Americans to vote

The late Supreme Court Justice Hugo Black wrote that "no right is more precious" than the right to vote. A timely quote, given that Tuesday is "National Voter Registration Day." And there's a full..




CBS News - Published