Hilary Swank
American actress and film producer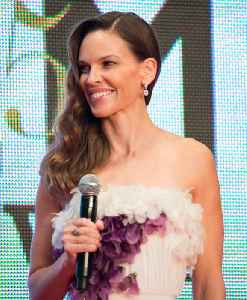 Hilary Ann Swank is an American actress and film producer, who was included in Time magazine's list of the 100 most influential people in the world. Swank is the recipient of numerous accolades, including two Academy Awards, two Golden Globe Awards, two Critics' Choice Awards and a Screen Actors Guild Award.


You Might Like
New trailers this week: Rebecca, The Truffle Hunters, Sneakerheads, and of course Dune
Lily James in Rebecca | Netflix OK so I got out of my rerun rut and binged Away on Netflix over Labor Day and... I really wanted to like it! The acting was so good, and it looked beautiful, but the..
The Verge - Published
Hilary Swank sues SAG-AFTRA Health Plan over ovarian cyst coverage: 'It's time we are treated fairly'
Hilary Swank is suing the SAG-AFTRA Health Plan Board of Trustees over issues stemming from coverage for ovarian cysts and endometriosis.
USATODAY.com - Published
Hilary Swank on Netflix's sci-fi Away and the ultimate work-life dilemma
Hilary Swank talks about her role for Netflix as the commander on the first manned mission to Mars.
BBC News - Published
Hilary Swank plays an astronaut leading a mission to mars in Netlix's 'Away'
Hilary Swank has transformed herself to play a transgender man in "Boys Don't Cry" and a boxer in "Million Dollar Baby," so when it came time to play an astronaut in the upcoming Netflix series "Away,"..
USATODAY.com - Published
MOVIE REVIEW: I Am Mother
by Graham Pierrepoint - I AM MOTHER IMDb Dir: Grant Sputore Starring Clara Rugaard, Rose Byrne, Hilary Swank, Luke Hawker 4.5 STARS (out of 5) Sometimes, it's nice to see a bit of genuine..
One News Page Staff - Published
Search this site and the web: