Crimea
Peninsula in the Black Sea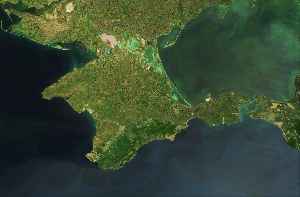 Crimea is a peninsula on the northern coast of the Black Sea in Eastern Europe that is almost completely surrounded by both the Black Sea and the smaller Sea of Azov to the northeast. It is located south of the Ukrainian region of Kherson, to which it is connected by the Isthmus of Perekop, and west of the Russian region of Kuban, from which it is separated by the Strait of Kerch though linked by the Crimean Bridge. The Arabat Spit is located to the northeast, a narrow strip of land that separates a system of lagoons named Sivash from the Sea of Azov. Across the Black Sea to its west is Romania and to its south Turkey.


Council of Europe votes to maintain Russia's membership
Human rights body had stripped Moscow of its voting rights over 2014 Crimea annexation Russia will remain in the Council of Europe after ministers at the human rights organisation moved to end a bitter..
WorldNews - Published
Ministers agree way for Russia to rejoin Europe's human rights body
Foreign ministers from the Council of Europe, the continent's chief human rights watchdog, reached an agreement on Friday that opens the way for Russia to return to the organization, resolving a..
Reuters - Published
Unconventional family: cat raises four baby squirrels alongside new kittens
In Crimea, a cat named Pusha has "adopted" four orphaned baby squirrels and is raising them as her own alongside her new kittens.
Credit: euronews (in English) Duration: 00:31Published
Comedian Zelenskiy celebrates landslide win in Ukrainian race
Ukraine entered uncharted political waters on Sunday after an exit poll showed Volodymyr Zelenskiy, a comedian with no political experience and few detailed policies had easily won enough votes to..
Credit: Reuters Studio Duration: 00:46Published
Comedian favorite to win Ukranian election as voters head to polls
Ukrainians began voting on Sunday in an election expected to thrust a comedian with no prior political experience into the presidency of a country at war and hungry for change. Edward Baran reports.
Credit: Reuters Studio Duration: 01:25Published
Is This Some Kind Of Joke? Comedian Leads Ukrainian Presidential Polls
Volodymyr Zelenskiy isn't the president of Ukraine. He just plays one on TV. But now, Business Insider reports he's leading the actual presidential polls one day ahead of the country's election...
Credit: Wochit News Duration: 00:36Published
Anniversary of the Crimean Tatars deportation: could the history recur?
On May 18, it is 75 years from deportation of the Crimean Tatars - the act of genocide and one of the dark pages of Stalin's era. For the Crimean Tatars it is the day of memory and grieve for..
WorldNews - Published
Search this site and the web:
You Might Like