United States National Guard
Reserve force of the United States Army and Air Force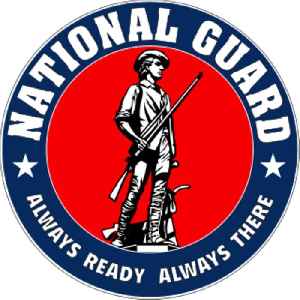 The
United States National Guard
, also commonly referred to as the
National Guard
, is part of the reserve components of the United States Armed Forces. It is a reserve military force composed of National Guard military members or units of each state and the territories of Guam, the Virgin Islands, Puerto Rico, and the District of Columbia, for a total of 54 separate organizations. All members of the National Guard of the United States are also members of the militia of the United States as defined by 10 U.S.C. 
§ 246
. National Guard units are under the dual control of the state and the federal government.
New Orleans braces for Tropical Storm Barry
A state of emergency was declared and the National Guard was activated in Louisiana amid the threat of Tropical Storm Barry. Improvements in flood protection were made after Katrina, and are about to..
CBS News - Published
How Would President Obrador's Pacifist Vision Impact Mexico's And U.S.'s Drug War?
Article by WN.Com Correspondent Dallas Darling Mexican President Andres Manuel Lopez Obrador said recently he would like to disband the army and put national security in the hands of the new National..
WorldNews - Published
Mexico's new police: Armed National Guard raises concerns
Human rights training still yet to take place for Mexico's new National Guard forces.
Credit: Al Jazeera STUDIO Duration: 02:41Published
Mexico's New National Guard Torn Between Fighting Crime And Pleasing Trump
The Mexican National Guard is a new security force created to bring down record homicide rates. But now, Reuters reports it has been tasked with patrolling the border to placate President Donald Trump...
Credit: Wochit News Duration: 00:43Published
Mexico Migrant Shelter Accuses Police of Intimidation
According to Reuters, a Mexican migrant shelter is raising concern over what it said was an unauthorized attempt by Mexico's National Guard to enter the facility and question migrants. Shelter..
Credit: Wochit News Duration: 00:33Published
Mexico Has Deployed 15,000 forces To It's U.S. Border
On Monday the head of the Mexican Army said that Mexico has deployed almost 15,000 soldiers and National Guard in the north of the country to stem the flow of illegal immigration across the border into..
Credit: Wochit News Duration: 00:33Published
Migrants rush to enter Mexico ahead of crackdown
Central American migrants eager to beat a crackdown by Mexico on its southern border with Guatemala scrambled into the country on Thursday as the government prepared to send thousands of National Guard..
Credit: Reuters Studio Duration: 01:29Published
Trump is confident Mexico will enforce new deal
U.S. President Donald Trump on Saturday predicted Mexico would strongly enforce a new deal under which it agreed to expand a controversial asylum program and Trump agreed not to impose a 5% tariff on..
Credit: Reuters Studio Duration: 01:34Published
As Mexico-U.S. talks progress, markets rise on hopes a deal could be close
Markets have been cheered by optimism that a US/Mexico deal could be close after a second day of talks on trade and migration on Thursday. But, as Pascale Davies reports, it's still unclear if a..
Credit: Reuters Studio Duration: 01:49Published
Can President AMLO's National Guard tame violence in Mexico?
Al Jazeera examines President Lopez Obrador's proposal for getting tough on crime.
Credit: Al Jazeera STUDIO Duration: 02:59Published
Oklahoma And Arkansas Brace For More Rain
Flooded Arkansas and Oklahoma were bracing for more rain that will feed the already swollen Arkansas River, forecasters said on Monday, as Missouri deployed the National Guard in anticipation of..
Credit: Wochit News Duration: 00:32Published
Search this site and the web:
You Might Like