Indianapolis 500
Auto race held in Speedway, Indiana, United States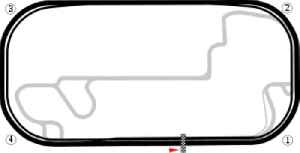 The Indianapolis 500-Mile Race is an automobile race held annually at Indianapolis Motor Speedway (IMS) in Speedway, Indiana, United States, an enclave suburb of Indianapolis, Indiana. The event is held over Memorial Day weekend in late May. It is contested as part of the IndyCar Series, the top level of American Championship Car racing, an open-wheel open-cockpit formula colloquially known as "Indy Car Racing". The name of the race is often shortened to Indy 500, and the track itself is nicknamed "the Brickyard", as the racing surfacing was paved in brick in the fall of 1909.


Mario Andretti at abandoned Nazareth Speedway: 'It's not a happy reunion'
As the 50th anniversary of his Indianapolis 500 victory approaches, Mario Andretti take us back to Nazareth, Pennsylvania.
USATODAY.com - Published
Simon Pagenaud takes Indy 500 pole as Fernando Alonso fails to qualify on thrilling bump day
Pagenaud gave owner Roger Penske his 18th Indy 500 pole, while Kyle Kaiser grabbed the final spot in the field to bump two-time F1 champion Alonso.
USATODAY.com - Published
Hamilton: I Don't Care About Winning Racing Triple Corwn
Lewis Hamilton insists he "couldn't care less" about the so-called triple crown. Fernando Alonso repopularised the triple crown achievement by declaring that he wants to add victory at the Indy 500 and..
Credit: Wochit News Duration: 00:39Published
Alonso pleased after testing new Indycar on track
Fernando Alonso pleased after completing first laps in new McLaren Indycar at Texas Motor Speedway
Credit: Reuters - Sports Duration: 01:10Published
Fernando Alonso fails to qualify for Indianapolis 500
Fernando Alonso fails to qualify for the Indianapolis 500 after a humiliating return to America's biggest race for the McLaren team.
BBC News - Published
How Dale Earnhardt Jr. unexpectedly became the Indy 500 pace car driver
For The Win talked with the retired NASCAR driver about attending his first Indy 500 and being welcomed by IndyCar drivers.
USATODAY.com - Published
James Hinchcliffe, Fernando Alonso fail to qualify for Indy 500, will have to bump their way in
Fernando Alonso, James Hinchcliffe are among six drivers who will vie for the final three spots in the Indy 500 in Sunday's Last Row Shootout.
USATODAY.com - Published
Indy 500: Fernando Alonso 24th after final practice before qualifying
Two-time Formula 1 world champion Fernando Alonso ends the final day's practice before qualifying for the Indianapolis 500 with the 24th fastest time after a difficult week.
BBC News - Published
The legends of 1969: Mario Andretti's unlikely Indy 500 victory filled with racing lore
Mario Andretti shares the stories of his strange path to victory in 1969 Indy 500 as the 50th anniversary approaches.
USATODAY.com - Published
Ex-F1 world champion Alonso unhurt after Indy practice crash
Two-time Formula 1 world champion Fernando Alonso escapes unhurt after crashing into a wall during practice for the Indianapolis 500.
BBC News - Published
You Might Like