Oslo
Place in Østlandet, Norway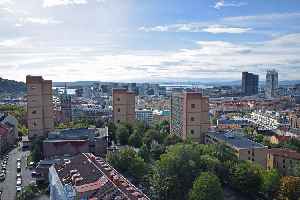 Oslo is the capital and most populous city of Norway. It constitutes both a county and a municipality. Founded in the year 1040 as Ánslo, and established as a kaupstad or trading place in 1048 by Harald Hardrada, the city was elevated to a bishopric in 1070 and a capital under Haakon V of Norway around 1300. Personal unions with Denmark from 1397 to 1523 and again from 1536 to 1814 reduced its influence. After being destroyed by a fire in 1624, during the reign of King Christian IV, a new city was built closer to Akershus Fortress and named Christiania in the king's honour. It was established as a municipality (formannskapsdistrikt) on 1 January 1838. The city functioned as a co-official capital during the 1814 to 1905 Union between Sweden and Norway. In 1877, the city's name was respelled Kristiania in accordance with an offical spelling reform – a change that was taken over by the municipal authorities only in 1897. In 1925 the city, after incorporating the village retaining its former name, was renamed Oslo.


Guaido confirms Oslo mediation to settle crisis
Venezuelan National Assembly President Juan Guaido on Thursday said he sent delegates to Norway to join an attempt by Oslo to mediate in the Venezuela crisis, but denied talks were under way with..
WorldNews - Published
Norway says talks to resolve Venezuela crisis in "exploratory phase"
Talks taking place in Oslo with representatives of Venezuela's government and opposition to resolve the country's political crisis are in an "exploratory phase," Norway's foreign ministry said on..
Reuters - Published
Hundreds of Norwegian women demonstrate against closure of birthing centres
Several hundred women dressed in bunad (Norwegian traditional clothes) took to the streets in Oslo to protest against the closure of several small birthing centres around the country.
Credit: euronews (in English) Duration: 00:50Published
Illegal German road race busted by polizei
German police stopped more than a hundred sports cars taking part in an alleged illegal road race on the Autobahn on Friday. Gavino Garary reports.
Credit: Reuters Studio Duration: 01:27Published
Norwegian Air's 2019 profit target in doubt after Boeing MAX groundings
A day after Boeing abandoned its 2019 financial outlook in the wake of two fatal plane crashes, Norwegian Air says the grounding of its fleet of Boeing 737 MAX aircraft may scupper plans to return to..
Credit: Reuters Studio Duration: 01:19Published
Venezuela crisis: Maduro officials 'in talks' with opposition
A Venezuelan ambassador says that government officials are holding talks with the opposition in Oslo.
BBC News - Published
Venezuela peace talks taking place at secret location in Oslo, Norwegian media reports
Representatives of Venezuela's regime and the opposition are holding "peace negotiations" in Oslo this week, Norwegian media reported Thursday.Venezuela has been in political turmoil since..
WorldNews - Published
With energy high on agenda, China's no.3 leader visits Norway
With energy projects high on the agenda, China and Norway will mark a further thaw in relations on Wednesday when Beijing's third-ranked politician arrives in Oslo.
Reuters - Published
Search this site and the web:
You Might Like