Republic of Ireland
Country in Europe on the island of Ireland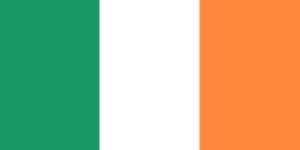 Ireland, also known as the Republic of Ireland, is a country in north-western Europe occupying 26 of 32 counties of the island of Ireland. The capital and largest city is Dublin, which is located on the eastern side of the island. Around 40% of the country's population of 4.9 million people resides in the Greater Dublin Area. The sovereign state shares its only land border with Northern Ireland which is part of the United Kingdom. It is otherwise surrounded by the Atlantic Ocean, with the Celtic Sea to the south, St George's Channel to the south-east, and the Irish Sea to the east. It is a unitary, parliamentary republic. The legislature, the Oireachtas, consists of a lower house, Dáil Éireann, an upper house, Seanad Éireann, and an elected President who serves as the largely ceremonial head of state, but with some important powers and duties. The head of government is the Taoiseach, who is elected by the Dáil and appointed by the President; the Taoiseach in turn appoints other government ministers.


Ireland to be placed in second lockdown

Ireland will be placed in a second lockdown in a bid to curb the spread ofCovid-19. The Irish Government has agreed to impose the highest level ofrestrictions under its five-tiered plan for living with..
Credit: PA - Press Association STUDIO Duration: 00:55
Published
Taoiseach outlines importance of protecting Ireland's fisheries in Brexit negotiations

Irish premier Micheal Martin has said it is very important that his country'sfishing communities are protected in any trade deal with the UK. Arriving forthe EU summit in Brussels, the Taoiseach said..
Credit: PA - Press Association STUDIO Duration: 01:42
Published
'Unprecedented' Irish Budget 2021 unveiled

The Irish Government presents its "unprecedented" 18 billion euro budgetpackage. Ireland's 2021 budget has been framed on two major assumptions: a no-deal Brexit and the continued fight against..
Credit: PA - Press Association STUDIO Duration: 01:31
Published
Ireland faces tighter Covid restrictions after rejecting public health advice

Minister for Health Stephen Donnelly addresses the media at GovernmentBuildings in Dublin following the announcement that Ireland will face tighterCovid-19 restrictions. Under the restrictions of level..
Credit: PA - Press Association STUDIO Duration: 01:09
Published
Gareth Bale left out of Wales squad for England clash

Ryan Giggs has been praised by Jose Mourinho for showing he "cares" aboutGareth Bale after the Wales manager omitted the Tottenham forward from nextweek's Wembley clash with England. "We've..
Credit: PA - Press Association STUDIO Duration: 00:33
Published
Ireland's concerns over potential collapse of Brexit talks

On the border between Northern Ireland and the Republic of Ireland, residents worry that customs on trade may again become a flashpoint for conflict.
Credit: Al Jazeera STUDIO Duration: 02:27
Published
Irish Government announces blueprint for living with Covid-19

The Irish Government has unveiled its blueprint for living with Covid-19. TheCabinet signed off on the medium-term plan for living with coronavirus, whichincludes different levels of restrictions,..
Credit: PA - Press Association STUDIO Duration: 01:25
Published
Brexit trade deal: British are 'creating chaos deliberately' says Irish foreign minister

Irish Foreign Minister Simon Coveney did not mince his words when questioned by Euronews' Shona Murray on the latest Brexit furore. View on euronews
Credit: euronews (in English) Duration: 01:13
Published
Irish PM criticises UK plans to change Brexit deal

Irish Prime Minister Micheal Martin said on Wednesday "trust had been eroded"with Britain in Brexit negotiations after the British government announced itwas putting forward legislation that it..
Credit: PA - Press Association STUDIO Duration: 01:04
Published
Stephen Kenny rues poor finishing as Republic suffer defeat against Finland

Stephen Kenny was left ruing his side's lack of match sharpness and finishingtouch as the Republic of Ireland fell to the first defeat of his reign asmanager. Ireland's 1-0 loss to Finland in the..
Credit: PA - Press Association STUDIO Duration: 00:33
Published
Nations League preview: Bulgaria v Republic of Ireland

New Republic of Ireland boss Stephen Kenny faces a tricky test in Bulgaria forhis first match in charge of the senior side.
Credit: PA - Press Association STUDIO Duration: 01:05
Published
Pierce Brosnan to play WWII veteran in The Last Rifleman

Pierce Brosnan has signed on to star in the World War II film The Last Rifleman, with the production scheduled to commence shooting this winter in Northern Ireland and the Republic of Ireland.
Credit: Cover Video STUDIO Duration: 00:53
Published
Darren Randolph: The anti-racism message still hasn't sunk in

Republic of Ireland goalkeeper Darren Randolph has backed athletes throwingtheir weight behind the Black Lives Matter campaign. NBA play-off fixtures inthe United States were postponed last week as..
Credit: PA - Press Association STUDIO Duration: 00:36
Published
Maskless Events Of The Elite Scream 'Do What We Say, Not What We Do'

Local, state, and federal governments worldwide have generally tried to set an example in battling the novel coronavirus pandemic. So when the powerful or influential break the rules, it provokes..
Credit: Wochit News Duration: 00:58
Published
Golfgate: Commission president requests 'further clarifications' over Hogan's COVID rule breach

The EU Commissioner for Trade was forced to apologise at the weekend for breaking Ireland's coronavirus rules, one of 80 guests at a golf dinner attended by other Irish politicians - some of whom..
Credit: euronews (in English) Duration: 01:57
Published
You Might Like



Coronavirus: Republic of Ireland to move to highest restrictions

The new rules, broadly similar to the spring lockdown, are due to last for six weeks.




BBC News - Published





Instagram's handling of kids' data is now being probed in the EU

Facebook's lead data regulator in Europe has opened another two probes into its business empire — both focused on how the Instagram platform processes children's information. The action by..




WorldNews - Published





Republic of Ireland 0-0 Wales: Nations League game ends goalless draw in Dublin

Wales remain unbeaten in the Nations League after they are held to a goalless draw away against the Republic of Ireland, who have James McClean sent off.




BBC News - Published





Five more Republic of Ireland players out of Wales game after new positive Covid-19 case

Five more Republic of Ireland players are out of Sunday's Nations League game against Wales after a new positive Covid-19 case in the squad.




BBC News - Published





Republic of Ireland's Euro hopes ended by shootout defeat

The Republic of Ireland are punished for missed chances as they are beaten on penalties in the Euro 2020 play-off in Slovakia.




BBC News - Published





Euro 2020 futures & bragging rights - a key day for the Home Nations

Northern Ireland, Scotland and the Repubic of Ireland all fight for Euro 2020 qualification, while England face Wales in a friendly.




BBC News - Published





Coronavirus: 'Act now to prevent lockdown', Irish PM warns

Micheál Martin announced the Republic of Ireland will move to level three restrictions from Wednesday.




BBC News - Published





Coronavirus: Highest level restrictions recommended in Republic of Ireland

Public health experts say the highest level of restriction is needed across the Republic of Ireland.




BBC News - Published





Coronavirus: Irish cabinet self-isolating over possible Covid case

The Irish parliament is also adjourned as Health Minister Stephen Donnelly awaits a Covid-19 test.




BBC News - Published





Tesco to trial drone delivery service

Tesco is to start trialling home deliveries by drone, dispatching smaller grocery items to customers within 30 minutes of ordering. The supermarket has partnered with the drone delivery company Manna,..




WorldNews - Published





Finns beat lacklustre Republic of Ireland in Dublin

Stephen Kenny suffers his first defeat as Republic of Ireland boss as his side fall to a 1-0 Nations League home defeat by Finland.




BBC News - Published





Injury-time Duffy goal earns Kenny point in first Republic match

Shane Duffy's injury-time goal rescues a 1-1 draw for new Republic of Ireland boss Stephen Kenny in the Nations League opener in Bulgaria.




BBC News - Published





Ireland's agriculture minister quits after breaking lockdown rules

By Padraic Halpin Dublin - Ireland's prime minister on Friday accepted the resignation of Agriculture Minister Dara Calleary after his attendance at a social event drew public anger for having..




WorldNews - Published





Coronavirus: Ireland at 'tipping point' as Covid-19 cases rise

The Republic of Ireland's cabinet reverses some corovavirus lockdown relaxation measures.




BBC News - Published





The Guardian view on Irish politics: an enviable beauty is born

In the archipelago of offshore European islands we inhabit, a new nation is growing in importance. This new nation is not the divided, tragi-comic "global" Britain of Boris Johnson's sloppy and..




WorldNews - Published





Coronavirus: Ireland puts brakes on easing lockdown amid 'real concern'

The Republic of Ireland will not moved forward into Phase 4 of its roadmap, the taoiseach confirms.




BBC News - Published





'2020 and this is life' - Republic of Ireland striker McGoldrick targeted by racist abuse

Sheffield United say "something needs to change" with striker David McGoldrick the latest player to be racially abused on social media.




BBC News - Published





Jack Charlton, England World Cup winner, dies aged 85

Centre-half was part of 1966 World Cup-winning team Charlton also a successful Republic of Ireland manager Jack Charlton, a World Cup winner with England and a former Republic of Ireland manager, has..




WorldNews - Published

Also reported by •BBC News


Jack Charlton: Tributes paid by England, Republic of Ireland and former clubs

The Football Association of Ireland says former manager Jack Charlton "changed Irish football forever" as it led tributes after he died aged 85.




BBC News - Published





Fergal Keane: My family and the empire's complex legacy

The BBC's Fergal Keane looks at Ireland's colonial past and the allegiances his relatives had within it.




BBC News - Published





Ireland: Micheal Martin elected new prime minister

Fianna Fail leader Micheal Martin has been elected as Ireland's new prime minister, replacing Leo Varadkar. A coalition deal, which took four months, has been agreed between the country's two political..




WorldNews - Published





Leo Varadkar hails end of 'Civil War politics' in Ireland's parliament

Civil War politics has ended in Ireland's parliament, after political rivals agreed to form a historic governing coalition, Leo Varadkar has said. Ireland's new premier is set to be elected today,..




WorldNews - Published





Micheal Martin to take over as Irish prime minister in grand coalition

Micheal Martin is set to take over as Ireland's new prime minister Saturday at the helm of the nation's first grand coalition, replacing Leo Varadkar in what will be a rotating premiership. The..




WorldNews - Published





Irish coalition deal set to make Micheal Martin PM until end of 2022

The head of Ireland's Fianna Fail party Micheal Martin is set to serve as the country's prime minister from late June until Dec. 15, 2022 according to the terms of a coalition agreement that must be..




Reuters - Published





Irish parties reach deal on new government but it needs ratification

Ireland's Fianna Fail, Fine Gael and Green parties struck a deal to form a new coalition government on Monday that if ratified by members will end a months-long stalemate and is expected to make Fianna..




Reuters - Published





Irish parties plan to sign coalition deal on Monday

Irish political parties Fianna Fail, Fine Gael and the Greens will sign a deal on Monday on the formation of a new coalition government, Fianna Fail leader Micheal Martin said after talks on Sunday..




Reuters - Published




Irish PM expects coalition deal in next couple of days

There is a strong possibility negotiators from Ireland's Fianna Fail, Fine Gael and Green parties will strike a deal over the next couple of days to form a new coalition government, acting Prime..




Reuters - Published





Irish PM says people should not book foreign holidays yet

Ireland's prime minister on Friday advised citizens not to book foreign holidays and said the government had no date in mind yet to end its 14-day quarantine for people arriving from abroad.




Reuters - Published





'Summer is not yet lost', Irish PM backs air bridges

Ireland hopes to be able to recommend the resumption of air travel with a select number of countries in a number of weeks, Prime Minister Leo Varadkar said on Thursday, telling prospective..




Reuters - Published





Irish PM expects new coalition government in place by end of June

Ireland's acting prime minister Leo Varadkar on Friday said he expected a new coalition government to be in place by the end of June once the three parties involved have agreed a policy programme and..




Reuters - Published





Irish PM says good chance social distancing rule can be relaxed

Irish Prime Minister Leo Varadkar raised the prospect on Friday of halving social distancing rules from two metres to one if the rate of coronavirus infections comes down further in a potential boost..




Reuters - Published





Coronavirus: No new deaths in Republic of Ireland

Ireland's chief medical officer Dr Tony Holohan said the Republic has "suppressed Covid-19 as a country".




BBC News - Published





Irish health minister says some sectors could reopen ahead of plan

Some parts of Ireland's economy could restart ahead of schedule if the novel coronavirus remains under control, Ireland's Health Minister told Reuters on Wednesday, expressing cautious optimism of..




Reuters - Published





Ireland's Fianna Fail aims to complete government talks by end-May

The leader of one of the three parties negotiating to form a new government in Ireland hopes to agree a policy programme by the end of May for members to vote on and end a months-long political..




Reuters - Published




Greens enter Irish coalition talks with climate on agenda

Ireland's Green Party agreed to enter talks about forming a government with the centre-right Fianna Fail and Fine Gael parties on Sunday, but said it would withdraw if it could not agree a policy..




Reuters - Published





Ireland's Green Party enters talks on formation of government

Ireland's Green Party agreed on Sunday to enter formal talks with centre-right parties Fianna Fail and Fine Gael on forming a government, but said it would withdraw if unable to agree a policy..




Reuters - Published





Irish PM sees targeted extension of emergency wage, welfare schemes

Ireland will likely extend COVID-19 emergency wage and jobless payment schemes beyond June, keeping them in place at the very least for sectors unable to open by then, Prime Minister Leo Varadkar said..




Reuters - Published





Irish PM unveils plan to slowly lift coronavirus restrictions

Ireland on Friday announced the first small steps to easing restrictions to slow the spread of the coronavirus and laid out a roadmap for a gradual re-opening of the economy over the coming months if..




Reuters - Published





Irish government talks may drift into June: Fianna Fail leader

The leader of one of the parties negotiating to form a new Irish government raised the prospect on Wednesday of talks drifting well into June, extending a months-long deadlock that has been..




Reuters - Published





Ex-Liverpool striker & Spanish broadcaster Robinson dies at 61

Former Liverpool and Republic of Ireland striker Michael Robinson dies at the age of 61.




BBC News - Published





Michael Robinson: Ex-Liverpool & Republic of Ireland striker dies aged 61

Former Liverpool and Republic of Ireland striker Michael Robinson dies at the age of 61.




BBC News - Published





Irish PM says any lifting of restrictions will be over months

When Ireland is able to begin relaxing stay-at-home restrictions to slow the spread of the coronavirus outbreak, the measures will be rolled back over a number of months, Prime Minister Leo Varadkar..




Reuters - Published





Irish rival leaders sign off on initial government deal: internal email

The leaders of Ireland's rival Fianna Fail and Fine Gael parties have reached a broad agreement aimed at attracting enough additional support to form a new government, according to an internal email to..




Reuters - Published




Vaccine needed to end social distancing: Irish health minister

Social distancing rules adopted to slow the spread of coronavirus by keeping people two metres apart will remain largely in place until an effective treatment or vaccine is available, Ireland's health..




Reuters - Published





Irish rivals initial government deal 'effectively complete' - minister

An agreement between Ireland's Fianna Fail and Fine Gael parties aimed at attracting enough additional support to form a new government is "effectively complete", a senior Fine Gael lawmaker said on..




Reuters - Published





Irish PM says 'fervent hope' is to ease virus restrictions after May 5

The Irish government's "fervent hope" is to gradually ease coronavirus restrictions on movement and economic activity after May 5, but that is not guaranteed and any easing would be gradual, Prime..




Reuters - Published





Put holiday homes on hold, Irish police warn wannabe weekenders

Ireland's police chief told people who broke coronavirus containment rules to travel to a holiday home that they must stay put until the restrictions are lifted, in a warning to others not to be..




Reuters - Published





Ireland's prime minister to work as doctor amid coronavirus pandemic

Leo Varadkar studied medicine and trained to be a doctor at King's Hospital and Trinity College Dublin. He'll work one day a week amid coronavirus.




USATODAY.com - Published