Kyrie Irving
American basketball player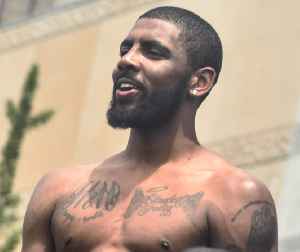 Kyrie Andrew Irving is an American professional basketball player for the Boston Celtics of the National Basketball Association (NBA). He was named NBA Rookie of the Year after being selected by the Cleveland Cavaliers with the first overall pick in the 2011 NBA draft. A six-time NBA All-Star, Irving was selected to the All-NBA Third Team in 2015. He won an NBA championship with the Cavaliers in 2016.


Celtics hold off Pacers in Game 3 to take commanding 3-0 series lead
Kyrie Irving didn't have to dominate like he did in Game 2, as he got plenty of help, and the Celtics beat the Pacers again to take a 3-0 series lead.
USATODAY.com - Published
Celtics beat Pacers 104-96 to take 3-0 series lead
Jaylen Brown scored 23 points and Kyrie Irving added 19 to help the Boston Celtics beat the Indiana Pacers 104-96 for a 3-0 lead in the first-round series
USATODAY.com - Published
LeBron's streak comes to an end this postseason
Los Angeles Lakers superstar LeBron James failed to make the playoffs for the first time in 13 seasons, forcing the NBA to look elsewhere for superstars to draw ratings and to compete with the two-time..
Credit: Reuters Studio Duration: 02:17Published
Would Kyrie Irving's Reputation Suffer if He Joined LeBron James, Lakers?
ESPN's Stephen A. Smith recently reported that Kyrie Irving would meet with the Los Angeles Lakers in free agency. SI Now's Robin Lundberg and Amy Campbell discuss if Irving might actually join the..
Credit: Sports Illustrated Duration: 01:09Published
Can Kevin Durant And Kyrie Irving Handle New York?
This week, Charles Barkley said that he didn't think that Kyrie Irving and Kevin Durant were not tough enough to handle the New York media. Crossover TV discusses whether the concept of the "big bad..
Credit: Sports Illustrated Duration: 02:27Published
Kyrie Irving Has Reportedly Become 'Disengaged And Detached' As The Celtics Fall Apart
The main focus of the Boston Celtics' rocky, up-and-down season has been the goings-on of Kyrie Irving. The Celtics appear to have hit a new low, losing five of their last six games and seven of their..
Credit: Wochit News Duration: 00:47Published
Kyrie Irving Says He Doesn't Play Basketball to 'Be a Celebrity'
Kyrie Irving recently told reporters that he "didn't really come into to this game to be cameras in my face, be famous, be a celebrity, whatever embodies that." Is there any truth in Uncle Drew's..
Credit: Sports Illustrated Duration: 01:40Published
Who Said It: Kyrie or LeBron?
In this edition of Crossover TV's "Who Said It?", Rohan Nadkarni and guest co-host Clay Skipper guess who said the trash-talking quote about their own team.: Kyrie or LeBron?
Credit: Sports Illustrated Duration: 04:02Published
Does Kyrie Irving's Talent Outweigh the Drama He Creates?
As Boston's struggles linger, Kyrie Irving's postgame comments continue to generate controversy. SI Now's Robin Lundberg and Ryan Asselta debate if Irving's ability really outweighs all the drama he's..
Credit: Sports Illustrated Duration: 01:31Published
Irving scores 37, Celtics beat Pacers 99-91 for 2-game lead
Kyrie Irving scores 37, Celtics take advantage of Pacers mistakes to earn 99-91 Game 2 win
USATODAY.com - Published
NBA Playoffs: Kyrie Irving, Celtics get off to clean start
SportsPulse: While the first day of the NBA Playoffs saw plenty of upsets, day two was having none of that. USA TODAY's Jeff Zillgitt breaks it down.
USATODAY.com - Published
Irving, Morris lead Celtics' rally past Pacers in Game 1
Kyrie Irving and Marcus Morris each had 20 points, and the Boston Celtics rallied in the second half to beat the Indiana Pacers 84-74 to take a 1-0 lead in their first-round playoff series
USATODAY.com - Published
Search this site and the web:
You Might Like