Big Bird
Sesame Street character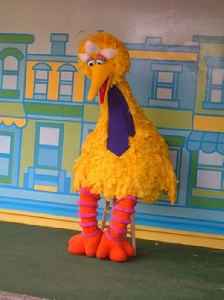 Big Bird is a character on the children's television show Sesame Street. Officially performed by Caroll Spinney from 1969 to 2018, he is an eight-foot two-inch (249 cm) tall bright yellow anthropomorphic canary. He can roller skate, ice skate, dance, swim, sing, write poetry, draw, and even ride a unicycle. Despite this wide array of talents, he is prone to frequent misunderstandings, on one occasion even singing the alphabet as one big long word, pondering what it could mean. He lives in a large nest behind the 123 Sesame Street brownstone and right next to Oscar the Grouch's trash can and he has a teddy bear named Radar. In Season 46, Big Bird's large nest is now sitting within a small, furnished maple tree, and is no longer hidden by used construction doors.


ShowBiz Minute: WRLD, Kennedy Center, Miss Universe
Rapper Juice WRLD dies after medical emergency in Chicago; Big Bird, Ronstadt, Sally Field celebrated at Kennedy Center; Miss South Africa wins the Miss Universe competition. (Dec. 9)  
USATODAY.com - Published
Puppeteers remember Caroll Spinney
The puppeteers behind Elmo, the Cookie Monster, and Abby Cadabby, call former Big Bird actor Caroll Spinney an "inspiration" and a "creative genius." (Dec. 9)  
USATODAY.com - Published
Caroll Spinney remembered at Kennedy Center Honors
Sally Field, Linda Rondstadt and Sesame Street were among the recipients of the Kennedy Center Honors. Sesame Street was honored on the day that original Big Bird Puppeteer Caroll Spinney died at age..
USATODAY.com - Published
'Sesame Street' icon Caroll Spinney, the puppeteer behind Big Bird, Oscar the Grouch, dies at 85
Caroll Spinney, the longtime "Sesame Street" puppeteer who played Big Bird and Oscar the Grouch, died Sunday at age 85, Sesame Workshop confirmed.
USATODAY.com - Published
Caroll Spinney: Sesame Street's Big Bird puppeteer dies
US puppeteer Caroll Spinney has died after a long career as Big Bird and Oscar the Grouch.
BBC News - Published
NYC honors Big Bird puppeteer, Sesame Street at 50
Big Bird threw the switch Friday to symbolically light up the Empire State Building in green and yellow to mark Sesame Street's 50th anniversary. Puppeteer Caroll Spinney was honored with a..
USATODAY.com - Published
Who is Elmo's best friend?
As "Sesame Street" celebrates its 50th birthday, we ask Elmo, Big Bird and Abby Cadabby about what life is like on the famous road and who their best friends are. (Nov. 6)  
USATODAY.com - Published
Filming an episode of "Sesame Street"
For decades, the kids' show has entertained and educated. 60 Minutes goes behind the scenes to see how Big Bird, Elmo, Abby, and now Julia come to life
CBS News - Published
Apple Reveals Credit Card and TV Streaming Service
by Simon Baxendale - While Apple has partially led the way up till now in terms of modern technology, there has been one major market they haven't tapped into – video streaming. However,..
One News Page Staff - Published
You Might Like