Ford Motor Company
American multinational automobile manufacturer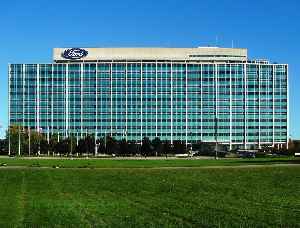 Ford Motor Company, commonly known as Ford, is an American multinational automaker that has its main headquarters in Dearborn, Michigan, a suburb of Detroit. It was founded by Henry Ford and incorporated on June 16, 1903. The company sells automobiles and commercial vehicles under the Ford brand, and most luxury cars under the Lincoln brand. Ford also owns Brazilian SUV manufacturer Troller, an 8% stake in Aston Martin of the United Kingdom and a 32% stake in Jiangling Motors. It also has joint-ventures in China, Taiwan, Thailand, Turkey, and Russia. The company is listed on the New York Stock Exchange and is controlled by the Ford family; they have minority ownership but the majority of the voting power.


Ford Bronco Buyers May Have To Wait 18-Months For Delivery

The return of the 2021 Ford Bronco has generated a lot of interest. Business Insider reports that the interest was so much Ford's reservation website briefly crashed. First deliveries of the Bronco..
Credit: Wochit News Duration: 00:32
Published
Meet Ford's ultra-efficient robot dog

Ford's four-legged dog-like robots can sit, shake hands and roll over. They also can perform 360-degree camera scans, handle 30-degree grades and climb stairs for hours at a time - all to help save..
Credit: Reuters Studio Duration: 01:19
Published
You Might Like



Ford breaks ground on electric F-150 pickup truck plant in Michigan

Ford broke ground on a new manufacturing plant outside of Dearborn, Michigan, where it will build an electric version of its extremely popular pickup truck, the F-150. The new facility, located within..




The Verge - Published





Ford reveals plan for $700M plant, jobs to build all-electric Ford F-150

Ford Motor Company revealed Thursday a plan to build a $700 million plant that would create the first all-electric F-150 truck.




USATODAY.com - Published





Ford is letting customers personalize their Mustang Mach-E before taking delivery

Photo by Sean O'Kane / The Verge Ford's first electric vehicle of consequence, the Mustang Mach-E SUV, will start arriving at dealerships at the end of the year. But before customers begin..




The Verge - Published





Defying Trump, 4 Automakers Lock In a Deal on Greenhouse Gas Pollution

The four — Ford, Honda, BMW and Volkswagen — sealed a binding agreement with California to follow the state's stricter tailpipe emissions rules.




NYTimes.com - Published





Passage: Art, cars, color

The Perez Art Museum of Miami opened just in time for the annual international art fair, Ford unveiled a brand new version of the Mustang, and "Radiant Orchid" was decreed the Color of the Year for..




CBS News - Published





Toronto mayor defies increasing pressure to step down

Mayor Rob Ford defies growing calls for him to step down amid a growing list of allegations, which include drunk driving and spousal abuse. Toronto's city council voted to strip Ford of most of his..




CBS News - Published





Apple, Ford, and Disney push back on Trump's WeChat ban: WSJ

Photo by Sam Byford / The Verge Several major US companies have expressed their concern over the effects of the Trump administration's executive order targeting WeChat, according to a report in..




The Verge - Published





Jim Farley says taking Ford CEO role is 'paying it forward for my grandfather'

The Free Press had a few minutes to talk with Jim Farley about his promotion Tuesday at Ford Motor Company, and with outgoing CEO Jim Hackett.




USATODAY.com - Published





Ford Replaces Its C.E.O.

Jim Hackett, who failed to impress Wall Street, will be replaced by James Farley, an auto industry veteran who started his career at Toyota.




NYTimes.com - Published





Ford CEO Jim Hackett is retiring

Photo by Sean O'Kane / The Verge Ford CEO Jim Hackett is retiring, the company announced on Tuesday, and he will be replaced by current chief operating officer Jim Farley. Hackett will stay with..




The Verge - Published





Ford CEO Jim Hackett to retire; Chief Operating Officer Jim Farley will take helm

Ford CEO Jim Hackett, who took the job in 2017, is retiring. COO Jim Farley will become CEO effective Oct. 1.




USATODAY.com - Published





Ford beats on Q2 earnings — and logs 150,000 reservations for its new Bronco SUV (F)

Ford Ford reported second-quarter earnings and beat Wall Street estimates. Ford lost $0.35 per share on an adjusted basis, with revenue of $19.4 billion. In after-hours...




WorldNews - Published





World Snooker Championship: Judd Trump faces Ford, O'Sullivan v Un-Nooh

Defending champion Judd Trump will face Tom Ford in the first round of the World Championship in Sheffield.




BBC News - Published





Small cars are being discontinued: Why GM, Ford, Toyota have given up on subcompact cars

Toyota, Ford and GM have decided to give up on the subcompact body style after years of declining sales of passenger cars as SUVs surge.




USATODAY.com - Published





Jeep teases V8 Wrangler Rubicon hours before big 2021 Ford Bronco reveal

By releasing a sneak peek at its Jeep Rubicon concept, the automaker shows it is planning to fight Ford to keep its off-road vehicle buyers.




USATODAY.com - Published





Ford declares war with all-new Bronco as Jeep Wrangler demand spikes

The new Bronco has been in the works for years. Ford has made it clear the company plans to go after the market dominated by the Jeep Wrangler.




USATODAY.com - Published





Ford employees ask if company should stop building police vehicles

An estimated 100 employees of Ford Motor Co. have asked the automaker to reconsider building and selling police vehicles.




USATODAY.com - Published





2021 Ford GT: 660-horsepower super car will come in new customizable colors

On Saturday, Ford said on Twitter that there are some aesthetic changes in the works for the 2021 Ford GT.




USATODAY.com - Published





Even popular Ford F series hit hard amid plummeting industry sales

Ford sales hit hard while Explorer and Ranger make gains




USATODAY.com - Published





Fear of job loss, uncertainty stalls car buyers — so Ford came up with an idea

Car shoppers are holding off on big ticket purchases amid concerns related to coronavirus and its impact on the economy.




USATODAY.com - Published





Ford focuses on interior with revamped F-150 truck

Ford Motor Company revamps the F-150 pickup truck, the top-selling vehicle in America, with a lighter aluminum body instead of the customary steel. (June 25)  




USATODAY.com - Published





GM, Ford join U.S. companies condemning George Floyd death, racism

General Motors Co and Ford Motor Co condemned racial inequality in the United States following the death of George Floyd, an unarmed black man, at the hands of police in Minneapolis last week.




Reuters - Published




How to Disinfect a Police Car in a Pandemic: Make It an Oven

The N.Y.P.D. and other departments were concerned about the spread of the coronavirus in vehicles. Ford's answer is software to crank up the heat.




NYTimes.com - Published





All three Detroit automakers had workers test positive for COVID-19 since plants reopened

In the week since U.S. auto factories reopened after coronavirus lockdowns, workers at all three Detroit automakers have tested positive for COVID-19 but only Ford Motor Co has temporarily closed..




Reuters - Published





Ford wows President Trump with $750,000 supercar: 'I want to buy one'

President Donald Trump jokes that the hot supercar built by Ford Motor Company is too pricey for his budget.




USATODAY.com - Published





Trump attacks Michigan AG after she calls him a 'petulant child' over mask dispute

Trump said it wasn't Ford's fault he did not wear a mask during much of the tour. "I did put on a mask" out of the view of the news media, he added.




USATODAY.com - Published





Pandemic politics: Maskless Trump tours Michigan Ford plant

Pandemic politics shadowed President Donald Trump's trip to Michigan on Thursday as he highlighted lifesaving medical devices, with the president and officials from the electoral battleground state..




WorldNews - Published





Trump visits Ford plant in politically crucial Michigan, leaves mask off for cameras

President Donald Trump traveled on Thursday to the crucial U.S. election battleground state of Michigan to visit a Ford Motor Co plant amid tensions with its Democratic governor during the coronavirus..




Reuters - Published




Ford 'encouraged' Trump to wear mask during factory tour, but it came off for the cameras

Trump was seen holding a navy blue mask with the presidential seal as he toured a Ford factory in battleground Michigan on Thursday.




USATODAY.com - Published





Trump visits Michigan Ford plant amid political tensions, does not wear mask

President Donald Trump traveled on Thursday to the crucial U.S. election battleground state of Michigan to visit a Ford Motor Co plant amid hostility with its Democratic governor over how quickly to..




Reuters - Published




Trump to visit home state of Michigan Gov. Gretchen Whitmer, a frequent target of his attacks amid pandemic

Trump will tour a Ford Motor Co. plant in Ypsilanti repurposed to make ventilators as he visits the home state of Michigan Gov. Gretchen Whitmer.




USATODAY.com - Published





Ford shuts two U.S. assembly plants due to COVID-19 infections

Ford Motor Co on Wednesday closed two U.S. assembly plants as the coronavirus pandemic wreaked early havoc with the No. 2 U.S. automaker's plan to restart North American production and begin making its..




Reuters - Published




Ford requires visitors to wear masks but unclear if Trump will comply

Ford Motor Co on Tuesday reiterated its policy that all visitors to its manufacturing plants must wear a mask but said the White House will ultimately decide if U.S. President Donald Trump will comply..




Reuters - Published




Trump visit to Ford plant contradicts Michigan Gov. Whitmer's order — but she won't try to stop it

The president's visit to a Ford plant in Michigan contradicts a ban on nonessential tours.




USATODAY.com - Published





Donald Trump will tour Ford plant in Michigan that makes ventilators for coronavirus response

Donald Trump will travel to Michigan for the latest stop on his campaign to showcase companies making supplies needed to battle coronavirus.




USATODAY.com - Published





Autoworkers Are Returning as Carmakers Gradually Crank Up Factories

After being idle for nearly two months, G.M., Ford and Fiat Chrysler will restart assembly plants on Monday with masks, gloves and curtains.




NYTimes.com - Published





Ford Motor Company readies for return of workers

Ford Motor Co. and other automakers are preparing for the reopening of their plants next week. (May 13)  




USATODAY.com - Published





AMC Developing Series About Toronto Mayor Rob Ford With Jim Gaffigan

AMC is developing a new show that will star comedian Jim Gaffigan as controversial former Toronto mayor, Rob Ford. The show is described as a dark comedy series and intends to chart Ford's rise to..




WorldNews - Published





Ford, GM and FCA under gun to restart, rebound before cash dries up

It's costing automakers millions to be idle. They have all taken measures to shore up cash to get through it, but here's how long can they last.




USATODAY.com - Published





Analyst says Ford needs to 'rip the Band-Aid off' after $2B loss: What he means

Ford said Tuesday its first-quarter earnings before interest and taxes was negative $632 million, down from $2.4 billion in the first quarter of 2019.




USATODAY.com - Published





Ford issues $8 billion debt securities after virus causes $2 billion loss

Ford Motor Co on Friday raised $8 billion from corporate debt investors to shore up its cash reserves as the coronavirus outbreak pummeled vehicle sales and production, resulting in an estimated loss..




Reuters - Published




Ford warns of $2 billion quarterly loss as coronavirus outbreak hammers sales

Ford Motor Co on Friday estimated first-quarter loss of $2 billion and said it would tap debt markets to shore up its cash reserves as the coronavirus outbreak halted production and pummeled vehicles..




Reuters - Published





Today in History for April 17th

Highlights of this day in history: Cuban exiles invade Bay of Pigs; Three astronauts of Apollo 13 land safely in pacific ocean; Benjamin Franklin dies at age 84; JP Morgan born in Connecticut; Ford..




USATODAY.com - Published





Ford leader says production may restart in May, but the company isn't confirming

Ford and the UAW sent mixed signals about when and if production at its factories could start, though a local chief pointed to early May.




USATODAY.com - Published





Ventilator receives first approval in UK's coronavirus battle

Britain has given regulatory approval to a ventilator which will be made by a group of companies including Airbus, Ford and McLaren, the first such go-ahead as part of efforts to combat the..




Reuters - Published





Coronavirus shutdown to cause Ford $600 million quarterly loss

Ford Motor Co has said that it expects to post a pre-tax loss of $600 million for the first quarter due to the coronavirus outbreak. This time last year, it had reported a $2.4 billion profit. COVID-19..




WorldNews - Published