Microsoft
U.S.-headquartered technology company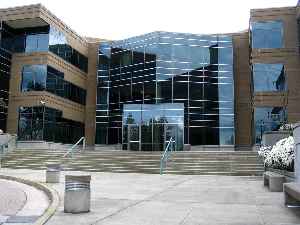 Microsoft Corporation is an American multinational technology company with headquarters in Redmond, Washington. It develops, manufactures, licenses, supports and sells computer software, consumer electronics, personal computers, and related services. Its best known software products are the Microsoft Windows line of operating systems, the Microsoft Office suite, and the Internet Explorer and Edge Web browsers. Its flagship hardware products are the Xbox video game consoles and the Microsoft Surface lineup of touchscreen personal computers. As of 2016, it is the world's largest software maker by revenue, and one of the world's most valuable companies. The word "Microsoft" is a portmanteau of "microcomputer" and "software". Microsoft is ranked No. 30 in the 2018 Fortune 500 rankings of the largest United States corporations by total revenue.


Make Microsoft president new FB CEO: Ex-security chief
San Francisco, May 22 (IANS) Mired in several privacy scandals, Facebook must hire Microsoft President Brad Smith as its new CEO as it is right time for Mark Zuckerberg to step down, a former Facebook..
WorldNews - Published
Azure IoT vs AWS IoT – Read Before Building your Industrial IoT Platform
The world of IT has witnessed the tussle between two tech companies, namely Google and Microsoft, compete against each other for autonomy in the global market for almost ten years now. Both have been..
WorldNews - Published
Wall Street ends lower after Trump tariff threat
U.S. stocks fell on Monday after President Donald Trump threatened to raise tariffs on Chinese goods. Fred Katayama reports.
Credit: Reuters Studio Duration: 01:06Published
Vegan burger company Beyond Meat's IPO sizzles
Vegan burger maker Beyond Meat Inc, which counts Microsoft founder Bill Gates and actor Leonardo DiCaprio among its investors, on Wednesday priced its initial public stock offering at $25 per share,..
Credit: Reuters Studio Duration: 01:25Published
3M hampers Dow, tech powers Nasdaq to record
The Dow finished lower as dismal results from 3M added a note of caution to earnings season, but solid results from Microsoft lifted the Nasdaq to a lifetime high. Conway G. Gittens reports.
Credit: Reuters Studio Duration: 01:36Published
New Zealand PM Jacinda Ardern Wants To Slow the Spread Of Violent Content Online
New Zealand Prime Minister Jacinda Ardern is connecting with major tech companies like Facebook, Google, Microsoft and Twitter. According to Business Insider, Ardern wants to slow the spread of violent..
Credit: Wochit News Duration: 00:32Published
Microsoft Refuses Request By U.S. Police Department For Facial Recognition Software
According to a report by Business Insider, on Tuesday, Microsoft President Brad Smith announced that the company had refused a request from a US police department to install its facial recognition..
Credit: Wochit News Duration: 00:41Published
The World's Largest Plane Takes Off for the First Time
Late Microsoft co-founder Paul Allen founded the company behind the world's largest plane in 2011.
Credit: Newsy Studio Duration: 01:08Published
Microsoft Support Agent's Credentials Used To Hack Outlook, MSN, Hotmail Email Accounts
Digital Trends reports hackers compromised Microsoft's web-based email services, including Outlook.com accounts and MSN and Hotmail addresses, for months. And they did it by using a customer support..
Credit: Wochit News Duration: 00:40Published
'Wizard Of Oz' Composer's Estate Sues Tech Giants For Piracy
Four of the world's biggest tech giants have been accused of conducting music piracy on a massive scale in a lawsuit filed by the estate of a renowned Broadway composer, The Independent reports. Apple,..
WorldNews - Published
Microsoft taps talent, innovation opportunities in Africa
Having recognised a sizeable talent pool, great deal of innovation and creativity in Africa's teeming youth population, Microsoft has taken a bold step to invest $100 million in building an African..
WorldNews - Published
Microsoft and Sony team up for video games in the cloud, but what's it mean for gamers?
Microsoft and Sony battle it out console video game dominance. But they are teaming up to make cloud gaming services as good as video streaming.
USATODAY.com - Published
New 'Minecraft Earth' to offer AR experience like 'Pokemon Go'
On Minecraft's 10th anniversary, Microsoft teased new 'Minecraft Earth' mobile game, which puts game objects in the real world with augmented reality.
USATODAY.com - Published
Daily Cryptocurrency Bulletin For Friday, May 17, 2019
General News Clearmatics and UBS have been working on a cryptocurrency that would be "linked to real-world currencies and connected to central bank accounts" since 2015. Now, a new Reuters report..
WorldNews - Published
Microsoft, Sony partner on streaming games, chips and AI
Microsoft Corp and Sony Corp on Thursday said they struck a strategic partnership in which Sony would use Microsoft's cloud for streaming games and media and the two would work together to develop..
Reuters - Published
You Might Like