United States Department of Justice
U.S. federal executive department in charge of law enforcement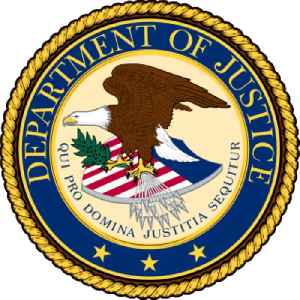 The United States Department of Justice (DOJ), also known as the Justice Department, is a federal executive department of the United States government responsible for the enforcement of the law and administration of justice in the United States, and is equivalent to the justice or interior ministries of other countries. The department was formed in 1870 during the Ulysses S. Grant administration, and administers several federal law enforcement agencies, including the Federal Bureau of Investigation (FBI), the United States Marshals Service (USMS), the Bureau of Alcohol, Tobacco, Firearms and Explosives (ATF), and the Drug Enforcement Administration (DEA). The department is responsible for investigating instances of financial fraud, representing the United States government in legal matters, and running the federal prison system. The department is also responsible for reviewing the conduct of local law enforcement as directed by the Violent Crime Control and Law Enforcement Act of 1994.


NYC, Seattle, Portland Designated as 'Anarchist Jurisdictions' by DOJ

The Department of Justice (DOJ) announced the designations on Monday.
Credit: Cover Video STUDIO Duration: 01:08
Published
DOJ: Al Jazeera's Online Platform AJ+ Is 'Foreign Agent' Of Qatari Government

The Foreign Agents Registration Act, or FARA, was created to prevent foreign propaganda, from individuals or companies, from swaying the American public. Those working on behalf of a foreign government..
Credit: Wochit News Duration: 00:45
Published
DOJ says $175 million stolen in PPP fraud

57 people have been charged since May with trying to steal from the Paycheck Protection Program designed to help Americans during the coronavirus pandemic.
Credit: Reuters Studio Duration: 01:41
Published
DOJ moves to defend Trump in defamation lawsuit

[NFA] U.S. Attorney General William Barr on Wednesday defended his office's intervention in a defamation lawsuit by a woman who accused President Donald Trump of raping her, when it moved the case to..
Credit: Reuters Studio Duration: 01:54
Published
DOJ to file Google lawsuit in weeks -sources

The Justice Department, which has been conducting an antitrust investigation of Alphabet Inc's Google, plans to bring a lawsuit against Google as soon as this month, according to two sources familiar..
Credit: Reuters - Politics Duration: 01:40
Published
DOJ investigating police shooting of Jacob Blake

The U.S. Department of Justice is investigating the police shooting of a 29-year-old Black man named Jacob Blake in Kenosha, Wisconsin, which has sparked days of civil unrest and protest over racial..
Credit: Reuters - Politics Duration: 01:35
Published
Wisconsin DOJ to probe police shooting of Black man

[NFA] The Wisconsin Department of Justice is investigating the police shooting of 29-year-old Jacob Blake, an African-American man who appeared to be unarmed and was shot multiple times in the back by..
Credit: Reuters Studio Duration: 01:43
Published
DOJ Charges Former Green Beret With Giving US Defense Intel To Russia

Former Army Green Beret Peter Rafael Dzibinski Debbins has been charged with spying for Russia. If convicted, he faces life in prison. CNN reports the US Department of Justice said Friday that Debbins..
Credit: Wochit News Duration: 00:39
Published
Sally Yates: Trump trying to 'sabotage' USPS

Sally Yates, who was fired by President Donald Trump after just days on the job as his acting Attorney General, lambasted Trump at the Democratic National Convention on Tuesday for targeting public..
Credit: Reuters Studio Duration: 02:11
Published
Watchdog Group Sues US Gov Over Unidentified Forces Policing Portland Protesters

Gizmodo reports nonprofit watchdog group American Oversight is suing the US Justice Department and five other agencies. The lawsuit concerns the deployment of federal police against protesters in..
Credit: Wochit News Duration: 00:34
Published
Three charged with high-profile Twitter hacks

The U.S. Justice Department announced charges on Friday in the hacking of the Twitter accounts of numerous high-profile figures. Gavino Garay reports.
Credit: Reuters Studio Duration: 00:47
Published
Flynn case to be reheard by appeals court

A U.S. appeals court on Thursday agreed to rehear arguments that could potentially lead to the reopening of the case against Michael Flynn, President Donald Trump's former national security adviser...
Credit: Reuters - Politics Duration: 01:33
Published
You Might Like



Barr has brought the D.O.J. closer to the White House than it has been in a half-century, historians say.




NYTimes.com - Published





Justice Department opposes TikTok's request for injunction in new filing

Illustration by Alex Castro / The Verge The Justice Department filed its opposition Friday to TikTok's request for an injunction against the Trump administration's looming ban of the app, and..




The Verge - Published





Justice Dept. Aids Trump's False Narrative on Voting

In a series of unusual moves, the Justice Department has helped stoke skepticism about mail-in voting.




NYTimes.com - Published





Justice Department seeks immediate ban on WeChat in U.S.

The Trump administration claims the Chinese-owned messaging service is a threat to national security.




CBS News - Published





D.O.J. discloses investigation into discarded Pennsylvania ballots, prompting fears of politicization.




NYTimes.com - Published





Current state of technology and social media in the U.S.

Facebook announced the removal of hundreds of Russian-linked accounts, pages and groups. The Justice Department is trying to force big tech to take responsibility for content on their platforms, while..




CBS News - Published





DOJ moves to make it easier to sue social media companies

It's the latest move to amend a 24-year-old law that shields social media companies from most lawsuits.




CBS News - Published





Trump administration proposes punishing sites for 'censoring lawful speech' or hosting illegal content

Illustration by Alex Castro / The Verge The US Department of Justice has submitted a proposal to weaken Section 230 of the Communications Decency Act, a rule that protects websites and apps from..




The Verge - Published





International dark web bust leads to more than 170 arrests

The US Justice Department (DOJ) announced on Tuesday the results of an international law enforcement operation aimed at taking down drug traffickers on the dark web. Known as Operation DisrupTor, named..




WorldNews - Published





Operation targeting Darknet drug traffickers nets dozes of arrest worldwide, officials say

The Justice Department said more than $6.5 million in cash and virtual currencies, as well as 500 kilograms of drugs, have been seized.




USATODAY.com - Published





Indian government websites on Chinese hackers' radar trigger security concerns

Indian security agencies are concerned on the latest development in which the United States Department of Justice has said that five Chinese hackers who charged were involved to target the Indian..




DNA - Published





Wisconsin DOJ hires former Madison police chief to review Jacob Blake shooting investigation

Wisconsin Attorney General Josh Kaul announced retired Madison Police Chief Noble Wray will analyze the DOJ investigation for the Kenosha DA.  




USATODAY.com - Published





DOJ names New York City, Portland, Seattle 'anarchist jurisdictions' that could lose federal funding

President Donald Trump executive order threatened to withhold federal funding from cities where the administration said local officials have cut funding for police departments, refused offers for help..




USATODAY.com - Published





DOJ says 3 cities could lose federal aid for allowing "anarchy"

New York City, Portland and Seattle were labeled "anarchist jurisdictions" by the Justice Department.




CBS News - Published





Six people indicted in Amazon Marketplace bribery scheme to help third-party sellers

Illustration by Alex Castro / The Verge Six people have been indicted by a grand jury in Washington state on charges they bribed Amazon employees to manipulate third-party seller listings on the..




The Verge - Published





US moves to seize $330m of alleged 1MDB assets held by UK law firm

Department of Justice says money in Clyde & Co's account allegedly linked to Malaysian fraud scandal The US Department of Justice (DoJ) has moved to seize $330m (£256m) held in the bank account of a..




WorldNews - Published





Justice Department seeking to charge protesters with sedition

The federal sedition law is used rarely but is aimed at charging individuals with overthrowing the government.




CBS News - Published





Trump's unrestrained full partner? Attorney General William Barr echoes president in slamming DOJ

Attorney General William Barr launched an extraordinary rebuke of lawyers under his command that drew parallels to Trump's recriminations against the DOJ.




USATODAY.com - Published





Attorney General Barr urges federal charges against violent protesters

Attorney General William Barr is calling on U.S. attorneys nationwide to seek federal charges against violent demonstrators. He even suggested invoking the rarely-used sedition law, which can punish..




CBS News - Published





Attorney General William Barr brings up slavery when referring to quarantining during the pandemic

The attorney general made several shocking statements at a Constitution Day event sponsored by Hillsdale College. Catherine Herridge reports from the Department of Justice.




CBS News - Published





5 Chinese nationals charged in mega hacking scheme, Indian govt networks hit: US

The US Justice Department has charged five Chinese citizens with hacking over a 100 companies and institutions in America and abroad, including the Indian government's networks, and stealing valuable..




IndiaTimes - Published





US charges 5 Chinese citizens in global hacking campaign

The Justice Department has charged five Chinese citizens with hacks targeting more than 100 companies and institutions in the United States and abroad, including social media and video game companies..




WorldNews - Published

Also reported by •USATODAY.com


Barr assails DOJ prosecutors, says some are "headhunters"

In a rare rebuke by an attorney general of his department's own prosecutors, Barr said they sometimes fixate too much on prominent targets and on "ill-conceived" political probes.




CBS News - Published





William Barr takes aim at prosecutors inside his own Justice Department

WASHINGTON — Attorney General William Barr took aim at his own Justice Department on Wednesday night, criticizing prosecutors for behaving as "headhunters" in their pursuit of prominent targets..




WorldNews - Published





Barr Defends Right to Intrude in Cases as He Sees Fit

The attorney general's remarks scanned as a rebuke of career Justice Department lawyers who have questioned his level of involvement.




NYTimes.com - Published





US charges five Chinese with hacking 100 companies worldwide

The US Justice Department has charged five Chinese citizens with hacks targeting more than 100 companies and institutions in North America and around the world, including social media and video game..




New Zealand Herald - Published





China-Backed Hackers Broke Into 100 Firms and Agencies, U.S. Says

In indictments against five Chinese nationals, the Justice Department described sophisticated attacks to hijack networks and extort universities, businesses and nonprofits.




NYTimes.com - Published





5 Chinese citizens at large, 2 Malaysian suspects arrested in global hacking campaign targeting gaming

The Justice Department unsealed charges Wednesday against five Chinese citizens and two Malaysian nationals in a global hacking campaign, allegedly part of APT-41, that targeted more than 100 entities,..




USATODAY.com - Published





Federal prison officers are worried drones could one day be used to airlift inmates to freedom

Photo Illustration by Jaap Arriens/NurPhoto via Getty Images Drones have been a problem for prisons for years now, where they're often used to smuggle contraband behind bars. But could they also..




The Verge - Published





Criminal inquiry into former Trump adviser John Bolton's book

The US Justice Department has opened a criminal investigation into whether president Donald Trump's former national security adviser John Bolton unlawfully disclosed classified information in a..




WorldNews - Published





Texas woman fraudulently submitted Paycheck Protection Program loan applications for nearly $2M, DOJ says

Lola Shalewa Barbara Kasali allegedly received more than $1.9 million in PPP loans and transferred the money into four additional bank accounts.




USATODAY.com - Published




Justice Department investigating publication of Bolton's tell-all book

Bolton's memoir, "The Room Where It Happened," hit shelves in June after an unsuccessful attempt by the Justice Department to block publication.




CBS News - Published





John Bolton's book publisher subpoenaed, DOJ investigating disclosures in 'The Room Where It Happened'

The Justice Department demands records from Simon & Schuster after the Trump administration failed to halt publication of John Bolton's book.




USATODAY.com - Published





The Justice Department is investigating whether John Bolton's book unlawfully disclosed classified information.




NYTimes.com - Published





Justice Department investigation into FBI's Russia probe may be nearing end

There are indicators suggesting the Justice Department's investigation into the origins of the FBI's 2016 probe of election meddling and Russian ties to Trump campaign members is in its final phase...




CBS News - Published





Dannehy joins Justice honor roll by resigning from politicized Durham FBI Russia probe

Career lawyers should protest or resign like Dannehy to flag partisan misuse of the Justice Department in the election, our core democratic moment.




USATODAY.com - Published





Violent crime rate dropped 15% in 2019, Justice Department says

The nationwide survey found violent crimes excluding simple assault fell for the first time in four years.




CBS News - Published





Now Trump wants Americans to pay for his defense in a rape-related defamation case

This is Barr's most egregious act and the logical conclusion of his campaign to remake the DOJ into Trump's personal, taxpayer-funded legal service.




USATODAY.com - Published





'Cuties' Sparks a Firestorm, Again, After Its Netflix Release

Several members of Congress have weighed in on the award-winning film, including to call for its removal from Netflix or a Justice Department investigation.




NYTimes.com - Published





Durham aide resigns from Justice Department

Nora Dannehy, the top aide to the U.S. attorney probing the origins of the Russia investigation, has resigned from the Justice Department.




CBS News - Published





NFL's Josh Bellamy charged with fraud in alleged COVID-19 relief scheme

The former Jets wide receiver and 10 others are accused of using money meant for coronavirus relief on items such as Gucci and Dior Former Jets wide receiver Josh Bellamy was charged and arrested for..




WorldNews - Published





Justice Department moves to defend President Trump in rape accuser's defamation case

Loyola Law School professor Jessica Levinson joins "Red and Blue" to break down the Justice Department's decision to try to defend President Trump in a rape accuser's defamation case, and why the move..




CBS News - Published

Also reported by •WorldNews •New Zealand Herald


DOJ argues it should represent President Trump in E. Jean Carroll defamation suit

The Department of Justice is trying to replace President Trump's personal legal team and intervene in a defamation suit from a woman who accused him of rape. The president has denied that allegation...




CBS News - Published





Former DOJ official slams census citizenship question

Former Obama-era Justice Department civil rights division leader Vanita Gupta tells CBS News' Major Garrett on "The Takeout" podcast that the Trump administration's inclusion of a citizenship question..




CBS News - Published





DOJ moves to defend Trump in defamation lawsuit

Carroll is suing Mr. Trump in his personal capacity, and he was previously represented by private attorneys.




CBS News - Published

Also reported by •New Zealand Herald


What this tragic merger looks like today will shock you

Taboola and Outbrain, best known as the rival chumbox providers who fill space on your favorite websites with garbage like "You Won't Believe What [NAME] Looks Like Today!" and the ever-popular..




The Verge - Published





Cryptocurrency: the next battleground in the US-China rivalry

The United States Department of Justice last month announced the dismantling of...




WorldNews - Published





Gerald Shur, Architect of Witness Protection Program, Dies at 86

As a young Justice Department lawyer investigating the mob, he realized more witnesses might talk if they weren't afraid of being killed.




NYTimes.com - Published





2 Boogaloo Bois members charged with attempting to support Hamas

The Justice Department said the FBI initiated the investigation into Solomon and Teeter during protests in Minneapolis after George Floyd's death.




CBS News - Published





Police Kill Suspect in Fatal Portland Shooting During Arrest, Source Says

A man suspected of fatally shooting a supporter of a right-wing group in Portland, Oregon, last week after a caravan of Donald Trump backers rode through downtown was killed Thursday as investigators..




WorldNews - Published