Chronic traumatic encephalopathy
Neurodegenerative disease caused by repeated head injuries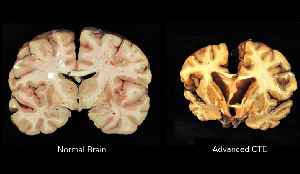 Chronic traumatic encephalopathy (CTE) is a neurodegenerative disease caused by repeated head injuries. Symptoms may include behavioral problems, mood problems, and problems with thinking. Symptoms typically do not begin until years after the injuries. CTE often gets worse over time and can result in dementia. It is unclear if the risk of suicide is altered.


College football player researched CTE and later died by suicide. Brain study gave his parents answers.
Before Wabash football player Evan Hansen died by suicide, he had been researching CTE. Looking for answers, his parents had his brain studied.
USATODAY.com - Published
Convicted ex-NFL tight end Kellen Winslow II has CTE symptoms, his attorneys say
Attorneys for former NFL tight end Kellen Winslow II will present evidence of his cognitive impairment before his February sentencing for sex crimes.
USATODAY.com - Published
Combat veterans coming home with CTE
A brain disease best known for impacting football players who suffered concussions is now being found in soldiers. Sharyn Alfonsi reports.
CBS News - Published
Rob Gronkowski claims CTE is "fixable"
One brain disease expert says there's "no proven intervention that is effective" in treating CTE
CBS News - Published
NFL linebacker Derrick Morgan announces retirement at age 30
Titans linebacker Derrick Morgan, 30, in 2016 vocalized his desire for the NFL to research cannabis for football injuries such as CTE.
USATODAY.com - Published
Brandi Chastain and Michelle Akers take part in new CTE study
Team USA will soon take on France in the Women's World Cup quarterfinal. Ahead of the big game, former soccer stars Brandi Chastain and Michelle Akers are raising awareness about possible brain..
CBS News - Published
Former U.S. World Cup soccer stars join landmark CTE study
U.S. soccer stars Michelle Akers and Brandi Chastain helped win World Cup championships in 1991 and 1999. Now, they wonder if they're suffering from Chronic Traumatic Encephalopathy, or CTE. CBS News..
CBS News - Published
Brandi Chastain, Michelle Akers launch landmark CTE study for women's soccer
First on "CBS This Morning," two former soccer stars share how they're recruiting others to protect future athletes. Michelle Akers scored both goals in Team USA's first championship in 1991. And in..
CBS News - Published
Brandi Chastain explains how to safely head a soccer ball
Two former soccer stars are helping launch a landmark study of former female soccer players over concerns of chronic traumatic encephalopathy, or CTE. One of those women is Olympic gold medalist Brandi..
CBS News - Published
Disinformation Warfare, Predicting Murder, Impact
RT's editor-in-chief on election meddling, being labeled Russian propaganda; Predicting crime in Chicago; and, Combat veterans coming home with CTE
CBS News - Published