Rome
Capital of Italy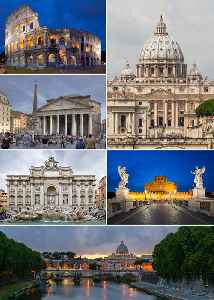 Rome is the capital city and a special comune of Italy as well as the capital of the Lazio region. The city has been a major human settlement for almost three millennia. With 2,860,009 residents in 1,285 km2 (496.1 sq mi), it is also the country's most populated comune. It is the third most populous city in the European Union by population within city limits. It is the centre of the Metropolitan City of Rome, which has a population of 4,355,725 residents, thus making it the most populous metropolitan city in Italy. Its metropolitan area is the third-most populous within Italy. Rome is located in the central-western portion of the Italian Peninsula, within Lazio (Latium), along the shores of the Tiber. Vatican City is an independent country inside the city boundaries of Rome, the only existing example of a country within a city; for this reason Rome has sometimes been defined as the capital of two states.


Beatrice's wedding dress to go on display at Windsor Castle

The dress worn by Princess Beatrice at her wedding will go on public displayat Windsor Castle later this month. The vintage gown, which was designed bySir Norman Hartnell, was loaned to the bride from..
Credit: PA - Press Association STUDIO Duration: 01:00
Published
'Nero fiddled while Rome burned - Trump golfs' -Sanders

Sen. Bernie Sanders, speaking in support of Joe Biden on the first night of the Democratic National Convention, blasted President Trump's response to the coronavirus, saying he put American lives "in..
Credit: Reuters Studio Duration: 01:31
Published
You Might Like



Cardinal Angelo Becciu resigns amid financial accusations 

An Italian cardinal at the Vatican is speaking out about his forced resignation. CBS News foreign correspondent Chris Livesay is in Rome with the accusations surrounding Cardinal Angelo Becciu.




CBS News - Published





Today in History for September 23rd

Highlights of this day in history: Richard Nixon gives his 'Checkers' speech; Rome's Augustus Caesar born; Lewis and Clark finish trek to America's West; Psychologist Sigmund Freud dies; Musicians Ray..




USATODAY.com - Published





Italy launches "COVID free" flights

Rome Airport to provide COVID-19 testing before passengers board several flights.




CBS News - Published





Simona Halep edges out Garbine Muguruza to reach Italian Open final

Simona Halep reached a third Italian Open final with a hard-fought win over Garbine Muguruza in Rome. The two former French Open winners will be among the favourites in Paris and there was little to..




WorldNews - Published





Nadal stunned by Schwartzman in Rome quarter-finals

Defending champion Rafa Nadal crashed out of the Italian Open with a stunning 6-2 7-5 defeat by Argentine Diego Schwartzman in the quarter-finals on Saturday. The nine-times Rome champion, who had won..




WorldNews - Published





Halep reaches Rome semis after Putintseva retires

ROME (AP) — Top-seeded Simona Halep became the first semifinalist at the Italian Open when Kazakh opponent Yulia Putintseva retired midway through their match due to a lower back injury Saturday...




WorldNews - Published





Monfils receives racist abuse after Rome defeat

French tennis player Gaël Monfils revealed Friday that he had received a barrage of racist abuse through social media after his second-round exit in the Italian Open.","content":"French tennis player..




WorldNews - Published





Azarenka shocks Kenin with double bagel in Rome

Victoria Azarenka switched with ease from her impressive form on the hard court in the United States last week to clay in Rome sweeping past third seed Sofia Kenin. ......




WorldNews - Published





Teenager Sinner shocks Tsitsipas in Rome opener

ROME: Greece's exited the on Wednesday with a second round defeat to home hope 19-year-old . Third seed Tsitsipas, the recipient of a first round bye, crashed 6-1, 6-7 (9/11), 6-2 to 81st-ranked Sinner..




WorldNews - Published





Djokovic through in Italy as he wins first match after US Open disqualification

Novak Djokovic returns to action after his US Open disqualification with a convincing second-round win over Salvatore Caruso at the Italian Open in Rome.




BBC News - Published





Rafael Nadal is the big favourite for Italian Open, but break may hurt him,' says ...

Felix Auger-Aliassime says Rafael Nadal is the 'big favourite' for the Italian Open in Rome despite him not playing competitive tennis for months. Nadal opted not to defend his US Open title this..




WorldNews - Published





Italian Open: Rafael Nadal and Novak Djokovic renew rivalry ahead of Roland Garros

Rafael Nadal will make his return to competitive tennis this week at the Italian Open, while Novak Djokovic participates in his first event since getting disqualified from the US Open. Preparing for..




WorldNews - Published





Serena withdraws from Rome with Achilles strain

Serena Williams withdrew from the WTA clay-court tournament that begins Monday in Rome due to a left Achilles tendon injury sustained in her US Open semi-final defeat, the tour announced Saturday...




WorldNews - Published





Euronext offers Rome concessions to win Borsa Italiana - sources

ROME/LONDON — French stock exchange operator Euronext has made Rome a key ally in its bid plan to take over Borsa Italiana, granting Italian state lender CDP significant influence in the combined..




WorldNews - Published





China's top diplomat fails to restore strained ties with Europe

New York [US], September 5 (ANI): China's bid to mend its strained ties with European countries did not get much traction during a recent five-day Europe visit by Foreign Minister and State Councillor..




WorldNews - Published





Italy on nationwide lockdown as coronavirus cases surge

Italian authorities have imposed drastic measures to try to curtail the worst coronavirus outbreak in Europe. Public gatherings are banned, sporting events canceled and non-essential travel virtually..




CBS News - Published





Why a Somali-born fighter is being honoured in Rome

Some Italians are revaluating their colonial past in East Africa, writes Ismail Einashe.




BBC News - Published





Italy posts more than 1,000 daily coronavirus cases for first time since mid-May

Rome: Italy reported 1,071 new coronavirus infections in the past 24 hours, the health ministry said on Saturday, exceeding 1,000 cases in a day for the first time since May when the government eased..




WorldNews - Published





Sanders: "Nero fiddled while Rome burned. Trump golfed"

Senator Bernie Sanders, the last Democrat to drop out of the primary race, urged his supporters to vote against President Trump. "Nero fiddled while Rome burned. Trump golfed," Sanders said. Watch his..




CBS News - Published





Italy garbage dips with virus lockdowns, but plastics rise

ROME — Italy produced 10% less garbage during its coronavirus lockdown, but environmentalists warn that increased reliance on disposable masks and packaging is imperiling efforts to curb single-use..




WorldNews - Published





Alpine glacier in Italy threatens valley, forces evacuations

ROME (AP) — Experts were closely monitoring a Mont Blanc glacier on Friday, a day after they evacuated 75 tourists and residents amid fears the glacier could soon break apart and crash into a popular..




WorldNews - Published





Opera breathes new life into the Circus Maximus amid coronavirus pandemic

In this era of social distancing, Chris Livesay reports how an ancient place in Rome has become a safe performance space.




CBS News - Published





'We're living in fear': LGBT people in Italy pin hopes on new law

For 15 years, Marco and his boyfriend had lived together fairly peacefully in a town outside Rome. Then, in early June, a neighbour started harassing them. "It began quite lightly, with him being..




WorldNews - Published





Italy PM says virus state of emergency may be extended

ROME: Italian Prime Minister Giuseppe Conte said Friday it was possible a state of emergency triggered by the coronavirus crisis could be extended beyond the end of the month. In Italy, the procedure..




WorldNews - Published





Man Utd & Wolves learn potential Europa League opponents

Manchester United are drawn against Istanbul Basaksehir or Copenhagen in the last eight of the Europa League, while Wolves may meet Sevilla or Roma.




BBC News - Published





Doctors in Rome separate conjoined twins

Doctors in Rome separate conjoined twins  




USATODAY.com - Published





Ennio Morricone's life in pictures

"Spaghetti" Westerns composer Ennio Morricone has died in Rome aged 91.




BBC News - Published





Italian film composer Ennio Morricone dies aged 91

Italian composer Ennio Morricone has died aged 91. He was best known as the creative mastermind behind many famous Spaghetti Western soundtracks, including the score to 1966's The Good, the Bad and the..




WorldNews - Published





Luxury hotel project stays its course in Rome

Renovations underway to turn Rome building into new Bulgari hotel, despite worst tourism crisis since WW2. (July 3)  




USATODAY.com - Published





More feline control after cat contracts rare virus in Italy

Rome: Public officials in the central Italian commune of Arezzo called on Wednesday for better surveillance of the feline population after a housecat contracted a rare rabies-like virus and began..




WorldNews - Published





Italy approves guarantees for $7.1 bln loan to Fiat Chrysler

ROME — Italy has approved a decree offering state guarantees for a 6.3-billion euro ($7.1 billion) loan to Fiat Chrysler's (FCA) Italian unit, the Treasury said on Wednesday, paving the way for the..




WorldNews - Published





Napoli beat Juventus on penalties to claim Coppa Italia

Rome, Jun 17 (efe-epa).- Napoli won their sixth Coppa Italia here Wednesday, prevailing over Juventus on penalties 4-2 after the sides held each other scoreless for 90 minutes. Lorenzo Insigne, Matteo..




WorldNews - Published





Italian soccer resumes in silence, Juventus reaches final

Soccer finally resumed in Italy in a surreal atmosphere as Juventus drew with 10-man AC Milan 0-0 to reach the Italian Cup final on the away goals rule. The first leg finished 1-1 in Milan before the..




WorldNews - Published





Rescue boats return to Mediterranean after 2-month pause

Rome, June 10 (efe-epa).- Humanitarian boats that patrol the central Mediterranean to rescue migrants have returned to the sea after a two-month hiatus due to the coronavirus pandemic, NGOs announced..




WorldNews - Published





Protests roll on against 'worldwide' racism

Demonstrators in Rome held their fists in the air and chanted "No Justice! No Peace!" on Sunday, while in London people defying official warnings not to gather lay down outside the U.S. Embassy as part..




Reuters India - Published

Also reported by •Reuters


Coronavirus: Far-right Rome protest turns briefly violent

A rally by extremists and football fans over the government's response ended in clashes with police.




BBC News - Published





George Floyd protests, Strawberry moon, Trump visits Maine: 5 things to know Friday

Vatican official to hold George Floyd prayer service in Rome, President Trump heads to Maine despite concerns of unrest and more things to know Friday




USATODAY.com - Published





Italian judge orders seizure of neo-fascist CasaPound headquarters

An Italian judge ordered police to seize the headquarters of a far-right group in central Rome, authorities said on Thursday in a move hailed as a victory by the city's mayor Virgina Raggi from the..




Reuters - Published





Italy Opens Borders Ahead of Neighbors, Beckoning Tourists

Rome's Leonardo da Vinci airport sprang back to life Wednesday as Italy opened regional and international borders in the final phase of easing its long coronavirus lockdown, but it was still an open..




WorldNews - Published





Italy's opposition parties flout social distancing rules at rally in Rome

ROME — Italian opposition parties and hundreds of supporters defied social distancing rules on Tuesday to pack Rome's central streets in an anti-government protest rally. With more than 233,000..




WorldNews - Published

Also reported by •Reuters


AP Top Stories May 19 P

Here's the latest for Tuesday, May 19th: Treasury Secretary Steve Mnuchin defends White House reopening efforts; China criticizes Trump's W.H.O threat; Vice President Mike Pence previews return to..




USATODAY.com - Published





Rome's coronavirus-hit Raphael exhibition to reopen in June

An exhibition commemorating the 500th anniversary of the death of Renaissance artist Raphael will reopen on June 2 in Rome and its run extended until Aug.30, after it fell foul of the COVID-19..




Reuters - Published





Italy's beauty sector hopes coronavirus doesn't crack the mirror

The nail care section of the Femme salon in Rome looks almost like a prison visiting room with a row of people on one side of a glass partition and visitors on the other.




Reuters - Published





Italy: Chemical plant fire hurts 2, forces Venetians indoors

ROME (AP) — A fire at a chemical plant near Venice critically injured two people, belched thick black smoke into the air and forced Venetians to stay indoors for fear...




WorldNews - Published





Vatican to introduce temperature checks at St. Peter's Basilica

People attending Masses in St. Peter's and other papal basilicas in Rome will have their temperature checked as part of measures to contain the spread of coronavirus, the Vatican said on Thursday.




Reuters - Published





Freed Italian aid worker returns home on special flight

Silvia Romano, an Italian aid worker kidnapped 18 months ago in East Africa, landed in Rome on Sunday a day after being freed.




Reuters - Published





Roundup: COVID-19 curve decreasing in Italy as death toll tops 30,000

ROME, May 8 (Xinhua) -- Italy on Friday posted a decrease in COVID-19 intensive care cases and hospitalizations as the death toll pushed past the 30,000 mark, according to the latest numbers released..




WorldNews - Published





Italy to inject €3bn capital into Alitalia - minister

The Italian government will inject at least €3 billion in fresh capital into Alitalia, the industry minister said on Thursday, laying out the plan for the nationalisation of the ailing carrier. Rome..




WorldNews - Published





Rome's cafes, restaurants reopen for takeaways

Italy has begun easing key restrictions after a two-month coronavirus shutdown. 4.4 million Italians are able to return to work and some limits on movement have been removed in the first European..




USATODAY.com - Published





Coronavirus World Updates

Rome has survived floods, fire and conquest, but the coronavirus is testing the city's spirit anew. The global race for a vaccine is taking on an intensity never before seen in medical research.




NYTimes.com - Published