Christian Yelich
American baseball player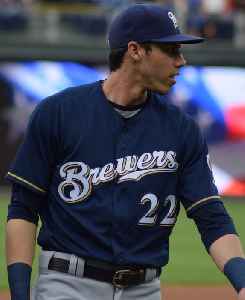 Christian Stephen Yelich is an American professional baseball outfielder for the Milwaukee Brewers of Major League Baseball (MLB). He previously played for the Miami Marlins.


Dodgers' Cody Bellinger edges out Brewers' Christian Yelich for NL MVP Award
Cody Bellinger and Christian Yelich dominated the National League landscape in 2019, but it was the Dodgers slugger who won the NL MVP award.
USATODAY.com - Published
Reigning MVP Christian Yelich done for the season after fracturing kneecap in Brewers' win
Christian Yelich's season is over after he was injured during a first-inning at-bat against the Miami Marlins.
USATODAY.com - Published
Christian Yelich, Chris Paul, Kelley O'Hara will be featured in ESPN's 'Body Issue'
Reigning National League MVP Christian Yelich, nine-time NBA All-Star Chris Paul and World Cup-winning soccer player Kelley O'Hara will be in issue.
USATODAY.com - Published
Thames' HR in 14th, Yelich's 2 help Brewers beat Nats 15-14
Eric Thames hit a go-ahead, two-run homer in the 14th inning, capping the Milwaukee Brewers' wild 15-14 victory over the Washington Nationals
USATODAY.com - Published
Yelich, Hiura HR in 10th off Kimbrel, Brewers beat Cubs 5-3
Christian Yelich and Keston Hiura hit home runs in the 10th inning off Cubs closer Craig Kimbrel and the Milwaukee Brewers rallied past Chicago 5-3
USATODAY.com - Published
Yelich hits grand slam, Brewers power past Braves 13-1
Christian Yelich hit his second career grand slam, Keston Hiura and Lorenzo Cain each had a solo home run, and the Milwaukee Brewers got a need victory, 13-1 over the Atlanta Braves
USATODAY.com - Published
MLB's burning second-half questions: The return of the 60-home run season?
Christian Yelich might reach the 60-HR plateau, but that is just one of the questions that'll be answered in the second half of MLB season.
USATODAY.com - Published
$wing away: All-Star Home Run Derby offers $1 million prize
Yelich leads young field of sluggers in this year's All-Star Home Run Derby
USATODAY.com - Published
Yelich hits 30th homer, Brewers rally pat Reds 8-6
Baseball Capsules
USATODAY.com - Published
Also reported by •WorldNews