Toronto
Provincial capital city in Ontario, Canada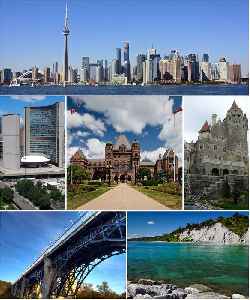 Toronto is the provincial capital of Ontario and the most populous city in Canada, with a population of 2,731,571 in 2016. Current to 2016, the Toronto census metropolitan area (CMA), of which the majority is within the Greater Toronto Area (GTA), held a population of 5,928,040, making it Canada's most populous CMA. Toronto is the anchor of an urban agglomeration, known as the Golden Horseshoe in Southern Ontario, located on the northwestern shore of Lake Ontario. A global city, Toronto is a centre of business, finance, arts, and culture, and is recognized as one of the most multicultural and cosmopolitan cities in the world.


US forward Altidore sidelined with hamstring injury
Toronto forward Jozy Altidore will be sidelined for two-to-third weeks with a hamstring injury
USATODAY.com - Published
Raptors coach Nick Nurse instantly became a meme with reaction to call
All the internet is focusing on from Game 4 of the Raptors-Magic series is Toronto coach Nick Nurse's hilarious reaction to a 3-second violation.
USATODAY.com - Published
Lawsuit Claims GM Failed To Warn Cadillac SRX Drivers Of Headlight Defect
According to Automotive News GM has been named in a lawsuit stating the auto manufacturer did not warn U.S. drivers of a Cadillac crossover about a defect that causes headlights to malfunction due to..
Credit: Wochit News Duration: 00:48Published
Woman who sheltered Snowden granted asylum in Canada
Vanessa Mae Bondalian Rodel, a woman who helped shelter former NSA contractor Edward Snowden, spoke after she was granted asylum in Canada. Rough cut (no reporter narration)
Credit: Reuters Studio Duration: 01:18Published
Yeast: the marijuana market's magic ingredient?
An American bio-tech company is using synthetic biology to make yeast create the chemicals compounds that exist in marijuana. Megan Revell reports.
Credit: Reuters Studio Duration: 01:30Published
FCA Recalls More Than 860,000 Vehicles
Automotive News reports that Fiat Chrysler Automobiles NV has recalled more than 860,000 gasoline-powered vehicles in the United States. According to the EPA, the recalled vehicles do not meet U.S...
Credit: Wochit News Duration: 00:46Published
Woman Stung By A Scorpion
According to Business Insider, "A woman was strung by a scorpion on board an Air Transat flight from Toronto to Calgary. She guessed the four-inch long critter had been on her lower back for about half..
Credit: Wochit News Duration: 00:35Published
Choose Your Avocado Based on Its Shape
Are you desperate for avocados but unsure of how to pick one out at the grocery store? What you want is a good, oblong avocado because of the pit, reports LifeHacker. In three different comparisons of..
Credit: Wochit News Duration: 00:48Published
Canadian Prime Minister heckled at political rally
Canadian Prime Minister Justin Trudeau has had his speech at a political rally interrupted by a heckler. Rough cut - no reporter narration.
Credit: Reuters Studio Duration: 00:35Published
Leonard scores 34, Raptors top Magic 107-85 for 3-1 lead
Leonard scores 34, and Toronto moves within a game of the second round by topping Magic 107-85
USATODAY.com - Published
NHL fans were so annoyed with NBC as a Maple Leafs fan's head blocked Game 6 action
The head of a Maple Leafs fan blocked the main NBC camera angle for most of the third period in Game 6 between Toronto and the Boston Bruins.
USATODAY.com - Published
Brett Anderson leaves A's start with left ankle sprain
Oakland Athletics pitcher Brett Anderson was pulled from his start against Toronto with a left ankle sprain he injured running off the mound in the third inning.
USATODAY.com - Published
Blue Jays lose Shoemaker to knee injury, beat Athletics 10-1
Toronto pitcher Matt Shoemaker injured his left knee in a rundown chase, and the Blue Jays went on to beat the Oakland Athletics 10-1. Rowdy Tellez and Brandon Drury hit back-to-back homers during a..
USATODAY.com - Published
NHL playoffs: Betting odds, lines for Friday's Bruins-Maple Leafs, Flames-Avalanche games
There are two NHL playoff games on Friday – Toronto at Boston and Colorado at Calgary.
USATODAY.com - Published
Drake 'curse' strikes again as Maple Leafs fall to Bruins in Game 4
Drake was in the building for the Maple Leafs' game against the Bruins. Toronto's subsequent loss re-ignited the debate surrounding the Drake "curse."
USATODAY.com - Published
Canada tweaked terror report after pressure from Sikh groups
Prime Minister Trudeau attended a nagar kirtan in Vancouver less than 24 hours after the decision to remove all references to Khalistani extremism from the report that was made and the changes were in..
WorldNews - Published
Hernandez leads Blue Jays to 6-5 win over Twins
Toronto's Teoscar Hernandez delivered the go-ahead hit for the second straight night as the Blue Jays topped the Minnesota Twins by a 6-5 final Tuesday.
USATODAY.com - Published
You Might Like