Tottenham Hotspur F.C.
Association football club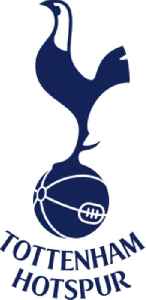 Tottenham Hotspur Football Club, commonly referred to as Tottenham or Spurs, is an English professional football club in Tottenham, London, that competes in the Premier League. Tottenham Hotspur Stadium has been the club's home ground since April 2019, replacing their former home of White Hart Lane, which had been demolished to make way for the new stadium on the same site. Their training ground is on Hotspur Way in Bulls Cross in the London Borough of Enfield. The club is owned by ENIC Group. Tottenham have played in a first (home) strip of white shirts and navy blue shorts since the 1898–99 season. The club's emblem is a cockerel standing upon a football, with a Latin motto Audere est Facere.


You Might Like



Eric Dier runs down tunnel: Tottenham defender says 'nature was calling'

Tottenham's Eric Dier said "nature was calling" when he ran off the pitch in the middle of a Carabao Cup tie against Chelsea.




BBC News - Published




Spurs beat Chelsea on penalties in Carabao Cup

Mason Mount misses the fifth penalty as Tottenham edge past Chelsea on penalties after a 1-1 draw to reach the Carabao Cup fifth round.




BBC News - Published





Carabao Cup: Tottenham 1-1 Chelsea (5-4 pens) - Spurs progress on spot-kicks

Mason Mount misses the fifth penalty as Tottenham edge past Chelsea on penalties after a 1-1 draw to reach the Carabao Cup fifth round.




BBC News - Published





'New handball rule a massive problem' - Spurs' Dier on controversial penalty

The new handball rule is a "massive problem" and "something has to change", says Tottenham defender Eric Dier.




BBC News - Published





More VAR handball drama as Newcastle snatch point at Spurs

Tottenham Hotspur 1 Newcastle United 1 A football match took place here, and occasionally a fairly engaging one, but once again the story revolves around handball. This game was deep into injury time..




WorldNews - Published





Tottenham 1-1 Newcastle: We have lost the plot with handball, says Steve Bruce

Football has "lost the plot" with the new handball ruling and decisions made by officials are causing matches to "lose the spectacle", says Steve Bruce.




BBC News - Published





Evans hat-trick helps Arsenal beat Tottenham to reach FA Cup semi-finals

Scotland's Lisa Evans nets a late hat-trick as Arsenal beat neighbours Tottenham 4-0 to reach the Women's FA Cup semi-finals.




BBC News - Published





Women's FA Cup: Arsenal 4-0 Tottenham Hotspur as Lisa Evans nets hat-trick

Scotland's Lisa Evans nets a late hat-trick as Arsenal beat neighbours Tottenham 4-0 to reach the Women's FA Cup semi-finals.




BBC News - Published





Jorginho to Arsenal if Chelsea buy Rice - Saturday's gossip

Lampard wants Chelsea to make move for Rice, Tottenham in talks to sign Skriniar, Sevilla expect second Kounde offer from Man City, plus more.




BBC News - Published





All signs lead to Dele Alli leaving Tottenham - Jermaine Jenas

Former Tottenham midfielder Jermaine Jenas says "all the signs lead to" Dele Alli leaving the North London club.




BBC News - Published





Tottenham handed Carabao Cup bye after Orient players test positive for coronavirus

Tottenham are awarded a bye into the fourth round of the Carabao Cup after their tie with Leyton Orient was called off.




BBC News - Published




Shkendija 1-3 Tottenham Hotspur: Son Heung-Min scores one and sets up two

Son Heung-min scores one and sets up two as Tottenham advanced to the Europa League play-off round after a scare against Shkendija in North Macedonia.




BBC News - Published





Alex Morgan: Tottenham Hotspur Women signing 'shows club's growth and ambition'

After progressing from an amateur league to signing USA star Alex Morgan, Tottenham's co-head coaches discuss their journey to Saturday's Women's FA Cup quarter-final.




BBC News - Published





Tottenham advance to Europa League play-off after scare

Son Heung-min scores one and sets up two as Tottenham advanced to the Europa League play-off round after a scare against Shkendija in North Macedonia.




BBC News - Published





'He raised me like you' - Jose Mourinho moved by request for photo to honour journalist's late father

Spurs manager Jose Mourinho agrees to take a photo with a Macedonian journalist to put at his late father's resting place.




BBC News - Published





Leyton Orient v Tottenham: Carabao Cup tie called off after positive coronavirus tests

Leyton Orient's Carabao Cup game against Tottenham is called off after a number of O's players test positive for Covid-19.




BBC News - Published




Bale could stay at Spurs beyond this season, says agent Barnett

Gareth Bale could stay at Tottenham for longer than the season-long loan the club have agreed with Real Madrid, says his agent.




BBC News - Published





Bale's motivation could mean quicker recovery from injury - Mourinho

New Tottenham loan signing Gareth Bale could return quicker than expected from injury because his "motivation is high", says manager Jose Mourinho.




BBC News - Published





Justin Edinburgh: Tottenham to donate League Cup shirts to former player's charity

Tottenham Hotspur to donate their shirts from the Carabao Cup tie with Leyton Orient to the JE3 Foundation set up in memory of Justin Edinburgh.




BBC News - Published





Dele Alli: Paris St-Germain target Tottenham and England forward

Paris St-Germain are interested in signing Tottenham's out-of-favour England forward Dele Alli.




BBC News - Published





Son scores four as Spurs thrash Southampton

Son Heung-min scores four goals in a stunning display as Tottenham secure their first Premier League win of the season by thrashing Southampton.




BBC News - Published




Gareth Bale: Tottenham re-sign Real Madrid forward on loan

Wales forward Gareth Bale returns to Tottenham from Spanish champions Real Madrid on a season-long loan.




BBC News - Published




'Bale will change way opponents feel about playing Spurs' - Murphy analysis

Opposition teams will be worried about facing Tottenham with new signing Gareth Bale, says MOTD pundit and ex-Spurs midfielder Danny Murphy.




BBC News - Published





Tottenham sign defender Sergio Reguilon from Real Madrid

Tottenham sign Spain defender Sergio Reguilon from Real Madrid on a five-year contract.




BBC News - Published





Gareth Bale to Tottenham: Real Madrid boss Zinedine Zidane says he never had problem with forward

Real Madrid boss Zinedine Zidane has said he "never had a problem" with Gareth Bale, with the Wales forward set to rejoin Tottenham on loan.




BBC News - Published





Europa League: Lokomotiv Plovdiv 1-2 Tottenham

Tottenham come from behind to beat nine-man Lokomotiv Plovdiv in Europa League qualifying.




BBC News - Published





Spurs come from behind to beat nine-man Lokomotiv Plovdiv

Tottenham come from behind to beat nine-man Lokomotiv Plovdiv in Europa League qualifying.




BBC News - Published





Bale set to arrive in England on Friday for Spurs return

Real Madrid forward Gareth Bale is set to fly to England on Friday to complete his return to Tottenham Hotspur.




BBC News - Published




Reguilon at Spurs for medical - Thursday's football gossip

Tottenham close to signing Real Madrid full-back, Everton target Chelsea and England defender, Manchester City seek another defender, plus more.




BBC News - Published





Gareth Bale: Real Madrid forward on verge of agreeing Tottenham return

Real Madrid forward Gareth Bale is on the verge of agreeing a deal with Tottenham, seven years after leaving the Premier League club.




BBC News - Published





Spurs schedule 'isn't showing any care for players' physical welfare', says Dier

Tottenham defender Eric Dier says the club's packed schedule is a danger to player welfare as they face the possibility of nine matches in 21 days.




BBC News - Published





'When new signing completes puzzle, it's great for the team' - Mourinho won't speculate on Bale

Manager Jose Mourinho refuses to speculate on Tottenham being in talks with Gareth Bale, and describes his squad as a puzzle.




BBC News - Published





Real Madrid's Gareth Bale 'Close' to Tottenham Hotspur and Not Manchester United

Gareth Bale's agent says the Real Madrid forward is "close" to a move back to Tottenham Hotspur but admitted it is a complicated deal to thrash out. The Wales international has been frozen out by Real..




WorldNews - Published





Bale's agent confirms he wants to return to Spurs

Gareth Bale wants to leave Real Madrid and return to Tottenham, according to the player's agent Jonathan Barnett. Over the past 18 months, the Welshman has fallen down the pecking order at Real Madrid,..




WorldNews - Published





Gareth Bale: Tottenham Hotspur in talks to re-sign Wales star from Real Madrid

Tottenham Hotspur are in talks to re-sign Wales forward Gareth Bale from Real Madrid.




BBC News - Published





'It's where he wants to be' - Tottenham in talks to re-sign Bale

Tottenham Hotspur are in talks to re-sign Wales forward Gareth Bale from Real Madrid.




BBC News - Published





Women's Super League: Which star signing will have the biggest impact?

As Alex Morgan's move to Tottenham concludes a busy Women's Super League transfer window, BBC Sport looks at the best signings of 2020.




BBC News - Published





Tottenham 0-1 Everton: James Rodriguez shows Spurs what they are missing - Jermaine Jenas analysis

MOTD2 pundit Jermaine Jenas is impressed by Everton but left confused and disappointed by Tottenham's performance in their season opener.




BBC News - Published





Monday's gossip: Tottenham interested in Southampton's Ings

Spurs interested in Ings, Man Utd could get bale for £18.5m, Eriksen could leave Inter, plus more.




BBC News - Published





Jose Mourinho: Tottenham boss says a number of players had Covid-19 over summer

Speaking after a season-opening defeat by Everton, Tottenham boss Jose Mourinho says a number of his players had coronavirus over the summer.




BBC News - Published





Tottenham Hotspur 0-1 Everton: Dominic Calvert-Lewin heads winner against Spurs

Dominic Calvert-Lewin's brilliant header ensures new-look Everton make a flying start to the Premier League season with victory at Tottenham.




BBC News - Published





Everton start with win as Calvert-Lewin sinks Tottenham

Dominic Calvert-Lewin's brilliant header ensures new-look Everton make a flying start to the Premier League season with victory at Tottenham.




BBC News - Published





Meet Alex Morgan - Tottenham's new USA striker who 'transcends her sport'

After signing for Tottenham Hotspur, BBC Sport assesses USA striker Alex Morgan's status as one of the game's greats.




BBC News - Published




Tottenham to sign USA World Cup winner Morgan

United States forward Alex Morgan is poised to join Women's Super League side Tottenham Hotspur on a short-term deal




BBC News - Published





Tottenham Hotspur: Jose Mourinho 'honestly believes' he will sign a striker

Tottenham manager Jose Mourinho says he "honestly believes" the club will sign a striker in the transfer window.




BBC News - Published




Europa League draw: Tottenham to face Lokomotiv Plovdiv

Tottenham are drawn away to Bulgarian side Lokomotiv Plovdiv in the second round of Europa League qualifying.




BBC News - Published





Matt Doherty: Tottenham sign defender from Wolves

Tottenham Hotspur sign right-back Matt Doherty from Premier League rivals Wolverhampton Wanderers on a four-year deal.




BBC News - Published