Edmonton
Provincial capital city in Alberta, Canada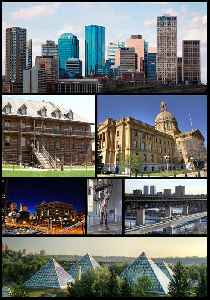 Edmonton is the capital city of the Canadian province of Alberta. Edmonton is on the North Saskatchewan River and is the centre of the Edmonton Metropolitan Region, which is surrounded by Alberta's central region. The city anchors the north end of what Statistics Canada defines as the "Calgary–Edmonton Corridor".


You Might Like
Minnesota Wild's Matt Dumba kneels during anthem after giving anti-racism speech
Speaking in Edmonton before a playoff game, Minnesota Wild defenseman Matt Dumba said, "Racism is everywhere, and we need to fight against it."
USATODAY.com - Published
NHL is back: Best of the Stanley Cup playoffs qualifying round
NHL's Stanley Cup playoffs qualifying round gets underway in Toronto and Edmonton.
USATODAY.com - Published
Edmonton shooting: Man killed in street
No arrests have been made over the shooting, which happened on a road in Edmonton.
BBC News - Published
Demand that Korean Airlines stop shipping live horses to slaughter
Every year, approximately 7000 horses are transported by air from Edmonton, Calgary and Winnipeg (Canada) to Japan. These shipments are often conducted monthly or more often, with up to three to four..
WorldNews - Published
Inside NHL return: How league plans to decide Stanley Cup champion amid pandemic
The NHL is hoping the precautions it is taking at training camp and at hub cities in Toronto and Edmonton will allow it to award the Stanley Cup.
USATODAY.com - Published
NHL, players approve plan to resume season, extend CBA
Pro hockey's return is potentially three weeks away, and with it an assurance of labor peace through September 2026. In separate votes announced Friday, the NHL's Board of Governors and members of..
WorldNews - Published
Edmonton: Feeding the community from my allotment
One woman from Edmonton uses the food from her allotment to feed her neighbours.
BBC News - Published
Canadian PM Justin Trudeau promises answers to families of Iran plane crash victims
Justin Trudeau has said the Canadian government "will not rest until we get answers" into the downing of a Ukrainian passenger plane by an Iranian missile. All 176 people on board the flight from..
WorldNews - Published
Canada's Trudeau to attend Iran crash victim memorial in hard-hit Edmonton
Canadian Prime Minister Justin Trudeau is set on Sunday to attend what is expected to be the country's largest memorial to the victims of a Ukrainian airliner shot down in Iran in a disaster that..
Reuters - Published
McDonald's get their scampi in a bunch over burger joint's Effing Filet O' Fish
When the fast-food giant's lawyers swooped on a small Canadian restaurant over its fish burger, the response was pithy When Canadian chef Paul Shufelt decided to market a new burger at his Edmonton..
WorldNews - Published
Online critics poke fun at Canada 'warship' library
Edmonton residents say the new building looks like "a land-locked ship converted to a library".
BBC News - Published