Arctic
Polar region of the Earth's northern hemisphere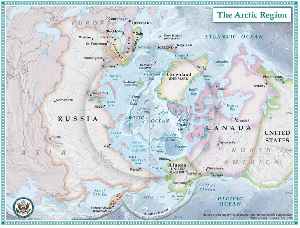 The Arctic is a polar region located at the northernmost part of Earth. The Arctic consists of the Arctic Ocean, adjacent seas, and parts of Alaska, Canada, Finland, Greenland (Denmark), Iceland, Norway, Russia, and Sweden. Land within the Arctic region has seasonally varying snow and ice cover, with predominantly treeless permafrost containing tundra. Arctic seas contain seasonal sea ice in many places.


Drone footage shows extent of Arctic ice loss

Stunning drone footage shows the extent of ice loss in the Arctic Circle where climate change has driven up temperatures. This report produced by Yahaira Jacquez.
Credit: Reuters Studio Duration: 02:23
Published
Do The Arctic A Favor: Stop Washing Your Jeans

When a team of scientists was collecting microplastic samples from the Canadian Arctic archipelago and the Great Lakes, they noticed something odd. They saw that the samples were littered with tiny..
Credit: Wochit News Duration: 00:44
Published
Woolly mammoth skeleton found in Russia's Arctic

Russian scientists are poring over the stunningly well-preserved bones of an adult wooly mammoth that roamed the earth at least 10,000 years ago, after local inhabitants discovered its remains in the..
Credit: Reuters Studio Duration: 01:13
Published
Why The Arctic Is Exploding Into Flames

Average temperatures in Siberia were 18 degrees Fahrenheit above average last month. According to HuffPost, the exceptional heat has fanned devastating fires in the Arctic Circle. It's also contributed..
Credit: Wochit News Duration: 00:40
Published
All eyes on the Arctic: US, China and Russia race to control far north

As the Arctic ice sheet melts, the United States, Russia and China are racing for a share of the region's energy and mineral resources.View on euronews
Credit: euronews (in English) Duration: 01:51
Published
You Might Like



Climate change emerges as a top election issue

With historic wildfires burning in the West, another hurricane bearing down on the Gulf Coast, and Arctic ic melting at a record rate, climate change is resurfacing as a top issue on the presidential..




CBS News - Published





Large chunk of ice breaks off Arctic ice shelf in Greenland

A 42-mile stretch of Nioghalvfjerdsfjorden, the Arctic's largest remaining ice shelf, has broken off and shattered near Greenland. Recent record temperatures have hit the shelf particularly hard. CBS..




CBS News - Published





Bear from Ice Age found 'completely preserved' in Russian Arctic

The ancient bear, unearthed by reindeer herders, has been hailed as a find of "great importance".




BBC News - Published





Section of largest remaining Arctic ice shelf shatters

"The atmosphere in this region has warmed by approximately 3°C since 1980 and record-breaking temperatures have been observed in 2019 and 2020," says researcher Dr. Jenny Turton.




CBS News - Published





Perfectly preserved Ice Age cave bear found in Arctic Russia

Reindeer herders in a Russian Arctic archipelago have found an immaculately preserved carcass of an Ice Age cave bear, researchers said Monday.The find, revealed by the melting permafrost, was..




New Zealand Herald - Published





Climate change: Dismay as huge chunk of Greenland's ice cap breaks off

An enormous chunk of Greenland's ice cap has broken off in the far northeastern Arctic, a development that scientists say is evidence of rapid climate change.The glacier section has an area of 110km..




New Zealand Herald - Published





Climate change: Warmth shatters section of Greenland ice shelf

A big chunk of ice has just broken away from the Arctic's largest remaining ice shelf - 79N, or...




WorldNews - Published

Also reported by •BBC News


Go read this story of how a dress code exposed inequality on an Arctic research mission

An ice floe in the Arctic Ocean. | Photo by: Arterra/Universal Images Group via Getty Images A few weeks into an Arctic research mission, women on board a Russian icebreaker were directed to think..




The Verge - Published





"Zombie fires" spark highest-ever carbon emissions in Arctic

Scientists said the smoke plumes were so large, they covered the equivalent of more than one-third of Canada.




CBS News - Published





Winter ice in the Bering Sea is doomed to disappear within decades

A study of winter sea ice in the Bering Sea over the past 5500 year suggests that all the ice will be lost within decades, with knock-on effects for the Arctic ......




WorldNews - Published





Are warmer Arctic temperatures behind extreme winter weather?

It has been a winter of extremes with record-low temperatures and heavy snowfall across the U.S. Scientists are pointing to the new movement of the jet stream, and how it has been slowed by rising..




CBS News - Published





Arctic cold returning to Midwest

A new cold front is driving temperatures downward. Some cities will be below zero by Monday evening. Eric Fisher, chief meteorologist of CBS Boston station WBZ, reports on the weather changes.




CBS News - Published





Climate crisis: Arctic could be free of sea ice by 2035, latest climate model predicts

Around 127,000 years ago, during the last interglacial period, temperatures in the Arctic rose to around 2 - 6C above what they are today, eventually melting...




WorldNews - Published





Milne Ice Shelf: Satellites capture Arctic ice split

The Planet Earth-observation company releases new imagery of Canada's broken Milne Ice Shelf.




BBC News - Published





Canada's last intact Arctic ice shelf has collapsed

A 4,000-year-old chunk of ice larger than the size of Manhattan has collapsed into the Arctic Ocean.




CBS News - Published

Also reported by •USATODAY.com


Climate crisis: Canada's last fully intact Arctic ice shelf 'disintegrates' amid intense rising temperatures

The last fully intact ice shelf in the Canadian Arctic has collapsed, losing more than 40 per cent of its area in just two days at the end of July, researchers...




WorldNews - Published





The amount of Arctic sea ice melted away to a record low for the month of July

Sea ice affects Arctic wildlife and helps regulate the planet's temperature. July's totals hit a record low, scientists say.




USATODAY.com - Published




Arctic tents being set up in Ladakh

India is looking to restart the stalled troop disengagement process in eastern Ladakh with China, but is clearly taking no chances by also constructing insulated shelters and procuring foreign and..




IndiaTimes - Published





Iceland wants to shield Arctic from rising US-China tensions: PM

Iceland wants to protect the Arctic from rising global tensions between the...




WorldNews - Published





AP Top Stories July 21 P

Here's the latest for Tuesday, July 21st: White House defends use of federal troops in Portland; US accuses hackers of stealing COVID data; Astronauts prepare for return to earth; Arctic polar bears..




USATODAY.com - Published





Climate change may push polar bears to the brink of extinction within 100 years, study says

All but a few polar bears in the Arctic will likely be gone by the end of the century unless measures are taken to reduce global warming, study says.




USATODAY.com - Published




Polar Bears May Be Extinct by 2100 and We Only Have Climate Change to Blame

Climate change is starving polar bears into extinction, according to research published Monday that predicts the apex carnivores could all but disappear within the span of a human lifetime. In some..




WorldNews - Published





Global Warming Is Driving Polar Bears Toward Extinction, Researchers Say

By century's end, polar bears worldwide could become nearly extinct as a result of shrinking sea ice in the Arctic if climate change continues unabated, scientists said.




NYTimes.com - Published





Siberia's heatwave 'effectively impossible' without climate change - scientists

The heatwave which has hit Siberia over the last six months would have been "effectively impossible" without climate change caused by humans, scientists have found. The region has been experiencing..




WorldNews - Published





The Russian whistleblower risking it all to expose the scale of an Arctic oil spill catastrophe

Norilsk, Russia (CNN)Vasily Ryabinin stands on the banks of the River Daldykan and pushes a long stick into the blood-orange sludge. Raising the stick, he puts a lighter to it and it ignites it like a..




WorldNews - Published





Esa and Nasa line up satellites to measure Antarctic sea-ice

At present, scientists use really quite old climatology models to gauge the likely depth of snow cover when observing sea-ice in both the Arctic and the Antarctic. And while these models still work..




WorldNews - Published





Climate crisis: Thawing Arctic permafrost could release deadly waves of ancient diseases, scientists suggest

In the last fortnight a devastating heatwave has seen temperatures in Siberia reach a record 38C (100.4F), meanwhile, vast fires are burning,...




WorldNews - Published





Nornickel: Russia probes new pollution at Arctic mining firm

Workers are suspended after waste water, said to contain heavy metals, was pumped into the wilderness.




BBC News - Published





The Arctic is on fire: Siberian heat wave alarms scientists

The Arctic is feverish and on fire—at least parts of it are. And that's got scientists worried about what it means for the rest of the world. ......




WorldNews - Published





Temperature surpasses 100 degrees Fahrenheit in Arctic Russian town

MOSCOW — A Siberian town with the world's widest temperature range has recorded a new high amid a heat wave that is contributing to severe...




WorldNews - Published





Climate Point: Russia spills oil in the Arctic; fossil fuels are labeled 'white supremacy'

And another thing: The rooftop solar industry is in a fight for its life.




USATODAY.com - Published





Russian Arctic oil spill pollutes big lake near Norilsk

There is a risk that tonnes of diesel oil could drift from the lake to the Arctic Ocean.




BBC News - Published





Fuel from Russian Arctic spill reaches large lake, says governor

Diesel fuel from a major spill in Russia's Arctic has reached a pristine lake which is the basin for a river flowing into the Arctic Ocean, a regional official said on Tuesday, but the mining giant..




Reuters - Published





Vladimir Putin lambasts billionaire over oil spill in Arctic region

Russian President Vladimir Putin chastised the billionaire owner of a nickel giant for negligence over a massive fuel oil spill that has inflicted huge damage on a fragile Arctic region. An estimated..




WorldNews - Published





Putin chides Nornickel, orders law change after Arctic fuel spill

Russian President Vladimir Putin chided the billionaire boss of Norilsk Nickel on Friday over a huge Arctic fuel spill and ordered changes to the law to try to prevent such a disaster from happening..




Reuters - Published





Russia's Nornickel says it will pay for clean-up after fuel spill

Russian mining giant Norilsk Nickel will fully finance the clean-up operation after a major fuel spill in the Arctic and sees it costing around 10 billion roubles ($145 million), the company's..




Reuters - Published





Kremlin dismisses talk of ousting Nornickel President after fuel spill

The Kremlin dismissed on Friday the idea of ousting Norilsk Nickel President Vladimir Potanin after a Russian lawmaker said he should go following an Arctic fuel spill late last month.




Reuters - Published





Kremlin shrugs off speculation of Nornickel nationalisation after fuel spill

The idea of forcing out Norilsk Nickel president Vladimir Potanin, raised by one Russian lawmaker after an Arctic fuel spill, is unacceptable, Kremlin spokesman Dmitry Peskov told reporters on Friday.




Reuters - Published





Fuel leak risk at Arctic mining site flagged by Russia years before spill: RBC

A Russian safety watchdog warned a subsidiary of mining giant Norilsk Nickel in 2017-2018 about dozens of violations at a fuel site in the Arctic where a huge leak of diesel fuel occurred last week,..




Reuters - Published





Putin backs state of emergency in Arctic region over fuel spill in river

Russian President Vladimir Putin approved a state of emergency in the Arctic city of Norilsk on Wednesday after a huge leak of fuel into a river and upbraided a senior official on television over what..




Reuters - Published





Russian village building LNG supply plant to get new hospital after COVID-19 outbreak

Russia's Arctic region of Murmansk plans to build a new temporary hospital in a village where a vital liquefied natural gas supply plant is being built after an outbreak of the new coronavirus.




Reuters - Published





Snow and Cold in May: A 'Nerve-Racking' Time for Growers

The coronavirus pademic was already making life on the farm unpredictable, and then came an Arctic blast.




NYTimes.com - Published





Unusual Mother's Day weather: Two-thirds of the US face record cold and snow while a heat wave blasts the West

Mother's Day will bring Arctic blasts, wintry conditions and records low temperatures for two-thirds of the US. Meanwhile, a heat wave will hit Alaska




USATODAY.com - Published




UK weather forecast: Warm weather until large temperature drop on weekend

Cold air from Arctic will bring sharp end to warm spell




Independent - Published





Two men and a dog chasing an Arctic dream in a lifeboat

Two architects bought a retired Scottish ferry lifeboat and converted it for the adventure of a lifetime.




BBC News - Published





'Rather unusual' ozone hole over the Arctic has closed, United Nations says

A "record level" ozone hole that appeared over the Arctic in March has now closed, the UN World Meteorological Organisation says.




SBS - Published





Russian envoy to Denmark says U.S. provokes Arctic peace

Russia's ambassador to Denmark has accused Washington of provoking confrontation in the Arctic in order to achieve dominance in a region where Moscow has invested heavily.




Reuters - Published





US extends economic aid to Greenland to counter China, Russia in Arctic

The United States announced a $12.1 million economic aid package for Greenland on Thursday aimed at strengthening mutual ties and boosting a renewed U.S. push for a greater military presence in the..




Reuters - Published




U.S. economic aid to Greenland draws criticism in Denmark

An economic aid package being prepared by the U.S. government to Greenland is drawing criticism in Denmark less than a year after it rebuffed U.S. President Donald Trump's offer to buy the vast Arctic..




Reuters - Published