Pedro Almodóvar
Spanish filmmaker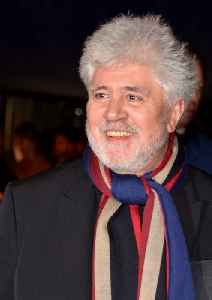 Pedro Almodóvar Caballero is a Spanish filmmaker, director, screenwriter, producer, and former actor.


You Might Like
Almodovar wins big in Spain
Pedro Almodovar won 3 accolades at the Goya Awards in Spain for his film "Pain and Glory," with his leading actor, Antonio Banderas, also scooping the best actor award for his performance in the same..
USATODAY.com - Published
Almodovar and Baumbach's Oscar anticipation
On the red carpet for the AARP Awards in Beverly Hills, directors Noah Baumbach and Pedro Almodovar talk about what an Oscar nomination would mean to them. (Jan. 13)  
USATODAY.com - Published
Review: Pedro Almodóvar's "Pain and Glory"
Antonio Banderas is terrific as a film director who has withdrawn into himself as he feels the increasing physical deprivations of age, and delves into memories and regrets, only to find a surprising..
CBS News - Published
Highlights from the 2019 New York Film Festival
The 57th edition of the Gotham film event features tantalizing news works by directors Martin Scorsese, Pedro Almodóvar, Bong Joon-ho, and Agnès Varda
CBS News - Published
Antonio Banderas' heart attack influenced new role
Antonio Banderas says his emotional state from having a heart attack a few years ago influenced his award-winning performance in the Pedro Almodovar film, 'Pain and Glory.' Banderas won the best..
WorldNews - Published
Search this site and the web: