Parliament
Legislative body of government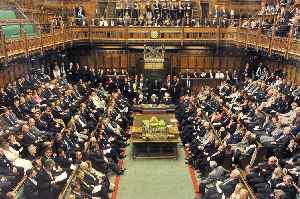 In modern politics and history, a parliament is a legislative body of government. Generally, a modern parliament has three functions: representing the electorate, making laws, and overseeing the government via hearings and inquiries. The term is similar to the idea of a senate, synod or congress, and is commonly used in countries that are current or former monarchies, a form of government with a monarch as the head. Some contexts restrict the use of the word parliament to parliamentary systems, although it is also used to describe the legislature in some presidential systems, even where it is not in the official name.


Katie Price calls for online trolling to be made criminal offence

Giving evidence to the Petitions Committee as part of its Parliamentary inquiry into online abuse, Katie Price spoke of the abuse directed online at her disabled son Harvey. The TV star wants a new UK..
Credit: PA - Press Association STUDIO Duration: 00:58
Published
Amarinder Singh backs Rahul Gandhi for Parliament debate on China after Amit Shah's remark

Punjab Chief Minister Captain Amarinder Singh on June 29 replied to Home Minister Amit Shah's acceptance of Congress' Rahul Gandhi's parliament debate challenge to Prime Minister Narendra Modi. Singh..
Credit: ANI Duration: 01:36
Published
Tejaswhi Yadav fumes after RJD not invited to all-party meeting on China situation

Bihar's Leader of Opposition, Tejashwi Yadav, on RJD not being invited to all-party's meeting on India-China face off demanded an answer from Rajnath Singh. He said, "Rashtriya Janata Dal is the..
Credit: ANI Duration: 01:11
Published
PM departs Downing St ahead of statement in Commons

Prime Minister Boris Johnson departs 10 Downing Street for Parliament where he is set to make a statement. Report by Alibhaiz. Like us on Facebook at http://www.facebook.com/itn and follow us on..
Credit: ODN Duration: 00:20
Published
PoK will demand that they want to be with India: Rajnath Singh

Union Defence Minister, Rajnath Singh on June 14 hinted Parliament's goal in his virtual rally at Jammu. The minister said, "Just wait, soon people of Pakistan occupied Kashmir (PoK) will demand that..
Credit: ANI Duration: 02:30
Published
Nepal's lower house passes new map which includes India's Kalapani, Lipulekh

Nepal's lower houses of Parliament on June 13 passed a controversial bill which validate country's claim on Indian territory. The lower house passed an amendment to redraw the new map including Indian..
Credit: ANI Duration: 01:25
Published
Government announces there will be no extension to EU transitional period

Paymaster General Penny Mordaunt told Parliament the Government will not be extending the transitional period with the EU despite a current deadlock in negotiations.
Credit: PA - Press Association STUDIO Duration: 01:18
Published
Nepal tables bill in Parliament to formalise new map which claims parts of India

Nepal government tabled a Constitution amendment bill in parliament to formalise new map of the country which claims parts of Indian territory as its own amid border dispute with India.The bill was..
Credit: ANI Duration: 01:47
Published
PM Oli: Nepal will reclaim Lipulekh, Kalapani, Limpiyadhura from India

Prime Minister KP Sharma Oli on Tuesday asserted that Lipulekh, Kalapani, and Limpiyadhura belong to Nepal and vowed to "reclaim" them from India through political and diplomatic efforts, as his..
Credit: ANI Duration: 03:31
Published
King upholds Muhyiddin as Malaysia PM in brief Parliament sitting

All but state media barred from session, first since Muhyiddin took power, with king's speech only item on agenda.
Credit: Al Jazeera STUDIO Duration: 02:20
Published
Inside Parliament: How MPs practise social distancing

Parliament has been transformed in a matter of weeks to allow MPs to virtually sit in the House of Commons during the coronavirus pandemic. Report by Jonesia. Like us on Facebook at..
Credit: ODN Duration: 01:15
Published
Florence Nightingale projected onto Parliament to celebrate 200th anniversary

Parliament celebrated the 200th anniversary of the birth of the founder of modern nursing by projecting an image of Florence Nightingale on to the Palace of Westminster. St Thomas' Hospital across..
Credit: PA - Press Association STUDIO Duration: 00:32
Published
Boris Johnson outlines new coronavirus plan in Parliament

Prime Minister Boris Johnson discusses his plan to ease lockdown during the coronavirus pandemic in Parliament.
Credit: PA - Press Association STUDIO Duration: 01:21
Published
You Might Like



ITDC enters race for offering catering services to Parliament canteens




IndiaTimes - Published





Syama Prasad Mookerjee would've been proud about Article 370 abrogation: Harsh Vardhan

"Mookerjee will be very proud today that the members of the party formed by him played a key role in the abrogation of Article 370 in the Parliament. The country will always remain thankful to PM..




IndiaTimes - Published





Parliament's monsoon session likely in August end, early September; consensus on hybrid session




IndiaTimes - Published





Congress launches protest against Modi govt over fuel price hike, MPs cycle to Parliament, demand roll back




IndiaTimes - Published





Online 'pandemic of misinformation' poses existential threat to UK's democracy, report says

Parliamentary committee calls for fines of up to 4% of global turnover for tech giants which fail to stem inaccurate content




Independent - Published





'He is speaking goons' language': Chhattisgarh CM on Amit Shah 'do-do haath ho jayein' remark

He was referring to Amit Shah's statement challenging Rahul Gandhi for a debate in Parliament on Indo-China conflict since 1962.




DNA - Published





Rahul indulging in 'shallow minded politics', ready for 'robust debate' in Parliament on China: Amit Shah

Union Home Minister Amit Shah has accused Congress leader Rahul Gandhi of doing "ochhi rajniti" (shallow minded politics) and making remarks "liked by" China and Pakistan during border tensions with..




IndiaTimes - Published





Congress seeks virtual Parliament session to discuss LAC stand-off

The Congress on Thursday demanded that the government convene a virtual session of Parliament to discuss important issues before the country, especially the border standoff with China.




IndiaTimes - Published




Covid 19: Prospect of monsoon session bleak

While the monsoon session of Parliament could be delayed depending on the situation arising out of the Corona pandemic, some of the House activity is set to resume, with parliamentary committee..




IndiaTimes - Published





Opposition MPs demand Parliament panel meeting, briefing by foreign secretary on Galwan incident; BJP members oppose




IndiaTimes - Published





Canada's Trudeau backs opposition leader kicked out of Parliament in racism row

Canadian Prime Minister Justin Trudeau on Thursday backed the leader of an opposition party who was ejected from the House of Commons for branding a member of another party a racist and refusing to..




Reuters - Published





Cong playing politics, Govt will reply on India-China standoff in Parliament: Ladakh MP Jamyang Tsering Namgyal

Member of Parliament from Ladakh Jamyang Tsering Namgyal on Thursday attacked Congress for politicising the India-China standoff and said that the government is not silent on this matter but believes..




IndiaTimes - Published





Parliament's monsoon session likely to be a virtual affair




IndiaTimes - Published





PM must call Parliament session to discuss infiltration of Chinese troops on Indian territory: Digvijaya Singh




IndiaTimes - Published





Ahead of monsoon session of Parliament, RS Chairman, LS Speaker discuss alternate seating, virtual sessions




IndiaTimes - Published





2 floors of Parliament Annexe building sealed after official tests positive for Covid-19

A Rajya Sabha Secretariat official tested positive for Covid-19 on Friday, the fourth such case reported in the Parliament complex so far. Two floors of the Parliament's Annexe building have been..




IndiaTimes - Published





Oli's proposal to validate new map delayed in face of shaky numbers in Parliament

The Nepal government's proposal for a constitutional amendment to revise the nation's map in the national emblem has run into rough weather despite PM K P Oli claiming widespread support for his..




IndiaTimes - Published





China kicks off delayed Parliament session

China kicked off its delayed annual Parliament session on Friday with the government avoiding to set any specific target for this year's GDP, citing uncertainties arising out of the Covid-19 pandemic,..




WorldNews - Published





Lockdown Threatens Future of Shakespeare's Globe Theater

In a letter to Parliament, the theater warned that it was in danger of closing if it did not receive emergency funding from the government to make up for lost revenue.




NYTimes.com - Published





Italian Member of Parliament explains the TRUTH to Parliament about the REAL Italian Covid Numbers, No Censorship

AT LEAST SOME REFRESHING HONESTY IN THIS WORLD. WORLD NEWS TEAM...




WorldNews - Published





68th anniversary of Parliament sitting: VP Naidu, Speaker Om Birla recall historic day




IndiaTimes - Published





Treasurer to detail economic boost from easing coronavirus restrictions as Parliament returns

The first month of easing coronavirus restrictions should lead to more than 250,000 Australians back in jobs, Treasurer Josh Frydenberg will tell parliament.




SBS - Published




Parliament officials to explore if committee meetings can be held via video conference

This comes in view of demands from various members of Parliament (MP) for holding such meetings through video conference amid the Covid-19-induced lockdown. The secretary generals have been asked by..




IndiaTimes - Published





CPWD pushed for new Parliament as 'utmost important' project amid Covid-19 concerns




IndiaTimes - Published





'Hopeful of 'normal schedule' for next session of Parliament': Venkaiah Naidu




IndiaTimes - Published





Next session of Parliament depends on ground situation: Vice President Naidu




IndiaTimes - Published





Govt hid wilful defaulters in Parliament, alleges Rahul Gandhi




IndiaTimes - Published





Coronavirus: Parliament to return 21 April, government says

Parliament will return after the Easter recess, the government confirmed on Sunday, a day after cross-party calls for the immediate recall of the house.




Independent - Published





Labor makes last-minute pitch to include casuals in $130 billion JobKeeper scheme

As Parliament returns to pass $130 billion in wage subsidies for workers hit by the economic shock-wave of coronavirus - Labor is pushing for changes to ensure 1.1 million casuals don't miss out.




SBS - Published





Government urged to include casuals in $130 billion wage subsidy plan

As Parliament returns to pass $130 billion in wage subsidies for workers hit by the economic shock-wave of coronavirus - Labor is pushing for changes to ensure 1.1 million casuals don't miss out.




SBS - Published




After 30% salary cut, MPs to lose another Rs 27,000 per month in allowances

Members of Parliament will now also have to forfeit a total of Rs 27,000 per month from their constituency allowance and office allowance, according to government orders. This is besides the 30 per..




IndiaTimes - Published





Trudeau calls for 'Team Canada' effort, wants lawmakers to back coronavirus package

Prime Minister Justin Trudeau called on Wednesday for a "Team Canada effort" to beat the coronavirus outbreak, saying Parliament should be brought back so all legislators could approve a massive aid..




Reuters - Published




Coronavirus: Parliament should be able to operate 'virtually' during crisis, says Speaker

'MPs are being swamped right now with questions and case work from distressed constituents who need answers,' says Sir Lindsay Hoyle




Independent - Published





Canada's Trudeau wants to recall MPs to back massive coronavirus aid package

Canadian Prime Minister Justin Trudeau said on Wednesday he wanted to recall Parliament so legislators could approve a massive aid package he called "the biggest economic measures of our lifetimes".




Reuters - Published





Government abandons boundary shakeup to cut number of MPs to 600

'Parliament will have a greater workload' after Brexit, says minister




Independent - Published





Lok Sabha adjourned sine die amid coronavirus outbreak, Raya Sabha likely to follow

Many opposition parties had questioned the government on allowing the Parliament to function despite the coronavirus outbreak.




DNA - Published





Parliament adjourned sine die amid coronavirus outbreak

Many opposition parties had questioned the government on allowing the Parliament to function despite the coronavirus outbreak.




DNA - Published





Parliament opens with COVID-19 restrictions

Parliament has returned for it's first sitting week under COVID-19 restrictions.




SBS - Published





BJP's Dushyant Singh attends Parliament after sharing space with Kanika Kapoor, his colleagues in self-isolation

Former Rajasthan chief minister Vasundhara Raje announced on Friday that she and her son Dushyant were self-isolating themselves as they had attended a party last week with singer Kanika Kapoor who has..




DNA - Published





MPs who shared space with BJP MP Dushyant Singh go for self-quarantine

Several members of Parliament including TMC's Derek O'Brien and Apna Dal's Anupriya Patel on Friday went into self-quarantine following the announcement by BJP MP Dushyant Singh and his mother former..




IndiaTimes - Published





Parliament will be convened from 2pm onwards on March 23




IndiaTimes - Published





Ranjan Gogoi reaches Parliament, set to take oath as Rajya Sabha MP




IndiaTimes - Published





New Zealand passes law decriminalising abortion

Parliament's vote to remove the procedure from the Crimes Act changes a law in force since 1977.




BBC News - Published





Congress seeks law for protection of journalists, raises issue in Parliament




IndiaTimes - Published





PM snubs MPs: House can't be adjourned during crisis

Prime Minister Narendra Modi on Tuesday took a dim view of the suggestion to adjourn Parliament because of the coronavirus outbreak and said MPs should not be seen as abdicating their responsibility as..




IndiaTimes - Published





PM Modi says Parliament session to continue till April 3, asks MPs to raise COVID-19 awareness

Prime Minister Narendra Modi on Tuesday, addressing the BJP's Parliamentary party meet, said that Parliament will run till April 3 and expressed disappointment over missives by some MPs asking for..




IndiaTimes - Published





Hirdesh Kumar appointed as new Chief Electoral Officer of Jammu & Kashmir

The Jammu and Kashmir legislative assembly had 87 active seats including 4 seats of Ladakh before Parliament passed the Jammu and Kashmir Reorganisation Act on August 5, 2019.




DNA - Published





Hungary to shut borders to international passengers to fight coronavirus: PM

Hungary will close its borders for international passengers, close cultural and sports events and establishments and limit the opening hours of restaurants, Prime Minister Viktor Orban told Parliament..




Reuters - Published





Parliament starts thermal screening of visitors amid coronavirus scare

Amid COVID-19 scare, security at Parliament has started thermal screening of visitors at all its entrances on Monday. With coronavirus being declared a pandemic by the World Health Organisation, the..




IndiaTimes - Published





Will go to Parliament, raise voice on 370, says Farooq

Release Comes Amid Reports Of Outreach




IndiaTimes - Published