Pep Guardiola
Spanish professional association football player and manager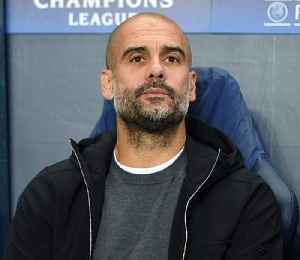 Josep "Pep" Guardiola Sala is a Spanish professional football manager and former player, who is the current manager of Premier League club Manchester City. He is considered to be one of the greatest managers of all time and holds the record for the most consecutive league games won in La Liga, the Bundesliga and the Premier League.


Pep Guardiola hails Manchester City's 'important' win over Arsenal

*Quality as incoming* Man City boss Pep Guardiola and Arsenal counterpart Mikel Arteta hold press conferences following Man City's 1-0 victory over Arsenal. Guardiola defended striker Sergio Aguero..
Credit: PA - Press Association STUDIO Duration: 01:14
Published
Manchester City sign Portugal defender Dias from Benfica

Pep Guardiola's new defender will strengthen back line and he says he loves to win
Credit: Reuters - Sports Duration: 01:42
Published
Wolves 1-3 Man City: Press conference with Pep Guardiola

Post-match press conference with Man City manager Pep Guardiola after hisside's 3-1 victory against Wolves at the Molineux Stadium. City impressed inthe win as Kevin De Bruyne, Phil Foden and Gabriel..
Credit: PA - Press Association STUDIO Duration: 00:39
Published
Pep Guardiola on almost signing Messi

Manchester City boss Pep Guardiola responds to claims of his side almostsigning Lionel Messi and their record goalscorer Sergio Aguero missingMonday's Premier League season opener at Wolves.
Credit: PA - Press Association STUDIO Duration: 00:47
Published
Manchester City: 2020/21 season in preview

A look ahead to Manchester City.'s 2020-21 season as Pep Guardiola begins hisfifth season at the Etihad. Despite relinquishing their Premier League crown,City's main goal will still be the elusive..
Credit: PA - Press Association STUDIO Duration: 00:48
Published
You Might Like



Man Utd have £91m Sancho bid rejected - Wednesday's football gossip

Manchester United have another bid rejected for Jadon Sancho, Pep Guardiola wants a new left-back at Manchester City, plus more.




BBC News - Published





Wolves 1-3 Manchester City: Pep Guardiola's side start with away win

Manchester City hold off a second-half Wolves comeback to begin their quest to regain the Premier League title with a win at Molineux.




BBC News - Published





Pep Guardiola: Man City boss says he has to 'deserve' a new deal

Manager Pep Guardiola says he needs to "deserve" an extension to his Manchester City contract rather than just be handed one.




BBC News - Published





Man City's Aguero could be out for two months, says Guardiola

Manchester City manager Pep Guardiola fears Sergio Aguero could miss the first two months of the Premier League season.




BBC News - Published





Messi contacted Guardiola before Barca transfer request - Friday's gossip

Lionel Messi tipped off Pep Guardiola over transfer request, Real put price tag on Serge Reguilon, Chelsea set to complete Kai Havertz deal, plus more.




BBC News - Published





Lyon stun Guardiola's Man City to reach Champions League semis

Moussa Dembele came off the bench to score two late goals as Lyon caused another Champions League sensation on Saturday, dumping out Pep Guardiola's Manchester City with a 3-1 quarter-final win in..




WorldNews - Published





Manchester City: 'This season has simply not been good enough' - European exit reaffirms faults

BBC's chief football writer Phil McNulty looks at what went wrong for Manchester City against Lyon and what now for Pep Guardiola's side.




BBC News - Published





Dembele's late double knocks Man City out of Champions League

Manchester City's Champions League dream is over for another year as Lyon stun Pep Guardiola's side to reach the semi-finals.




BBC News - Published





Man City v Lyon

Man City boss Pep Guardiola hopes his side's domestic cup success will help them when they face Lyon in the last eight of the reformatted Champions League on Saturday.




BBC News - Published





Champions League: Manchester City striker Sergio Aguero to miss Lyon quarter-final

Sergio Aguero will miss Manchester City's Champions League quarter-final against Lyon on Saturday through injury, says boss Pep Guardiola.




BBC News - Published





'This feels like Man City's time in the Champions League - now they must deliver'

The manner of their victory over Real Madrid suggests this could be the big moment in the Champions League for Manchester City and Pep Guardiola.




BBC News - Published





Gael Clichy: Ex-Manchester City defender on Manchester United, Pep Guardiola and Turkey

Ex-Arsenal and Man City defender Gael Clichy discusses Man Utd hopes, winning the title in Turkey and following in Pep Guardiola's footsteps.




BBC News - Published





Pep Guardiola: Manchester City boss says overturning Uefa ban not a motivation

Pep Guardiola says Manchester City gain "satisfaction" from qualifying for next season's Champions League and not from overturning their Uefa ban.




BBC News - Published





'I have all the respect for what Arsenal are on the pitch, not much off the pitch'

Manchester City boss Pep Guardiola says he respects Arsenal on the pitch - but he cannot say the same about how the Gunners conduct themselves off it.




BBC News - Published





Pep Guardiola: Man City boss in 'respect' jibe at Arsenal

Manchester City manager Pep Guardiola says he respects Arsenal on the pitch - but "not much off the pitch".




BBC News - Published





Arsenal v Man City: Gunners will challenge under Mikel Arteta, says Pep Guardiola

Pep Guardiola says Mikel Arteta is "creating something unique" at Arsenal and feels the Gunners will challenge for trophies under the Spaniard.




BBC News - Published




David Silva: Manchester City playmaker won't be persuaded to stay, says Pep Guardiola

Manchester City boss Pep Guardiola says he cannot persuade Spanish playmaker David Silva to stay at the club.




BBC News - Published




Pep Guardiola: Manchester City manager says club deserve an apology

Manchester City manager Pep Guardiola says his team deserve an apology after the club successfully overturned their ban from European club competitions.




BBC News - Published





Man City boss Guardiola 'incredibly happy' after Europe ban overturned

Manchester City manager Pep Guardiola says he is "incredibly happy" after the club successfully overturned their ban from European club competitions.




BBC News - Published





Man City Champions League ban: CAS clear Pep Guardiola's club from suspension

Manchester City have been cleared to play in the Champions League after the Court of Arbitration for Sport overturned their two-year ban. On a day that will have far-reaching consequences for...




WorldNews - Published





Guardiola at a loss to explain Man City defeats

Manchester City boss Pep Guardiola says he is struggling to understand why his side have lost nine Premier League games this season.




BBC News - Published




Monday's gossip: Man City could sign Messi if Guardiola leaves

Chelsea to sell six to fund Havertz deal, Arsenal and Napoli lead Saint-Maximin chase, Messi to wait for City, plus more.




BBC News - Published





Manchester City: Pep Guardiola believes club will win appeal against European ban

Manchester City manager Pep Guardiola expects the club to win their appeal against Uefa's two-year ban from European competition.




BBC News - Published





Man City to give Liverpool guard of honour - Guardiola

Pep Guardiola says his Manchester City players will give new Premier League champions Liverpool a guard of honour at Etihad Stadium on Thursday.




BBC News - Published




Guardiola offers 'big congratulations' to Premier League champions Liverpool

Manchester City manager Pep Guardiola says Liverpool played an "extraordinary" Premier League campaign, after City's defeat at Chelsea confirmed the Reds as champions.




BBC News - Published





Liverpool move closer to title

LONDON: Liverpool moved a step closer to the Premier League title with a 4-0 win over Crystal Palace at Anfield last night that moved them within two points of securing the championship. Juergen..




WorldNews - Published





Man City: Pep Guardiola says no need to buy a David Silva replacement because of Phil Foden

Manchester City boss Pep Guardiola says having Phil Foden in his squad means he does not need to buy a replacement for David Silva this summer.




BBC News - Published





Sergio Aguero: Striker's knee injury 'doesn't look good' - Guardiola

The knee injury suffered by Sergio Aguero in Monday's 5-0 win over Burnley "does not look good", says Manchester City boss Pep Guardiola.




BBC News - Published





Leroy Sane to leave Manchester City after turning down contract extension: Pep Guardiola

Manchester City's Germany winger Leroy Sane has turned down the offer of a contract extension and will leave the club, manager Pep Guardiola said on Friday. "Leroy has rejected to extend his..




WorldNews - Published





Leroy Sane: Man City winger wants to leave, says Pep Guardiola

Manchester City winger Leroy Sane wants to leave, says manager Pep Guardiola.




BBC News - Published





Premier League: Manchester City 3-0 Arsenal

Manchester City have beaten Arsenal 3-0 at the Etihad Stadium to keep their slim hopes of winning the title alive in Premier League. Guardiola's men...




WorldNews - Published





David Silva: Manchester City will give midfielder 'big farewell', says Pep Guardiola

Manchester City will invite David Silva back to the club to receive a fitting farewell for his decade of service, says manager Pep Guardiola.




BBC News - Published





Difficult time following mother's death, says Guardiola

Manchester City manager Pep Guardiola says it has been a "difficult time" following the death of his mother Dolores from coronavirus.




BBC News - Published





Arteta has a 'much harder job' on his hands at Arsenal than Lampard does at Chelsea, says Fabregas

Mikel Arteta has a "much harder job" on his hands at Arsenal than Frank Lampard does at Chelsea, according to Cesc Fabregas. Arteta was handed his first senior role in management after being selected..




WorldNews - Published





Spain's coronavirus death pace slows, but agony continues

The pace of new coronavirus deaths in Spain slowed for the fourth day on Monday, but overcrowded crematoria in Barcelona and the death of soccer coach Pep Guardiola's mother showed the national agony..




Reuters - Published




Pep Guardiola's mother dies after contracting coronavirus

Manchester City manager Pep Guardiola's mother, Dolors Sala Carrio, dies aged 82 in Barcelona after contracting coronavirus.




BBC News - Published





Pep Guardiola: Manchester City manager donates 1m euros to fight coronavirus

Manchester City manager Pep Guardiola donates 1m euros to fight the coronavirus outbreak in Spain.




BBC News - Published





Man City manager Guardiola donates 1m euros to coronavirus fight

Manchester City manager Pep Guardiola donates 1m euros to fight the coronavirus outbreak in Spain.




BBC News - Published





Kevin de Bruyne: Man City midfielder a doubt for Manchester derby

Manchester City's Kevin de Bruyne is a doubt for Sunday's derby with Manchester United with a back injury, says boss Pep Guardiola.




BBC News - Published





Man City's domestic success unrivalled after latest Carabao Cup win - Pep Guardiola

Pep Guardiola says Manchester City's domestic success in recent seasons has never been matched after winning a third consecutive Carabao Cup.




BBC News - Published





Real Madrid 1-2 Man City: How Pep Guardiola's plan clinched landmark Champions League win

Pep Guardiola's tactics and a wonderful team performance gave Manchester City the advantage in the first leg of their Champions League last-16 tie with Real Madrid, says ex-City midfielder Michael..




BBC News - Published




Pep Guardiola wants Manchester City 'to believe in themselves' after win over Real Madrid

Pep Guardiola says Manchester City are "not used to doing these things" after they win at Real Madrid for the first time to take control of their Champions League last-16 tie.




BBC News - Published





'We are not used to doing these things' - Guardiola praises landmark Man City win

Pep Guardiola says Manchester City are "not used to doing these things" after they win at Real Madrid for the first time to take control of their Champions League last-16 tie.




BBC News - Published





'Nobody knows what's going to happen' - Guardiola reacts to Sterling's Real Madrid interview

Pep Guardiola says his players are 'free to say what they think' as Raheem Sterling is interviewed by Spanish press about a move to Real Madrid.




BBC News - Published





EPL: Manchester City cruise past West Ham with 2-0 win amid row

Manchester City showed no ill effects from the recent Champions League ban imposed by UEFA, rolling to a comfortable 2-0 victory over West Ham United in late-season Premier League action. The Citizens..




WorldNews - Published





Pep Guardiola to stay at Manchester City despite UEFA ban

Pep Guardiola said he trusts Manchester City's Abu Dhabi ownership "completely" in its bid to overturn a two-year ban from European competitions and that he will be at the club next season "no matter..




WorldNews - Published





Pep Guardiola: 'Truth will prevail' on Manchester City European ban

Manchester City boss Pep Guardiola says he will stay at the club "100%" and believes the "truth will prevail", after City's ban from European competition.




BBC News - Published





Man City boss Guardiola will stay '100%' and says 'truth will prevail' on European ban

Manchester City boss Pep Guardiola says he will stay at the club "100%" and believes the "truth will prevail", after City's ban from European competition.




BBC News - Published