Turkey
Country in Western Asia and Southeastern Europe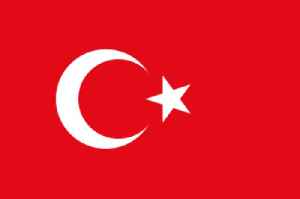 Turkey, officially the Republic of Turkey, is a transcontinental country located mainly on the Anatolian peninsula in Western Asia, with a smaller portion on the Balkan peninsula in Southeastern Europe. East Thrace, the part of Turkey in Europe, is separated from Anatolia by the Sea of Marmara, the Bosporus and the Dardanelles. Istanbul, which straddles Europe and Asia, is the largest city in the country, while Ankara is the capital. Turkey is bordered on its northwest by Greece and Bulgaria; north by the Black Sea; northeast by Georgia; east by Armenia, the Azerbaijani exclave of Nakhchivan and Iran; southeast by Iraq; south by Syria and the Mediterranean Sea; and west by the Aegean Sea. Approximately 70 to 80 percent of the country's citizens identify as Turkish, while Kurds are the largest minority, at between 15 to 20 percent of the population.


Nagorno-Karabakh conflict: Armenia accuses Turkey of military support for Azerbaijan


Credit: FRANCE 24 English Duration: 04:03
Published
Turkey orders arrests over 2014 Kurdish protests

Turkish authorities have ordered the arrest of 82 people including members of a pro-Kurdish opposition party. The warrants are in relation to violent protests from 2014 against the siege by Islamic..
Credit: Reuters Studio Duration: 01:37
Published
Turkey tensions should be dealt with at The Hague, says Cyprus' Foreign Minister

Cyprus has called for sanctions against Turkey over illegal drilling in the Eastern Mediterranean, but is offering a legal alternative.View on euronews
Credit: euronews (in English) Duration: 02:50
Published
REPLAY: Turkey President Recep Tayyip Erdogan's speech at UN General Assembly


Credit: FRANCE 24 English Duration: 25:27
Published
US urges Turkey to back diplomacy amid mounting tensions with Greece in Mediterranean

US Secretary of State Mike Pompeo has urged Turkey to engage in dialogue and take no more actions to increase tensions with Greece in the Eastern Mediterranean.
Credit: Euronews English Duration: 01:50
Published
Turkey blasts 'arrogant' Macron amid Eastern Med crisis talks

Turkey responds to French leader, who earlier criticised Erdogan over Ankara's conduct in Mediterranean and Libya.
Credit: Al Jazeera STUDIO Duration: 02:37
Published
Mediterranean leaders threaten sanctions over Turkey resources row


Credit: FRANCE 24 English Duration: 01:28
Published
Macron: Europe must have a 'more united and clear voice' with Turkey

Europe must be more united against Turkey, French President Emmanuel Macron said, emphasising that the country is "no longer a partner".View on euronews
Credit: euronews (in English) Duration: 00:46
Published
Med7 Summit: Leaders working to avert crisis between Turkey and Greece

The navies of Turkey and Greece are both at sea and Turkish President Recep Tayyip Erdogan and Greek Prime Minister Kyriakos Mitsotakis are blaming each other for the worsening relations.View on..
Credit: euronews (in English) Duration: 01:59
Published
Saudi Arabia overturns death sentences in Jamal Khashoggi killing

nidentified defendants instead handed between seven and 20 years in prison over the journalist's murder in Turkey.
Credit: Al Jazeera STUDIO Duration: 02:40
Published
NBA star Enes Kanter vows to use platform for change

Enes Kanter has lost his Turkish citizenship, all contact with his family andreceives weekly death threats – and all because of a tweet. When the BostonCeltics star criticised Turkey's president..
Credit: PA - Press Association STUDIO Duration: 01:20
Published
Beijing bounces back - and Turkey's luck turns with gas discovery

This week's Business Line looks at how Beijing has bounced back, the digital marketing boom - and Turkey's gas discovery.View on euronews
Credit: euronews (in English) Duration: 08:00
Published
Turkish lake turns into migrant graveyard

Lake Van, Turkey's biggest lake in the far east of the country, makes up part of the deadly route for Afghan, Pakistani and other migrants seeking security and economic opportunities in Europe.View on..
Credit: euronews (in English) Duration: 01:07
Published
Analysis: Turkey wants energy independence from Europe


Credit: FRANCE 24 English Duration: 03:35
Published
Turkey and Greece at odds over rights to offshore energy


Credit: FRANCE 24 English Duration: 02:34
Published
Germany: 'Spark could lead to disaster' in east Mediterranean

Foreign Minister Heiko Maas appeals for de-escalation of mounting tensions between NATO allies Greece and Turkey.
Credit: Al Jazeera STUDIO Duration: 02:35
Published
Dramatic Footage as Severe Floods Hit Turkey's Black Sea

Heavy rains caused flooding across along Turkey's Black Sea coast, killing several people.   Many are still missing, as a search-and-rescue mission has been launched.   Downpours packing 13..
Credit: ODN Duration: 01:23
Published
Libya's UN-recognised government announces immediate ceasefire

Turkey-backed Government of National Accord called for parliamentary and presidential elections to be held in March.
Credit: Al Jazeera STUDIO Duration: 02:43
Published
You Might Like



'Support both on and off the battlefield': Turkey throws weight behind 'brotherly Azerbaijan,' in fresh escalation

Turkish Foreign Minister Mevlüt Çavuşoğlu announced on Tuesday that Ankara will stand by Azerbaijan in the face of what he described as "Armenian aggression," and offered both diplomatic and..




WorldNews - Published





Armenians accuse Turkey of involvement in conflict with Azerbaijan

As fighting between Armenians and Azerbaijanis continued for a second day, Armenian officials accused Turkey of directly intervening in the conflict by supplying weaponry and soldiers. Turkish..




WorldNews - Published





Azerbaijan Denies Turkey Sent It Fighters From Syria Amid Karabakh Fighting

BAKU (Reuters) - An aide to Azerbaijan's President Ilham Aliyev denied on Monday that Turkey had sent fighters from Syria to Azerbaijan amid... ......




WorldNews - Published





AP Top Stories September 25 A

Here's the latest for Friday September 25th: More Breonna Taylor protests in Louisville; Trump introduces health care plan; Greece and Turkey trade accusations over migrants; Ruth Bader Ginsburg to lie..




USATODAY.com - Published





Lukashenko and Erdogan Are Laughing at the EU

(Bloomberg Opinion) -- Behold the mighty European Union, second only to the U.S. in economic heft. But also witness what a minnow it is in world diplomacy. Is it any wonder the world's hard-nosed..




WorldNews - Published





Turkey, Greece agree to talks on Mediterranean tensions

ANKARA — Turkey and Greece have agreed to talks over disputed waters in the eastern Mediterranean, both sides said on Tuesday, after diplomatic efforts led by Germany to defuse a crisis that has..




WorldNews - Published





India slams Turkish President Erdogan's Kashmir remarks at UNGA

T S Tirumurti, India's permanent...




WorldNews - Published





Turkish President Erdogan's remarks on J&K at UN 'completely unacceptable': India

"We have seen remarks by President of Turkey on Indian UT (Union Territory) of Jammu & Kashmir. They constitute gross interference in India's internal affairs and are completely unacceptable. Turkey..




IndiaTimes - Published





Leaders spar at UN General Assembly amid global crisis

(CNN)World leaders gathered virtually Tuesday for this week's United Nations General Assembly (UNGA), with the UN's historic 75th anniversary overshadowed by strongmen leaders, fraying relations and a..




WorldNews - Published





'Learn to respect sovereignty of nations': India slams Turkey after Erdogan rakes Kashmir at UNGA

India has strongly reacted to Turkish President Recep Tayyip Erdo?an raking Kashmir during his united nations general assembly speech.




DNA - Published





Greece, Turkey Agree to Hold Talks to Discuss Mediterranean Crisis

Ankara, September 22: Turkey and Greece on Tuesday have agreed to resume talks over contested maritime claims in the eastern Mediterranean. The Greece-Turkish over the issue will take place after four..




WorldNews - Published





EU sanctions on Turkish shipping firm over Libya embargo are biased – Ankara

Ankara said on Tuesday the European Union's decision to impose sanctions on a Turkish firm accused of breaking a UN arms embargo on Libya was evidence of the EU's "double standards." The..




WorldNews - Published





Cengiz Under: Leicester City sign Turkey winger on loan from Roma

Leicester City sign Roma winger Cengiz Under on a season-long loan.




BBC News - Published





Erdogan says Turkey pulled back survey vessel to allow for diplomacy with Greece

Turkey pulled back its Oruc Reis seismic survey vessel from the eastern Mediterranean to allow for diplomacy with...




WorldNews - Published





Turkey and Iran are engaging in new operations in Africa - reports

Call it a new 'Great Game' or war for hearts and minds, or just influence peddling, but Iran and Turkey are now engaged in greater efforts to expand their role in Africa. This comes as Russia and China..




WorldNews - Published





2 Turkish soldiers killed in North Iraq

Two Turkish soldiers were killed in an attack by PKK terrorists in a cross-border anti-terror operation area in northern Iraq, according to the Turkish...




WorldNews - Published





EU diplomacy on Turkey runs aground ahead of summit, envoys say

BRUSSELS (Reuters) – European Union diplomacy to resolve a dispute with Turkey in the Mediterranean has become bogged down in competing initiatives a week before a summit meant to show Ankara a..




WorldNews - Published





Turkey seeks to arrest suspects over links to failed coup

ISTANBUL, Sept. 16 (Xinhua) -- Turkey on Wednesday continued to hunt the suspected military personnel who have alleged links to a network believed to be behind a coup attempt...




WorldNews - Published





Turkey extends drilling activity in disputed Mediterranean waters off Cyprus

Turkey has issued a new maritime notice to extend the operations of an energy drilling ship in disputed Mediterranean waters off Cyprus. The new notice was issued for the Yavuz drilling ship on..




WorldNews - Published





How the USA and Turkey Plunder and Loot Syria with Impunity

While President Trump lashes out at rioting and looting in Portland and Kenosha, half way around the world, the USA and Turkey are plundering and looting Syria on a vastly greater scale with impunity..




WorldNews - Published





Watch: Stay cat darts across 100m finish line during athletics championship in Turkey

Watch the moment a stray cat runs across the finish line just as the athletes are about to cross during the 100m final at the Balkan U20 Men's Athletics Championship in Turkey.




BBC News - Published





Turkish ship at centre of row with Greece returns to coast

The ship has been surveying energy drilling prospects in disputed waters, sparking a diplomatic row.




BBC News - Published





Turkish protesters slam French magazine's reprinting of offensive Prophet Muhammad cartoons

Turkish protesters have rallied in the city of Istanbul to vent their anger against the French satirical weekly Charlie Hebdo for republishing offensive cartoons of Prophet Muhammad (PBUH). The protest..




WorldNews - Published





Tiny island Kastellorizo at centre of growing confrontation between Greece and Turkey

Kastellorizo, lying in the crystal clear waters of the eastern Mediterranean, is an idyllic, bijou beauty.Fishing boats bob in its calm harbour and colourful houses give way to olive tree flecked..




New Zealand Herald - Published





Turkey's Oruc Reis survey vessel back near southern shore, ship tracker shows

ISTANBUL (Reuters) - Turkey's seismic research vessel Oruc Reis returned to waters near the southern province of Antalya on Sunday, Refinitiv data showed, a move that could ease tensions between Ankara..




WorldNews - Published





Greece to buy new planes, frigates amid Turkey tensions

ATHENS, Greece (AP) — Greece's prime minister outlined plans Saturday to upgrade the country's defense capabilities, including purchasing new fighter planes, frigates, helicopters and weapons..




WorldNews - Published





Greece-Turkey tensions: Greece announces military boost

Greece purchases 18 fighter jets and plans to recruit 15,000 new soldiers in the next five years.




BBC News - Published





Greek prime minister demands biting sanctions on Turkey

Greek prime minister Kyriakos Mitsotakis demanded tough European sanctions against Turkey to reverse its encroachment on territorial claims across the Mediterranean. Writing in The Times newspaper, Mr..




WorldNews - Published





Macron urges tough EU stance against Turkish 'provocations'

PARIS (AP) — French President Emmanuel Macron urged fellow European leaders Thursday to stand up to the Turkish government and what he called "unacceptable" provocations as Turkey seeks to expand..




WorldNews - Published





Boston Celtics' Enes Kanter on "The Takeout" — 1/10/2020

Boston Celtics center Enes Kanter talks about his childhood schooling and the corruption in Turkey that led to his criticism against President Erdogan, on this week's episode of "The Takeout with Major..




CBS News - Published





Exclusive: Australia's first IS bride Zehra Duman and her children have fled to Turkey

The Melbourne-born woman - who had her Australian citizenship revoked for joining the terrorist organisation - has left the Al-Hol refugee camp in north-east Syria with her two young children, SBS News..




SBS - Published





Lavrov: Russia Ready to Help Ease Turkey-Greece Tension

NICOSIA — Russia's foreign minister said Tuesday that Moscow is ready to help ease rising tensions over Turkey's search for energy reserves in the eastern Mediterranean. Sergey Lavrov said Moscow is..




WorldNews - Published





Abdulkadir Masharipov: Turkish court jails man for life over Istanbul nightclub attack

Abdulkadir Masharipov is sentenced for killing 39 people in a nightclub on New Year's Day 2017.




BBC News - Published





Timing of Barzani's visit to Turkey is telling, experts say

ANKARA: Turkey has sent a clear signal of its intentions to challenge France's ambitions in the region by holding meetings with the Iraqi Kurdish leader Nechirvan Barzani on Sept. 4. The timing of..




WorldNews - Published





Turkey urges EU to be 'impartial' in eastern Mediterranean row

President Recep Tayyip Erdogan on Sunday called on the EU to be "impartial" in the growing row over energy prospecting in contested eastern Mediterranean waters, his office said. In a phone call with..




WorldNews - Published





Turkey: We call on Kosovo not to open an embassy in Jerusalem

Turkey, the state of Kosovo, called not to open an embassy for their country in Jerusalem. This came, in a statement issued by the Turkish Foreign Ministry, on Sunday, commenting on news circulating..




WorldNews - Published





Erdogan Offers Greece Diplomacy or The Sword Over Seas Dispute

Turkish President Recep Tayyip Erdogan warned Greece to start a dialogue over who owns the seas around Greek islands or face the wrath of his country's military might as the European Union is trying to..




WorldNews - Published





Turkey and Greece in talks to limit risk of conflict in eastern Mediterranean, NATO chief says

Despite a denial from Greece, the chief of NATO said on Friday that Greece and Turkey have started technical discussions aimed at reducing the risk of conflict or accidents amid military tensions..




WorldNews - Published





Turkey calls Macron 'hysterical' over Syria, Libya, East Mediterranean

Turkish foreign minister has called French President Emmanuel Macron "hysterical" over his meddling in foreign-backed conflicts in Libya and Syria as well as Ankara's dispute with Greece over sea..




WorldNews - Published





Turkey: The demand for the release of civil society leader Osman Kavala grows louder

Following the decision by the Council of Europe Committee of Ministers calling on Turkey to release Osman Kavala from prison immediately, Amnesty International's Turkey Campaigner, Milena Buyum said:..




WorldNews - Published





PM Mitsotakis to Turkey: Let the Threats Stop so that Talks Can Begin

ATHENS -- Prime Minister Kyriakos Mitsotakis sent a clear message about the terms of the dialogue with Turkey during a meeting he had earlier on Friday at the Maximos Mansion with Yang Jiechi, a..




WorldNews - Published





Greece denies any agreement on technical talks with Turkey

ANKARA – Greece and Turkey have agreed to talks to avoid accidental clashes in the Eastern Mediterranean, NATO Secretary-General Jens Stoltenberg said on Thursday, part of efforts to defuse the..




WorldNews - Published





Turkey's power projection risks military clash in Mediterranean, former PM says

ANKARA: Turkey risks military confrontation in the Eastern Mediterranean because it prizes power over diplomacy, a former prime minister who championed a less confrontational policy in the first decade..




WorldNews - Published




10/15: CBSN AM

Pres. Trump authorizes sanctions on Turkey; Cristiano Ronaldo nets 700th career goal




CBS News - Published




Why Recep Tayyip Erdogan's Love Affair with the Ottoman Empire Should Worry The World

At the end of August, Turkey's president Recep Tayyip Erdogan celebrated the Islamic New Year with aplomb. Fresh off his conversion of the monumental Haghia Sophia to a mosque, he converted another..




WorldNews - Published





Black Sea Gas Find Strengthens Turkey's Hand Against Greece

By Sinan Ulgen (Bloomberg Opinion) — An important development has been lost amid the growing alarm over the contretemps in the Eastern Mediterranean: Last month President Recep Tayyip Erdogan..




WorldNews - Published





Police detain alleged IS commander in Turkey

ANKARA, Turkey (AP) — Turkish police have detained an alleged top commander of the Islamic State group in Turkey, as well as 11 suspected collaborators, Turkish officials said Tuesday. Interior..




WorldNews - Published





Turkey detains top Islamic State commander in raid

The suspect had received orders from Syria and Iraq to carry out an attack, the government says.




BBC News - Published





How Russia outplayed the US with Turkey in Syria

In the last days of August a delegation from the Syrian Democratic Council arrived in Moscow for meetings. The group is linked to the Kurdish leadership of eastern Syria. Russian officials and the SDC..




WorldNews - Published





Turkey extends energy exploration operations in Mediterranean, irking Greece

Turkey has extended operations by a seismic research vessel in disputed waters in the eastern Mediterranean, sparking angry reaction by Greece. Turkey has been sailing its Oruc Reis seismic research..




WorldNews - Published