Google
American technology company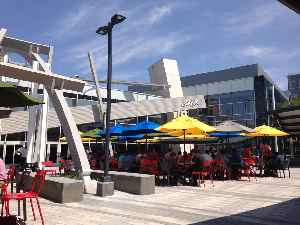 Google, LLC is an American multinational technology company that specializes in Internet-related services and products, which include online advertising technologies, a search engine, cloud computing, software, and hardware. It is considered one of the Big Five technology companies in the U.S. information technology industry, alongside Amazon, Facebook, Apple, and Microsoft.


'Can I Change My Vote' Trends on Google

Tuesday morning saw a surge of Google searches regarding the question.
Credit: Cover Video STUDIO Duration: 01:01
Published
Stocks rebound with tech in the lead

U.S. stocks recovered on Thursday some of the steep losses seen the day before as investors gobbled up high-flying tech names in anticipation of strong quarterly results after the close, which Amazon,..
Credit: Reuters Studio Duration: 02:09
Published
Made by Google products go green with recycled materials

Google announced that it has achieved one of its goals of using recycled materials in all of its Made by Google products. The company had pledged to achieve the goal by 2022 but have announced that..
Credit: ANI Duration: 01:13
Published
Facebook enters cloud gaming with different services than competitors

Facebook has entered the field of cloud-based gaming service and on October 26 introduced cloud games to its existing Facebook Gaming application. The tech giant's cloud gaming services differs from..
Credit: ANI Duration: 01:13
Published
How They Blew It: Why Two Major Cities Are Dropping Google's COVID-19 Testing Program

Gizmodo reports San Francisco and Alameda counties in California have stopped using Verily to test for the novel coronavirus. Google's health-centered sister company launched a $55 million pilot..
Credit: Wochit News Duration: 00:40
Published
US Government Files Antitrust Lawsuit Against Google

According to CNN, the Trump administration sued Google on Tuesday.
Credit: Cover Video STUDIO Duration: 01:17
Published
Google lawsuit: US Govt slaps tech giant with antitrust case


Credit: FRANCE 24 English Duration: 01:37
Published
U.S. sues Google, says breakup may be needed

The U.S. Justice Department filed an antitrust lawsuit against Alphabet Inc's Google on Tuesday, accusing the $1 trillion company of illegally using its market power to fend off rivals and said nothing..
Credit: Reuters Studio Duration: 02:25
Published
Samsung smart TV to soon feature Google Assistant Microphone

Google Assistant is now available on newer Samsung smart TVs in the US, the companies announced. As reported by The Verge, the AI helper will be available on Samsung 2020 smart TV models, including the..
Credit: ANI Duration: 01:10
Published
Google must negotiate pay with publishers for content, French court rules

Google must negotiate pay with publishers for content they reshare online in search results, the Paris Court of Appeal has ruled, confirming a decision by the country's competition authority.
Credit: Euronews English Duration: 02:19
Published
Youtube allows its premium subscribers to test in-development features

Video-sharing platform YouTube has changed the way it tests new features. The platform is now allowing its Premium subscribers access to experimental products in the development pipeline, according to..
Credit: ANI Duration: 01:16
Published
RSPCA worried about pandemic fallout

The RSPCA has expressed fears that the coronavirus fallout and impact of'lockdown puppies' will have damaging consequences for struggling rescuecentres. The charity has reported high figures for..
Credit: PA - Press Association STUDIO Duration: 01:25
Published
House panel issues scathing Big Tech complaint

The U.S. House of Representatives antitrust subcommittee's findings on abuse of market power by four large tech companies took Amazon, Apple, Facebook and Alphabet's Google to task in a scathing..
Credit: Reuters - Politics Duration: 01:58
Published
Facebook, Google and Twitter CEOs

Facebook, Google and Twitter CEOs
Credit: Wochit News Duration: 00:26
Published
Pixel 5 | Greg's Geek Fix

Google announces new Pixel 5
Credit: ABC Action News Duration: 00:47
Published
Everything Google Announced Wednesday

Everything Google Announced Wednesday
Credit: Wochit News Duration: 00:29
Published
Google To Pay Publishers For Reliable News Feed

Google To Pay Publishers For Reliable News Feed
Credit: Wochit News Duration: 00:29
Published
You Might Like



Google Meet will now let you use custom backgrounds on video calls

Illustration by Alex Castro / The Verge Google is introducing custom backgrounds for its Meet videoconferencing platform, the company announced in a blog post. If you use Meet in Google's Chrome..




The Verge - Published





Woot is selling refurbished Pixelbook Go laptops that don't have Google branding

Photo by Vjeran Pavic / The Verge Woot is selling a batch of refurbished Pixelbook Go laptops starting at $530 for the base model with an Intel Core m3 processor, 64GB of storage and an FHD..




The Verge - Published





Budget roundup: the latest low-cost cameras

Photo by Cameron Faulkner / The Verge These days, most of us tend to use our smartphone cameras for our full-time photographing needs rather than buy a separate product. After all, even lower-end..




The Verge - Published





Vergecast: this week's Section 230 hearing and the season of weird gadgets

Photo by Vjeran Pavic / The Verge This week on The Verge's flagship podcast, The Vergecast: Sen. Ted Cruz (R-TX) yells at Twitter CEO Jack Dorsey, gadget makers are going to QVC, and it is weird..




The Verge - Published





Alphabet Sales Growth Back As Google Key For Advertisers

Google parent Alphabet Inc...




WorldNews - Published





Google is bringing its own VPN to desktops and phones with $9.99 Google One subscription

There are any number of VPN services you can use to help protect your privacy and security with an encrypted internet connection, and now Google has its own. Well, technically, it already did, but only..




The Verge - Published





For Amazon, Apple, Facebook and Google business is booming

Latest sales and profit figures from America's big tech companies exceed Wall Street expectations.




BBC News - Published





Big Tech, recovered from pandemic, reports record earnings

Amazon's profits tripled from a year ago, while Facebook and Google rode a major rebound in ad spending.




CBS News - Published





YouTube brings in $5 billion in ad revenue as Alphabet and Google bounce back

Illustration by Alex Castro / The Verge Google parent company Alphabet's third quarter revenue increased 14 percent from the year before, led by a rebound in advertising revenue for both Google..




The Verge - Published





Hackers stole $2.3 million from the Wisconsin Republican party

Hackers reportedly stole $2.3 million from the Wisconsin Republican Party just weeks before the election using a scheme involving manipulated invoices, the Associated Press reports. The group noted the..




The Verge - Published





CEOs of Facebook, Twitter, and Google testify before Senate committee

Members of the Senate Commerce Committee grilled the CEOs of Facebook, Twitter and Google over how they moderate content on their platforms. Wednesday's hearing focused on the law known as Section 230,..




CBS News - Published





Italian regulator investigates Google over digital ads

The Italian Competition Authority said it suspects the U.S. tech giant of using the vast amounts of data it collects through its various services to prevent rivals in the digital advertising market..




WorldNews - Published





Who Is Miles Taylor?

A lifelong Republican and a former top official at the Department of Homeland Security, Mr. Taylor took a leave of absence from his job at Google this summer to campaign for Joseph R. Biden Jr.




NYTimes.com - Published





Race to the White House: Social media CEOs get earful on bias, warning of new limits

With next week's election looming, the CEOs of Twitter, Facebook and Google received a hectoring from Republicans at a Senate hearing Wednesday for alleged anti-conservative bias in the companies'..




New Zealand Herald - Published





'Offensive and embarrassing': Senators struggle to pronounce Google CEO Sundar Pichai's name correctly

Senators questioning Google CEO Sundar Pichai alongside Facebook's Mark Zuckerberg and Twitter's Jack Dorsey couldn't pronounce his name correctly.




USATODAY.com - Published





Republicans Blast Social Media C.E.O.s While Democrats Deride Hearing

Republican senators accused the leaders of Twitter, Facebook and Google of censorship. Democrats denounced that as posturing.




NYTimes.com - Published





Tech CEOs from Google, Twitter and Facebook testify at Senate hearing

CEOs from Facebook, Google and Twitter testified before the Senate Commerce Committee on the importance of the law known as Section 230, which protects social media companies from liability for content..




CBS News - Published





'Who the hell elected you?' Tech CEOs accused of bias against Trump and conservatives days before election

Facebook's Mark Zuckerberg, Twitter's Jack Dorsey and Google's Sundar Pichai came under attack for anti-conservative bias during fiery Senate hearing.




USATODAY.com - Published





Social media CEOs face Senate grilling

The CEOs of Twitter, Facebook and Google are facing a grilling by GOP senators making unfounded allegations that the tech giants show anti-conservative bias. Their focus includes Section 230, a law..




USATODAY.com - Published





Watch Live: CEOs of Facebook, Twitter and Google face Senate grilling

Jack Dorsey, Mark Zuckerberg and Sundar Pichai will defend their approach to free speech.




CBS News - Published





How to take great photos with your Pixel 4 or 4 XL

Google sure knows how to make a great camera. The Pixel 4 and Pixel 4 XL boast the same amazing dual-lens camera, backed by Google's image processing wizardry. It compares very favorably with the top..




WorldNews - Published





Microsoft Internet Explorer users may be surprised when they get redirected to Edge next month

Microsoft has been slowly weaning users off its legacy Internet Explorer browser for a very long time, recently going so far as to use a forced Windows update to install its new Chromium Edge browser..




The Verge - Published





Microsoft Teams usage jumps 50 percent to 115 million daily active users

Microsoft saw some big growth in Microsoft Teams at the beginning of the pandemic, and it has kept accelerating over the past six months. During an earnings call with investors today, Microsoft CEO..




The Verge - Published





Trump-led conservatives accuse Big Tech of election interference, escalate bias charges ahead of Senate showdown

At a Capitol Hill hearing, Facebook's Mark Zuckerberg, Twitter's Jack Dorsey and Google's Sundar Pichai will face charges they censor conservatives.




USATODAY.com - Published





YouTube Will Warn Users That Election Day Results 'May Not Be Final'

An anonymous reader shares a report: Google knows that many people will be using YouTube to keep up with the US election on November 3rd. Many politicians use the platform to communicate with voters,..




WorldNews - Published





UPlay Plus subscription service rebrands as Ubisoft Plus, expands to Stadia and Luna

Ubisoft is overhauling its UPlay Plus subscription service with a new name — Ubisoft Plus — and launching integrations with both Google Stadia and Amazon's new Luna service, all included in the..




The Verge - Published





Google is partnering with the Associated Press for election results

Illustration by Alex Castro / The Verge Google is partnering with the Associated Press to provide authoritative results for next week's election alongside other voting-related features. Searching..




The Verge - Published





Google to make its product packaging plastic free by 2025

San Francisco, Oct 27 : Google has pledged to make its product packaging 100 per cent plastic free and completely recyclable by 2025. Currently, the back housing (or the back cover) of the recently..




WorldNews - Published





Google says all Made by Google products now use recycled materials

Illustration by Alex Castro / The Verge Last year, Google pledged that, by 2022, it would include recycled materials in all of its Made By Google products, a list that includes Pixel phones,..




The Verge - Published





San Francisco and Oakland cut ties with Verily COVID-19 testing program

A Verily drive-through test clinic in California. | Photo by Santiago Mejia / The San Francisco Chronicle via Getty Images Two California counties are no longer using Google sister company..




The Verge - Published





Facebook takes its first small steps into the world of cloud gaming

Illustration by Alex Castro / The Verge Facebook is the latest tech giant to get into the world of cloud gaming — but the company's offering is quite a bit different than the competition. Unlike..




The Verge - Published





Facebook, Google and Microsoft 'not paying enough tax in developing world'

Google, Facebook and Microsoft should be paying more corporation tax in developing nations, says ActionAid. The aid charity estimates that poorer countries are missing out on up to $2.8bn (£2.2bn) in..




WorldNews - Published





Chrome OS may finally be getting a dark mode

Illustration by Alex Castro / The Verge Chrome OS may finally be getting a dark mode, but so far it's only been spotted in its experimental Canary channel, Android Central reported. Before you..




The Verge - Published





You don't need a search engine to see why Google won't lose this lawsuit

So, in the dying days of Trump's first term, the US Department of Justice (DoJ) has finally taken Google to court. Attorney general William Barr, in conjunction with the AGs of 11 states, has filed a..




WorldNews - Published





Where to buy refurbished products

Photo by Amelia Holowaty Krales / The Verge Buying a refurbished device rather than one that's brand-new can save you a ton of money. However, these products don't usually get the spotlight from..




The Verge - Published





This week: Quibi's shutdown, Google's antitrust charges, and Foxconn's LCD factory failure

Illustration by Grayson Blackmon / The Verge It's Friday, which means there's a new episode of The Verge's flagship podcast The Vergecast. Hosts Nilay Patel and Dieter Bohn talk to the various..




The Verge - Published





Here's our first look at Huawei's Mate 40 Pro

Huawei announced the Mate 40 Pro yesterday, and now we have one in hand. It might not be easy to recommend Huawei phones outside of China, since the Trump administration's targeted sanctions have..




The Verge - Published





First Lady Melania Insults Stormy Daniels In Secretly Recorded Tapes

Stephanie Wolkoff released additional recordings...Photo Credit: Inside Edition Stephanie Wolkoff released additional recordings of her conversations with First Lady Melania Trump during an episode of..




WorldNews - Published





Google will sell you a $349 Pixel 4A for $216 over two years

You can now buy the Pixel 4A from Google for just $9 per month over 24 months as part of the new Google Fi phone subscription program. That monthly cost means you'd pay just just $216 for the phone,..




The Verge - Published





Fact check: Post online misquotes Biden on court-packing amid debate over size of Supreme Court

Joe Biden never said the "day after" he's elected, people will "know what he stands for." A Google search of the exact quote turned up no results.




USATODAY.com - Published





Huawei's Mate 40 Pro announced with speedy 50W wireless charging

Image: Huawei Huawei has announced the Mate 40 Pro and Pro Plus, its latest flagship devices following the P40 series from earlier this year. The phones mark the debut of Huawei's new flagship 5nm..




The Verge - Published





Google tests smart displays that activate without a wake word

Photo by Dan Seifert / The Verge A new feature being internally tested at Google could remove the need to say "Hey Google" before voicing commands to Nest Hub smart displays, Android Central..




The Verge - Published





Eric Schmidt, who bought YouTube for a premium, thinks social networks are 'amplifiers for idiots'

Photo by Michael Kovac / Getty Images The Verge used to have a fine tradition of cataloging all of the times when Eric Schmidt stuck his foot in his mouth, and today's feels like a worthy..




The Verge - Published





If Google's a monopoly, who is harmed by its market power?

Google has long defended itself against charges of monopoly by stressing that its products are free and that no one has to use them.And it's avoided tough government scrutiny for years based in part on..




New Zealand Herald - Published





Who is Google's market power hurting?

Illustration by Alex Castro / The Verge Yesterday, the Department of Justice and 11 states sued Google for violating antitrust law. The complaint argued that Google had become "the unchallenged..




The Verge - Published





Acer's Halo is a Google Assistant smart speaker with LEDs

Acer has announced the $109 Halo smart speaker at its October hardware event. It's a 360-degree speaker that has the Google Assistant built in to handle queries and tasks, and Acer says it's one of..




The Verge - Published





Chrome bug meant browser didn't respect user requests to delete Google site data

Illustration by Alex Castro / The Verge If you ask Chrome to delete all cookies and site data whenever you quit the browser, it's reasonable to expect that this policy applies to all websites...




The Verge - Published





The Justice Dept. vs. Google

A sweeping antitrust lawsuit arrives: This is your morning tip sheet.




NYTimes.com - Published





Justice Department files antitrust lawsuit against Google

Google is vowing to fight the Justice Department in court after prosecutors accused the company of locking out competition with an illegal monopoly. Jeff Pegues has more on the case.




CBS News - Published





How Google evolved from 'cuddly' startup to antitrust target

In Google's infancy, co-founders Larry Page and Sergey Brin reviled Microsoft as a technological bully that ruthlessly abused its dominance of the personal computer software market to choke off..




New Zealand Herald - Published