Henan
Province of China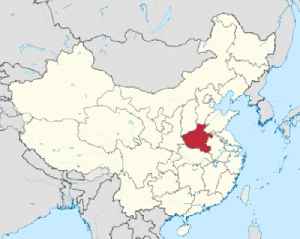 Henan is a landlocked province of the People's Republic of China, located in the central part of the country. Henan is often referred to as Zhongyuan or Zhongzhou (中州), which literally means "central plain" or "midland", although the name is also applied to the entirety of China proper. Henan is a birthplace of Chinese civilization, with over 3,000 years of recorded history, and remained China's cultural, economical and political center until approximately 1,000 years ago.


Chinese county in lockdown after coronavirus cases
A county in central China's Henan province said on Wednesday it had virtually banned all outbound movement of people, following several cases of coronavirus infection in the area.
Reuters - Published
China's Zhengzhou reports new imported coronavirus case
Zhengzhou, the capital of China's central province of Henan, recorded a new imported case of coronavirus on Wednesday, authorities said in a notice.
Reuters - Published
Cornavirus outbreak: Death toll in China climbs to over 1860
The death toll from China's coronavirus epidemic climbed to 1,868 on Tuesday as 98 more people died while the total number of confirmed cases jumped to 72,436, officials said. Of the new deaths, 93..
WorldNews - Published
Faces for cookware: data collection industry flourishes as China pursues AI ambitions
In a village in central China's Henan province, amid barking dogs and wandering chickens, villagers gather along a dirt road to trade images of their faces for kettles, pots and tea cups.
Reuters - Published
Hidden hotel cameras lead to arrests in China
Police in central China have detained a man who installed hidden cameras in several hotel rooms and another who claimed the devices were common in mainland hotels, amid growing public concerns over..
WorldNews - Published
Search this site and the web: